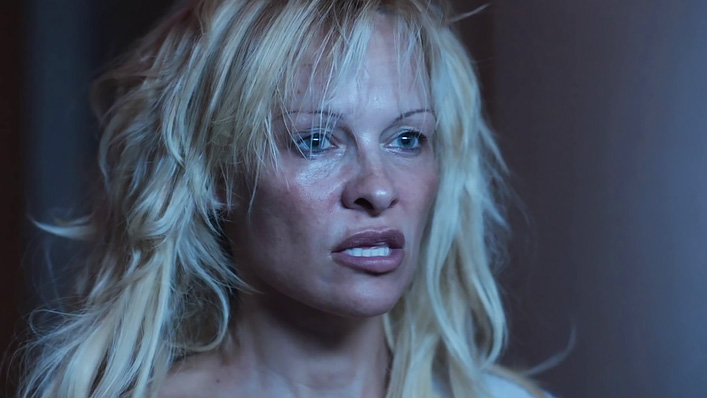 Pamela Anderson is a great actor – and this little-seen film proves it

---
Pamela Anderson isn't widely considered to be a great—or even good—actor. But all it'll take to convince you of her skills is one little-seen short film, writes Cat Woods.

Much like Michael Keaton will always be Batman, and Sean Connery will always be James Bond, Pamela Anderson—for anyone in their mid-late 30s—will always be C.J Parker. As the pneumatic Baywatch lifeguard in an unfeasibly high-cut red swimsuit, Anderson was the pin-up for a generation of teenage boys. But, for girls like me, she was funny, sassy, stylish and—most importantly—holding her own in a workplace where predatory men threatened her safety and security in every episode.
So, a microcosm of daily life.
It hadn't ever occurred to me that Anderson might actually be a great actor. I assumed that her acting skills weren't the basis for her employment on Baywatch—though she lasted five seasons so regardless of her acting ability, her commitment was impressive. Off-screen, her commitment has been equally evident.
Over the last decade, Anderson has been an outspoken advocate for political and social issues that she feels personally invested in, including Julian Assange's ongoing battle with the courts and governments, and animal cruelty. A vegan, Anderson has posed naked to promote PETA's campaigns for an end to wearing leather and fur and an end to SeaWorld's use of marine animals for entertainment. She's lobbied the US Government to pardon Assange, arguing that the case against him is an offence to a free press, visiting him in the Ecuadorian embassy, tweeting on his behalf, and fronting media regularly.
I admire her, and more pertinently, I respect her as a woman and a human being. And, once I'd seen her in the little-seen or publicised short film Connected, I valued her as an actress too.
Luke Gilford's 2015 futuristic film features Anderson as a fictionalised version of herself—or at least, the Pamela Anderson the public is familiar with. At only 10 minutes long, it is impressively cast, written and acted. Why it hasn't been more popular, who knows? Perhaps it hits a raw nerve, or perhaps people assume Anderson can't act. But, she can.
As AuraCycle spin instructor Jackie, her livelihood and popularity depend on her lithe, nubile, wholesome aesthetic. Under the harsh lights of the camera, she livestreams her intense cycle classes with her perfectly manicured, made up face and hair all part of the marketable package. We see Jackie make her nutritious green juice, downing a handful of supplements. We see her nose to nose with her reflection in the mirror, pulling at her skin and mimicking the effects of a facelift. There is always a sense from knowing viewers that Anderson is having the last laugh—an ageing actress whose plastic surgery has been much speculated on playing an ageing fitness instructor obsessed with her appearance.
In an attempt to find solace in a world that's ready to reject her the moment she doesn't resemble their fitness and beauty ideals, Jackie listens to self-help podcasts narrated by Jane Fonda and becomes convinced of a high-tech new wellness retreat that promises peace and eternal youth.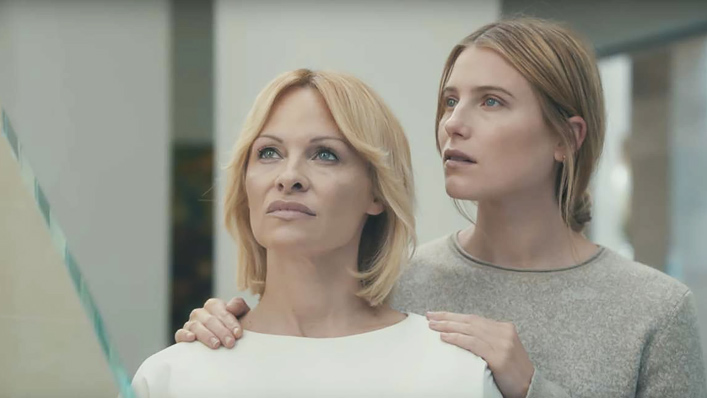 Anderson, 48 at the time the film was made, is not the airbrushed, sunnily-lit C.J Parker of her Baywatch years. The camera lingers closely on her face, picking up the lines and imperfections inevitably accrued over time. Lying in her high-tech, anti-ageing chamber, Anderson's Hollywood-slender, youthful body is bathed in blue light. The camera glides over her with an almost loving tenderness, a sense that Jackie needs us to treat her gently, to appreciate her humanity.
The title of the film, "connected" is apt. Like "blessed" or "MeToo" or any of the common hashtags, the word has lost its genuine meaning through overuse. But in this film we are reminded of the very basic, human need for connection. Jackie spends so much time alone that it is inevitable her only relationship will be with the mirror and the camera. Once that relationship is tarnished, who else will validate her worth? What if she has none, without her job and her perfect body?
When Jackie joins fellow retreat members in repeating "We are healthy, we are safe, we are loved, we are limitless", it sounds like the common mantra of wellness influencers. It sounds like the self-love, Deeprak Chopra-worthy hymn for our social media obsessed, youth-obsessed, self-obsessed culture. With her eyes closed in lotus pose, Anderson fully embodies the role to the very end, perhaps silently laughing at an audience who—like me—assumed her acting chops ended on a Malibu shoreline.
The film was valid when it was made six years ago, and it remains both entertaining and insightful. Watch it—it's free, and over in the blink of an eye.