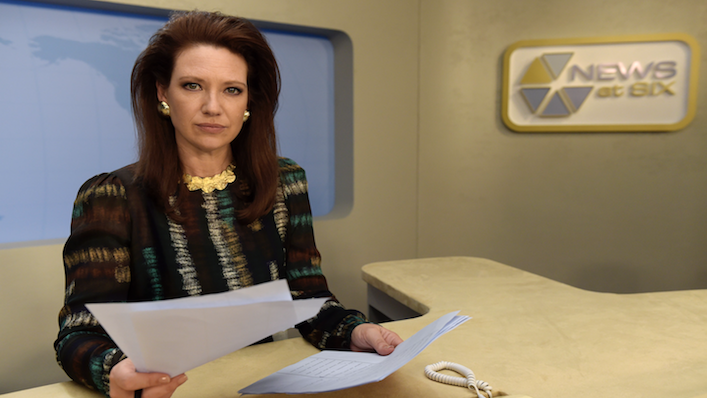 The Newsreader creator Michael Lucas takes us on his tour of an 80s Aussie newsroom

---
At once modern and nostalgic, The Newsreader (now on ABC iview) is the latest Aussie series to examine still-urgent issues from the 1980s. Cat Woods spoke with its writer and creator, Michael Lucas.
When it comes to monsters, divas, intergenerational family dramas, and multi-million-dollar business deals, Australia's media industry is rich with true-life stories. Does this make it easy pickings for a writer? Not necessarily, since there must be novel elements and a constellation of factors working together to result in compelling TV: the right stars, the right script, the right costumes and setting. 
ABC's new drama The Newsreader combines two factors Australian TV drama does best: nostalgia and the newsroom setting. It is the latest in a subgenre that has seen Frontline, Paper Giants, The King, and feature films such as Newsfront, all depicting journalists and the press at large to varying degrees of reality.
"When you're looking at where the world's at today, so many of the seeds of that were planted in the 1980s," explains writer and creator Michael Lucas. "I think of it as being a 'hinge decade'. It really was an era of change. There was new leadership with Hawke and Keating and they really did set the country on a new course, they opened up the economy, and one of the most interesting things, I think, about the 80s is that prior to that the levels of inequality in society got less and less, and after the 80s things changed, and ever since then, inequality has blown out, so the societal and political shifts were really profound."
The Newsreader errs more on the side of comforting rather than rivetingly climactic. The opportunity to really investigate the misogyny, racism, and elitism in the Australian press is traded for a more subtle approach, in order not to traumatise viewers, according to Lucas.
"We're certainly not imagining, or hoping that William McInnes's [as newsroom boss Lindsay Cunningham] racism, homophobia, and misogyny would be played for laughs. There's a sequence where he takes Helen back to her house and it's absolutely meant to be loaded with a profound sense of threat. Always with these things, you walk the line of wanting to be frank about the reality of it, but at the same time you don't want to traumatise viewers."
"The racism, we were careful not to use racist slogans that people might use in day-to-day life now, so we chose to dramatise it without forging that pathway", he continues. "To that extent, we used Michelle [Lim Davidson, as Noelene] as a character…these people have put in no effort to find out where her family have come from and it's assumed she knows Japanese even though she's Korean. Our attempt is to show the full spectrum of that world and to depict the parts that were loaded with bullying and misogyny, and the parts that were exhilarating."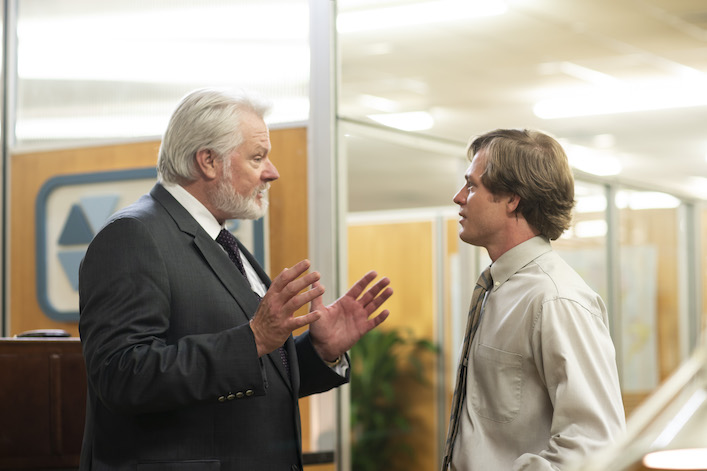 There's a suitably 80s-era soundtrack and sweet moments between the leads that are winning reasons to tune in for more than one episode; Anna Torv is magnetic as anchorwoman Helen Norville.
"She was cast early in 2020 and the director Emma Freeman also directed Secret City so they had an existing collaboration with Anna," says Lucas. "I didn't know her, but I was an enormous fan of her in Secret City and she's so mesmerising in Mindhunter. Because of Melbourne's long lockdown, which delayed us, the benefit was that we were able to talk a lot more and keep developing the script."
William McInnes' bloated, red-faced news boss is excessively hammy, played for laughs like a Christmas pantomime character; though by all insider accounts of Packer's TV reign, not far removed from the terrifying truth of reigning media moguls in the excessive 80s. Lucas had begin developing the script immediately after he completed work on Offspring Season 5 back in 2015, just prior to the rise of the #MeToo movement.
"I started working on this prior to #MeToo.  Then of course, when that happened, there was a part of me that felt like, 'will this be a profound change?', and all of the problems that are part of this world…will we have moved on and turned a corner by the time this show airs? Then of course we made it to this year when there's all these stories about the culture in Canberra, and you realise we might have progressed in some ways, but there's still a lot of structural problems and a culture of bullying and misogyny linked to that."
ABC has been willing to push into uncomfortable places, putting news headlines into the plot of the excellent Total Control (women as PM, Indigenous youth deaths in custody, journalistic freedom, Chinese political interference in domestic policy, trans and LGBTQ characters). The Newsreader feels safer in a way, distant in its 1980s-era landscape (which was filmed in Melbourne's suburb of Brooklyn in a huge, disused chemical warehouse thanks to its 1980s architecture). There's an overwhelming sense of romance about the newsroom.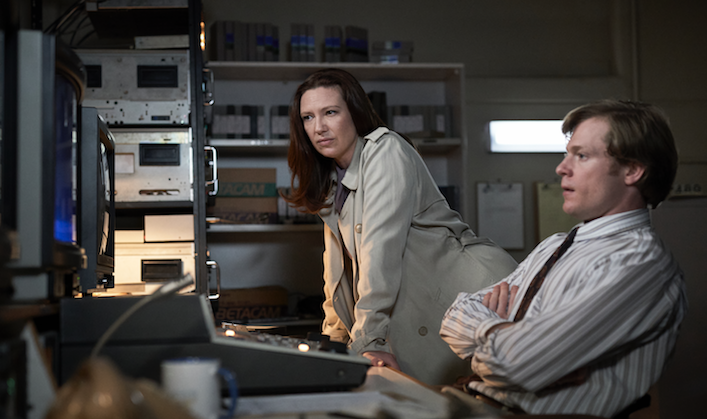 "I always love a newsroom show," enthuses Lucas. "Be it of many different genres. I love comedy, Frontline, Press Gang, The Newsroom. For me, it's one of those perfect office environments where stories literally walk through the door, and when everything can change in an instant…It's also a space where you thrash out the big issues in society, there in those four walls."
To that extent, will viewers get to the final episode and have to let go of Dale Jennings and Helen Norville? Lucas is hopeful that they'll return, suggesting that the following decade at least is fertile ground for greater dramatic exploration.
"There's so many different avenues you can explore and definitely, these multi-dimensions. In an ideal world, the series would go into future years and I would love to do an episode on global warming, and the bicentennial is coming up and that would be riveting to look at."
The Newsreader releases new episodes on ABC every Sunday from August 15, with episodes available on iView after broadcast.