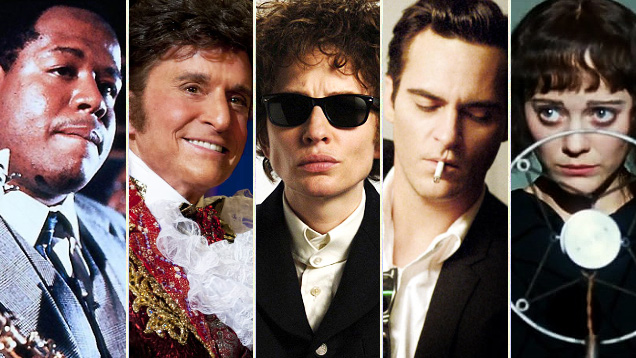 The best and worst musical biopics, from Walk the Line to Jersey Boys

---
The highly anticipated Rocketman, about the life of Elton John, is the latest in a long line of films exploring famous musicians. Sarah Ward picks the best and worst musical biopics. 
Thanks to Bohemian Rhapsody's box office-busting, Oscar-winning success, music biopics are back in the spotlight in a big way. Six months after the Queen-centric film hit cinemas, Elton John now receives the big-screen treatment in Rocketman – and new movies about David Bowie and Celine Dion are in also the works.
Film studios everywhere are likely trawling through music history for their next hit, but this isn't a new trend. Gary Busey earned an Oscar nomination for sporting Buddy Holly's curls, Sissy Spacek emerged victorious for playing country star Loretta Lynn, and Kurt Russell once shook his hips like Elvis.
From Amadeus, La Bamba, The Doors and Gus Van Sant's fictionalised take on Kurt Cobain in Last Days, to the Manchester-set 24 Hour Party People, the Brian Wilson biopic Love and Mercy, the James Brown bio Get On Up and the N.W.A.-focused Straight Outta Compton, movies and music just keep combining.
In chronological order, here's ten of the best – as well as four that definitely don't fall into that category.
Sign up for Flicks updates
BEST
The best music biopics do more than string together a story to their subject's tunes – they ape their spirit in every element and moment. Anchored by Gary Oldman's transformative turn as Sid Vicious, as well a Chloe Webb's standout work as his girlfriend Nancy, Sid and Nancy is that kind of film; a fittingly frenetic punk-rock portrait.
Forest Whitaker makes a vivid and commanding Charlie Parker in this Clint Eastwood-directed biopic, winning Best Actor at the Cannes Film Festival for his efforts. Eastwood's fondness for jazz shows in every frame, as does his feel for the material. Bird proves a sensitive yet energetic portrait of its central saxophonist.
One of music's darkest chapters became one of the biopic genre's most compelling films with What's Love Got to Do With It, which charts the tumultuous, abusive relationship between Ike and Tina Turner. Based on the latter's memoir I, Tina, the movie's power stems not only from its story, but from potent performances by Oscar nominees Laurence Fishburne and Angela Bassett.
David Bowie wouldn't allow Todd Haynes to use his music, but fictionalised biopic Velvet Goldmine didn't need the icon's tunes to spin his '70s and '80s antics into one of the best music-based films ever made. Following a reporter's (Christian Bale) Citizen Kane-esque efforts to track down an elusive, chameleonic star, Haynes' feature's is a feverish and surreal glam-rock dream, complete with Jonathan Rhys Meyers as the movie's main man and Ewan McGregor as the film's version of Iggy Pop.
Two Johnny Cash biographies provided the basis for James Mangold's drama, and the director paired their true tales with two stellar portrayals. While it was Reese Witherspoon who won the Oscar for playing June Carter Cash – a woman worthy of a movie in her own right – Joaquin Phoenix is just as memorable as the Man in the Black.
It's the film that brought Marion Cotillard to broader fame – and earned her an Oscar, the first time an acting statue was awarded to a performance in a French-language feature. There's both sadness and steeliness in the film's vision of Edith Piaf, and to Cotillard's rightfully lauded portrayal, that echoes as loudly as the movie's titular 1940s hit single.
After his inspired take on David Bowie – and, before that, his equally creative exploration of Karen Carpenter's story – Todd Haynes made a bold but pivotal move with Bob Dylan biopic I'm Not There. Deciding that no one actor could do the singer-songwriter justice, he instead cast Christian Bale, Cate Blanchett, Marcus Carl Franklin, Richard Gere, Heath Ledger and Ben Whishaw all as Dylan, and structured his film around six different portrayals, with each as unique and textured as the last.
Anton Corbijn made his directorial debut with this black-and-white portrait of Joy Division. Given that he photographed the band during their heyday, he couldn't have been a better person for the job. Focusing on frontman Ian Curtis (as devastatingly played by Sam Riley), this is a poignant, poetic, and necessarily bleak and brooding addition to the music biopic genre that resonates long after viewing.
Like so many music biopics, Behind the Candelabra is enlivened by its pitch-perfect lead performance, with Michael Douglas a sight to behold as Liberace. But the film would be nothing without Steven Soderbergh's astute direction, ensuring that the film not only chronicles the last ten years of its central figure's life, or the pianist's relationship with Scott Thorson (Matt Damon), but the dark side of celebrity.
Starring Ethan Hawke as Chet Baker, Born to be Blue doesn't pretend to slavishly stick to the facts, even condensing several of the jazz musician's love interests into one for the film's central romance. Of course, adhering to the truth and encapsulating the essence of a famous figure aren't always the same thing. Here, Baker's spirit comes through in the movie's mood, evocative images and involving lead performance.
WORST
Aiming for fun but coming off as simplistic, Great Balls of Fire couldn't achieve what might be an impossible task. There may be no appropriate way to bring Jerry Lee Lewis' tale to the screen – especially today – and, despite Dennis Quaid's enthusiastic efforts as the wild rock 'n' roller, this definitely isn't it.
Kevin Spacey was so passionate about playing crooner Bobby Darin, he volunteered his services a whole decade before Beyond the Sea hit screens. He also directed and co-produced the film, and co-wrote the script. His zeal didn't translate into anything other than a clichéd biopic and a flat vanity project.
He might've helmed one of the best examples of the genre, but that doesn't excuse Clint Eastwood for making this dull adaptation of the stage musical of the same name, more than a quarter of a century later. Even the upbeat music that made The Four Seasons such a hit can't save this overly broad and schmaltzy affair.
With its self-congratulatory trip down memory lane – and the amount of sex, drugs and over-the-top boys-will-be-boys behaviour that paves said glossily shot, wearily routine lane – The Dirt clearly has one audience in mind: Mötley Crüe. But making a movie that strokes its subjects' egos isn't the same as making a good or even watchable rock 'n' roll biopic.