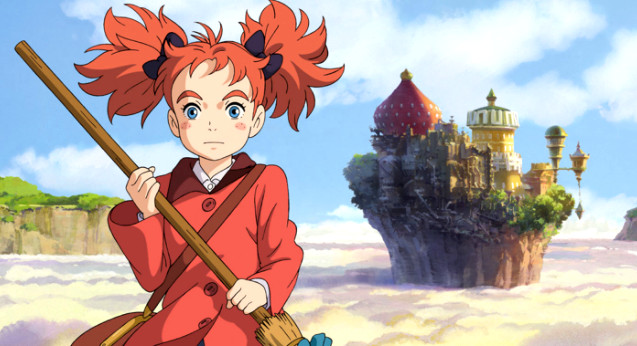 You could say that the newly formed Japanese animation company Studio Ponoc exists in the shadow of Studio Ghibli. Or that Studio Ghibli – particularly the work of its co-founder, the great Hayao Miyazaki – informs its heart and soul. Both make the point that the new kid on the block could not exist without the old one, without whom, perhaps, there would be no block in the first place.
With the fate of Ghibli uncertain, a new studio was founded and Hiromasa Yonebayashi (who directed the Ghibli-produced When Marnie Was There and Arrietty) is the first filmmaker out of the gates. Ponoc is a Serbo-Croatian word meaning "midnight", a fitting name: the end of one day; the beginning of another. The studio is off to flying start with Mary and the Witch's Flower, a deceptively complex family film told with clarity and purpose.
The story is slight, as per Ghibli tradition – with some exceptions – framed from a young girl's perspective. Mary (voiced by Ruby Barnhill in the English dubbed version) discovers a magical alternative to quiet afternoons spent with her placid great-aunt Charlotte (Lynda Baron). She happens upon the titular flower after being led into a forest, Alice in Wonderland style, by a cat in lieu of a rabbit.
The plucky protagonist arrives at Endor School, a college for magic, where the headmistress (Kate Winslet) and a mad professor (Jim Broadbent) regard her as a prodigy pupil. Mary insists there is nothing special about her, understanding her special abilities are solely the product of the plant. This lends the film flexibility as an allegory about drug use. And, as it evolves, when we learn of the school's plan to usurp the magic Mary chanced upon, it becomes a cautionary message about progress: of attempting to take quick leaps in science rather than studied, measured steps.
To say Mary and the Witch's Flower looks strikingly beautiful is to observe that grass is green and the sky is blue. Japanese animators generally work to a higher standard than their western counterparts. The sharp lines and hand drawn, or hand drawn-esque aesthetic of films made in this mould (the 'house' Ghibli style) do more to communicate the complexity of a story's themes than cuddlier, curvier textures characteristic of the west. Even characters in the best Pixar films can look like bobbleheads.
Yonebayashi's film also contains a spectacular, 'free the animals', Jumanji-esque stampede, arising from a part of the script (written by Yonebayashi and Riko Sakaguchi) cynical about animal experimentation, with magic potions in the proverbial test tubes: the lefty politics of Okja combined with Fantastic Beasts and Where to Find Them. The director is also intrigued by posthumanism, the headmistress and professor pining to create magically enhanced people capable of transcending limitations of the body and mind.
The folly of the headmistress and mad professor's hysterical ambition is reconfigured into an optimistic message, through which the director explores progress as a non-linear trajectory. "What's done is done until it's undone," says Mary in a climactic moment, rescinding progress for moral reasons – an antidote to the current, frenetic attitude towards technological evolution, epitomised in Facebook's founding rally cry 'Move Fast and Break Things'.
There are tender and ethereal moments, hinting at magic as a subjective term contingent on how – rather than where – one looks. When Mary enters Endor School she is dazzled by its elevators and asks how they work. They are powered by electricity, the headmistress tells her, and this "is also a form of magic." As is something as prosaic as a broomstick, or as natural as a flower, or as melancholic as an elderly person recalling their youth. Mary and the Witch's Flower is full of beautiful pictures, but, to its great credit, the film invests more colour into its themes.