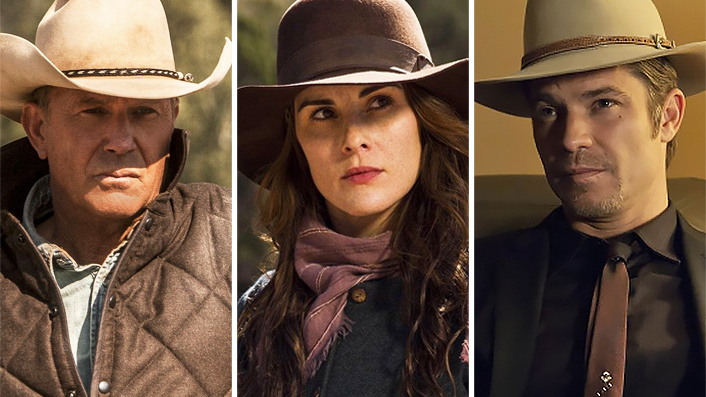 The 5 best TV westerns to stream right now

---
The mark the release of Walker (now streaming on Stan) critic Travis Johnson dusts off his cowboy boots and revisits the five greatest TV westerns of all time.

Chuck Norris' karate-kicking Texas Ranger has returned to the small screen, only now he's played by Supernatural's Jared Padalecki and the title has been reduced down from Walker: Texas Ranger to simply Walker. Both iterations are, of course, part of a proud lineage of television westerns, descended from the likes of Bonanza and Gunsmoke back in the 50s.
See also
* 25 best action movies on Netflix
* All new streaming movies & series
While the genre took a dip in popularity in the late 20th century, when your choices were basically Doctor Quinn: Medicine Woman or starve, recent years have seen the TV oater, if not exactly soar in popularity, then at least claw back some of its former prominence. So if you've got a hankering to binge some six guns and sweet hats, try your hand at some of these.
Watch on Stan
Easily the best of the bunch, David Milch's masterpiece follows the fortunes of the titular mining camp across three seasons and a much-delayed movie. Kicking off in 1876, Deadwood is a story about the process of civilisation, charting how such contrasting characters as Machiavellian saloon owner Al Swearengen (Ian McShane), angry AF lawman Seth Bullock (Timothy Olyphant) and a full supporting cast of killers, drunks, thieves, whores, miners, migrant, and more. It's also stunningly violent, sexually liberal and contains some of the finest swearing ever recorded.
Watch on Netflix
Based on the Walt Longmire mystery novels by Craig Johnson, this hugely popular modern western sees Australian actor Robert Taylor as the sheriff of the fictional Absaroka County, Wyoming, dealing with all the crimes the prairie has to offer, aided by transplanted homicide detective Victoria "Vic" Moretti (Katee Sackhoff) and Cheyenne tracker Henry Standing Bear (Lou Diamond Phillips), among others. As befitting its literary origins, Longmire is more complex than the usual crime-of-the-week cop show, rewarding watching with complex characters, intriguing mysteries and some fantastic Western scenery to boot.
Now on BINGE
Basically The Outlaw Josey Wales: The Series, Hell on Wheels sees former Confederate soldier Cullen Bohannon (Anson Mount) trying to track own the Union soldiers who killed his wife, in the process becoming a foreman of the Union Pacific Railroad as the intercontinental railway is built across America. Common and Colm Meaney co-star in the series, which effectively and often bloodily dissects the notion of manifest destiny to bring to light the hardships and horrors underpinning colonialism. While not the masterpiece that Deadwood is, Hell on Wheels has enough grit in its guts to satisfy fans of the form.
Now on BINGE
Lethal martial Ah Sahm (Andrew Koji) makes his way to 1870s San Francisco in search of his missing sister Mai Ling (Dianne Doan). Unfortunately for Ah Sahm, but fortunately for fans of watching people get kicked to death, the Tong Wars are brewing, and our man soon finds himself up to his neck in blood, broken bones and opium. If we were crass we'd call this an eastern, but Warrior is definitely and defiantly a western. Its focus on the Chinese immigrant experience and its urban setting make it a breath of fresh air in the genre.
Where to watch
Quick-shooting Deputy U.S Marshall Raylan Givens (Timothy Olyphant again) finds himself sent back to his home state of Kentucky after shooting down one too many bad hombres. There he comes into conflict with his childhood friend Boyd Crowder (Walton Goggins), now a career criminal, and all manner of other lowlifes. Based on Elmore Leonard's stories, Justified is a pitch-perfect modern day western that runs on the crime King's snappy dialogue, Olyphant's considerable charm and some tight and twisted plotting.
Watch on Netflix
From The Queen's Gambit creator Scott frank comes this feminist western miniseries in which young desperado Roy Goode (Jack O'Connell) finds himself hiding out in the town of La Belle, New Mexico. The wrinkle is that the town is populated almost entirely by women, including twice-widowed rancher Alice Fletcher (Michelle Dockery). The spanner in the works is one-armed monster Frank Griffin (Jeff Daniels), Roy's old boss, who isn't going to let a village full of ladies stop him from extracting some fatal payback from his former protégé. Deliberately paced and evocative, this seven part miniseries is reminiscent of Robert Altman's revisionist classic McCabe & Mrs. Miller, which makes it unmissable.

Watch on Stan
Kevin Costner heads up this soapy modern oater from Sicario writer Taylor Sheridan. Costner is John Dutton, owner of the largest cattle ranch in the contiguous United States and patriarch of a combustible clan including ex-soldier son Kayce (Luke Grimes), lawyer Jamie (Wes Bentley) and self-destructive wild card Beth (Kelly Reilly). Together they butt heads with real estate developers, a Native American tribe who consider the land stolen, and all manner of crime, organized or other. If you picture Sons of Anarchy meets Dallas, you're on the right track—and in for a good time.