The 15 best sitcoms to stream on Stan

---
With their relatively short episodes, distinct characters and addictive format, the sitcom has got to be one of the most comforting forms of TV out there—so here's Eliza Janssen's guide to the best and downright funniest series Stan has to offer.
Watch on Stan
We love most of the shows on this list for their growing characters—watching as their life events change the course of the series' humour and plot. That's not the case with Seinfeld, an aggressively pessimistic and petty show that focuses on the irony and minutiae of daily New York life, as experienced by a fictionalised version of comedian Jerry Seinfeld and his friends.
Often described as a 'show about nothing', Seinfeld is instead one of the first postmodern sitcoms, blessing us with a full vocabulary of hyper-distinctive 'Seinlanguage' (for example: 'yada yada yada', 'not that there's anything wrong with that', the concept of 'low-talking' and 'sponge-worthy' love interests) and that bass-slappin' theme song.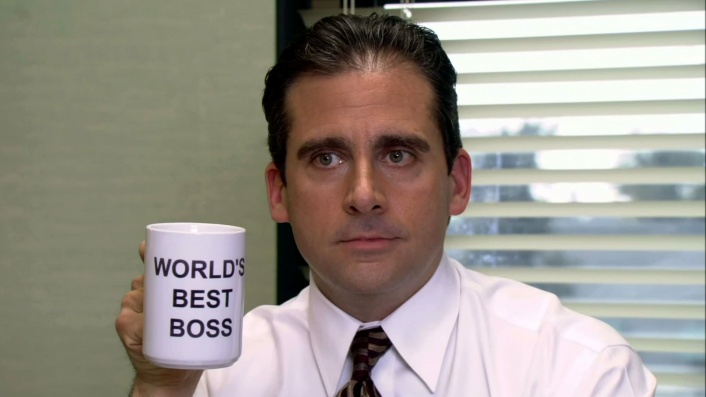 Watch on Stan
Remember when the premise of The Office felt fresh, revolutionary even? Back when sitcoms were in a dire, laughtrack-heavy low point, the mockumentary format absolutely changed the game with uncomfortable single-cam talking heads. The Office producer Mike Schur's Parks and Recreation, and Modern Family, are just two of the most obvious descendants.
Nicer, longer and more ensemble-driven than Ricky Gervais' UK original, The Office has ballooned in popularity since the conclusion of its nine seasons, with a fanbase as perky and excitable as the Dunder Mifflin Paper Company isn't. Themed trivia nights, tourism to Scranton PA and Tinder profiles from 'Jims seeking their Pam' are practically ubiquitous now.
Watch on Stan
This mockumentary-esque series may have taken a season or so to find its footing, but with the benefit of hindsight, Parks and Recreation is just as great as The Office in many ways. Following the mid-level bureaucrats running the town of Pawnee, Indiana, the show has equal helpings of heart and humour, all while kicking off the careers of many huge comedy and cinema stars to boot.
Seriously: Chris Pratt, Aziz Ansari, Rashida Jones, Nick Offerman and Aubrey Plaza all got their start in the mainstream by playing Pawnee's most dysfunctional yet loveable representatives. And as Leslie Knope, Amy Poehler picked up a Critics' Choice Award and a Golden Globe. In her own words, "we need to remember what's important in life: friends, waffles, work."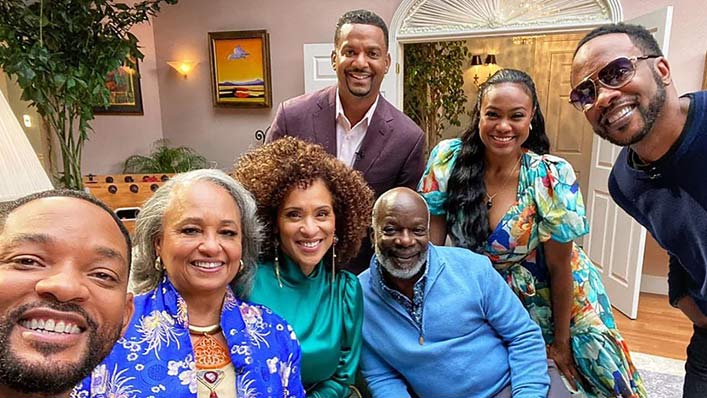 Watch on Stan
Stan recently acquired this 90s time-capsule of a show, as well as the stirring reunion special with which it was re-released. The Fresh Prince of Bel-Air is considered Will Smith's big break, the first time polite suburban audiences really got to see his crossover appeal as not just a family-friendly rapper but a movie megastar in the making.
If you're not aware of the series' behind-the-scenes drama, the reunion is still highly worthwhile, delving into the controversial exit of OG Aunt Vivian Janet Huybert. Then, to bring the mood back up, why not watch the entire 148 episodes of the fish-out-of-water series? Don't worry, the theme song still slaps.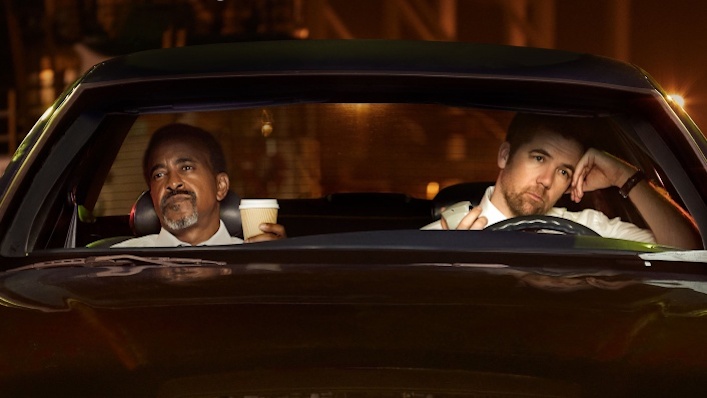 Watch on Stan
The rare example of a successful Aussie-to-US-TV transplant, No Activity is practically a humorous version of Beckett's Waiting For Godot; a crime-comedy about awkward pairings of awkward people, waiting for something big to happen while making us laugh with their dry banter.
Since beginning as a Stan Original Series, No Activity has blossomed into a US cult favourite, and its most recent fourth season has even changed the game by switching to an animated art style. Whether you're here for Aussie comedy talent like creator Patrick Brammel, Rose Byrne and Sam Simmons, or for the US megastars like Will Ferrell, Bob Odenkirk, Amy Schumer, J.K. Simmons and Kevin Bacon, No Activity gets the basics of TV comedy so right.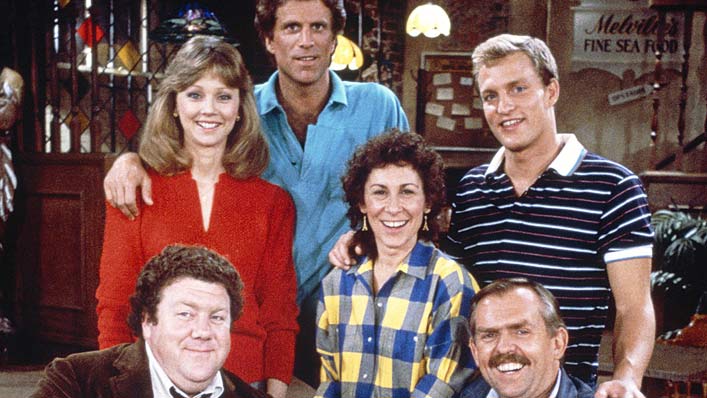 Watch on Stan
The rousing theme song to Cheers really embodies the appeal of a great sitcom; the opportunity to return time and time again to a loveable, familiar place, 'where everybody knows your name'. Well not your name, viewer, but rather the eclectic and iconic cast of stars like Woody Harrelson, Ted Danson, Shelley Long and Kirstie Alley.
Following the staff and customers of a Boston bar, this classic sitcom is available for your nostalgia and enjoyment, with 11 seasons of laughs to drink down. Whether it's your first-watch or a long-awaited rewatch, you may be surprised at the series' early adoption of themes of community, modernity, and social class, particularly in snooty supporting characters such as…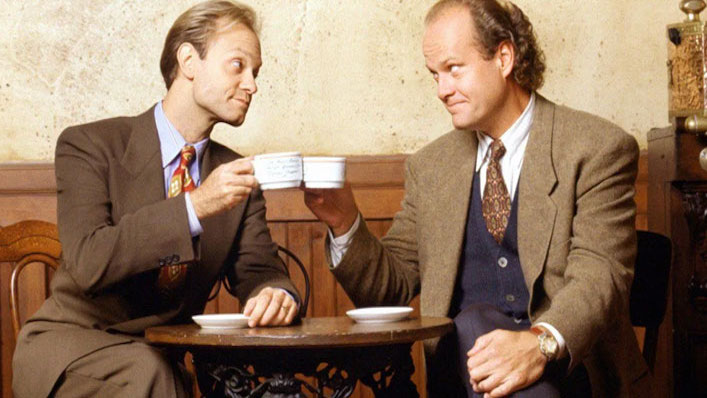 Watch on Stan
…Frasier Crane! Once Kelsey Grammar's psychiatrist character moved back to his native Seattle, the sharply-written sitcom that followed became a phenomenon of its own, with yet another 11 seasons of misunderstandings and hilarious pomposity to enjoy. I wonder why 11 is the magic number for Cheers and its spin-off series?
A Frasier revival will apparently arrive on Paramount+ in 2022, but nothing can beat the OG, which child-me used to believe was the classiest and most adult series on TV, probably because of its ritzy piano-lounge theme song. Never forget this iconic scene of David Hyde-Pierce's neurotic Niles Crane trying and failing to iron a pair of pants.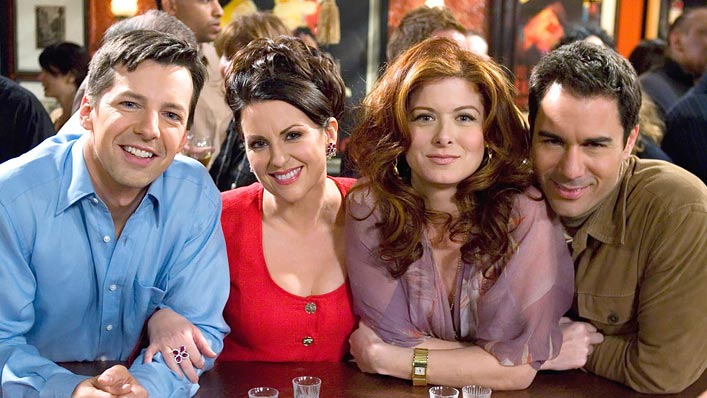 Watch on Stan
One of many 90s faves on this list to receive a 2010's reboot series, Will & Grace has an enduring and vocal fanbase. And of course it does, with its then-revolutionary depiction of queer protagonists and arguably one of the best sitcom characters of all time: Megan Mullally's spoiled socialite Karen Walker.
Will & Grace follows the titular best friends, an obsessive gay lawyer and a straight fashion designer, both with demanding careers, disastrous love-lives and highly rewatchable quirks and flaws. The series has an incredible supporting cast and cameos from stars such as Gene Wilder, Alec Baldwin, Debbie Reynolds, Lily Tomlin and Kevin Bacon (as himself!), marking it as one of the 2000's most glamorous small-screen stories.

Watch on Stan
30 Rock might be one of the quickest sitcoms in the medium's history, spitting out a great joke every 5 to 10 seconds before you've even processed the last one. For a show about the manic making of TV itself, that's highly appropriate, and Tina Fey's background in the chaotic Saturday Night Live writers' room seems invaluable to 30 Rock's creation.
Set in New York's Rockefeller Centre, the series stars Fey as Liz Lemon, the hapless handler of two spoiled TV stars (Tracy Morgan and Jane Krakowski, in roles they were seemingly born to play) and the subordinate of a heartless network executive (Alec Baldwin). My personal fave character is the daffy Southern page Kenneth (Jack McBrayer), who may or may not be immortal.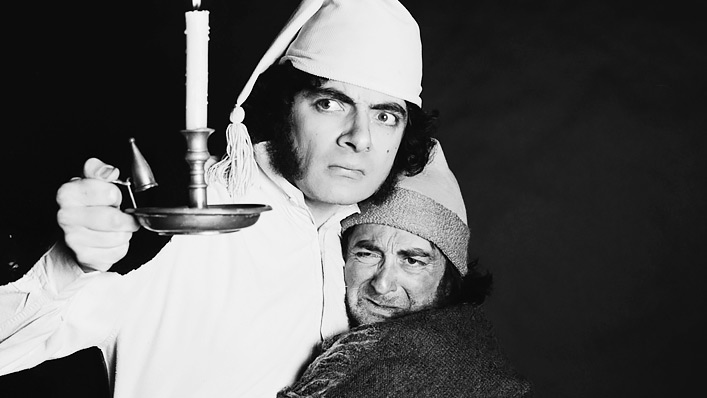 Watch on Stan
Nobody could be bored to tears by British history after seeing it through the absurd lens of Blackadder, a beloved and somewhat experimental UK comedy series that jumps forward in time with each of its four seasons. Airing from 1983 to 1989 but covering the Middle Ages up until World War 1, the series follows the failures of Edmund Blackadder and his descendants, all played by Rowan Atkinson.
Blackadder features the best of British comedy both in front of the camera (Fry and Laurie are among the constant supporting characters) and behind (Richard Curtis and Ben Elton write and produce). Just make sure to prepare yourself for that surprisingly poignant final episode, in which all the daft physical comedy and witty dialogue in the world can't take away from the sad fate our protagonists face in the trenches. Damn.

Watch on Stan
Okay, bear with me: I know the final season of this 2010's sitcom is famously derided as unsatisfying. But don't let that taint your enjoyment of what was often a clever and convention-busting series. By casting TV veterans like Jason Segel, Alyson Hannigan and Neil Patrick Harris (as the grotesquely heterosexual Barney), How I Met Your Mother felt warmly familiar while also toying with a unique framing device that kept viewers guessing until those last episodes.
Like its ancestors Seinfeld and Friends, How I Met Your Mother coined many a topical social term, really making fans feel like they were in on the particular social customs and in-jokes of this group of five mates. The best of these running gags has to be the elaborate, tense 'Slap Bet' between Barney and Marshall, which only escalated with each episodic return of the trope.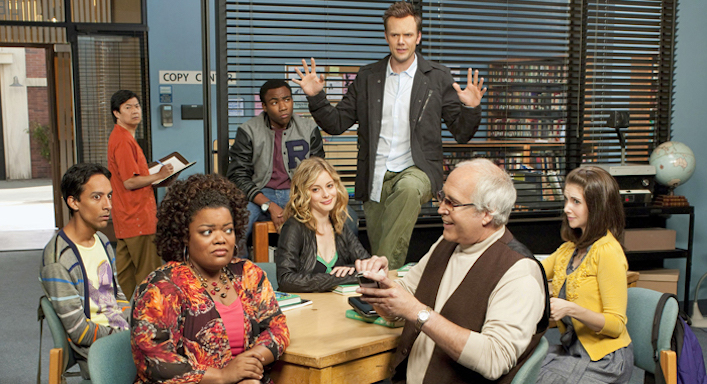 Watch on Stan
At times a little too clever for its own good, this cult sitcom is still a must-see for anyone that calls themselves a TV comedy buff. Just look at all the careers it accelerated to the big leagues: Donald Glover, Gillian Jacobs, Alison Brie…Community brutally remixed all the stereotypes and cliches of the sitcom world, while still standing out as one of the genre's best.
From Rick and Morty co-creator Dan Harmon, Community follows a cynical lawyer (Joel McHale) forced to rely on a study group of anti-social weirdos at possibly the worst community college in the world. As friendships, romances and rivalries all play out on the dysfunctional campus, new viewers should expect the unexpected—and buckle in after the first season's game-changing paintball episode.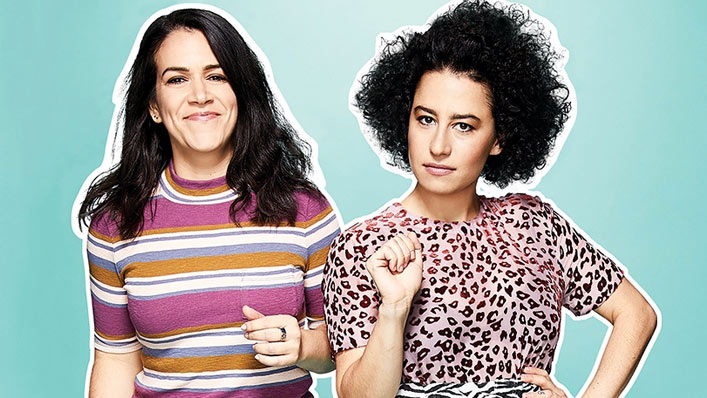 Watch on Stan
Laverne and Shirley for millennials, or stoner-bro comedy from a rare female perspective. Call Broad City what you like, it's still one of the funniest shows of the 2010's. Abbi Jacobson and Ilana Glazer play unhinged versions of themselves as New York desperados, seeking fun and sex and fulfilment in all the wrong places.
For example, the pilot episode sees them failing to sneak into a Lil Wayne concert, an exploit they attempt again (and fail again) in the penultimate episode of season five. Along the way, the Broad's deep and true friendship will keep you watching, as an honest portrait of finding someone who truly gets you amongst all the surreal humour and havoc around every corner.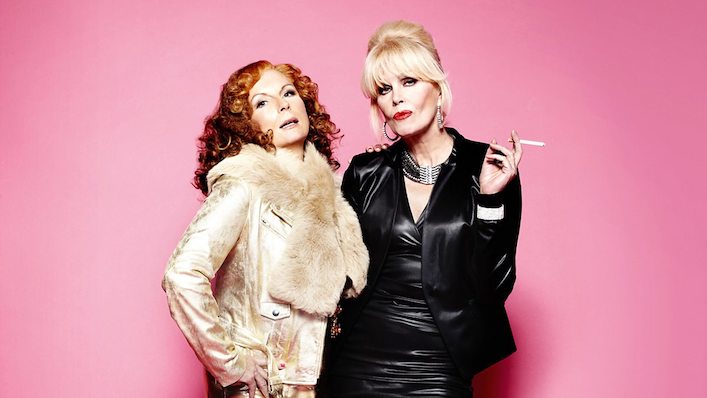 Watch on Stan
Whether you call it by its full title or the economic nickname 'Ab Fab', Jennifer Saunders' cult show made the matching mid-life crises of two London women into Britcom gold. Edina (Saunders) and Patsy (Joanna Lumley) swan around the worlds of PR and fashion without regard for anything but their own pleasure and public image, causing cringe and mayhem wherever they go—especially for Edina's long-suffering daughter Saffron (Julia Salwaha), who's considerably more mature than her desperate mum.
Fans will remember that season one saw Edina reluctantly celebrate her 40th birthday; now in their 60's and 70's, Saunders and Lumley are still dedicated to their character's hilarious dysfunction, releasing Absolutely Fabulous: The Movie only a few years ago. There's no other word for it but 'fab'.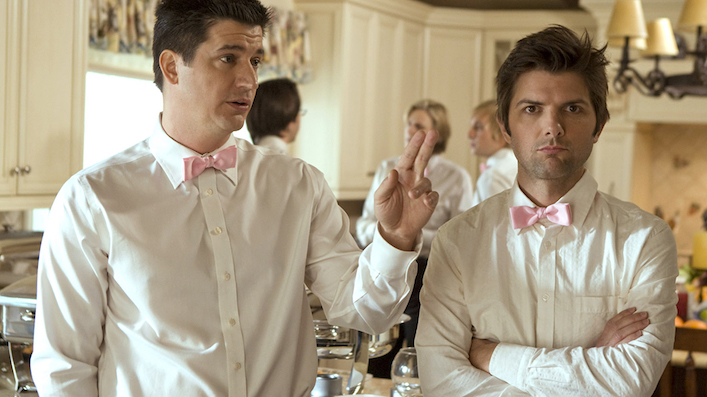 Watch on Stan
Produced by Paul Rudd and starring Adam Scott, Lizzy Caplan and Jane Lynch, it's a true mystery why Party Down only lasted a few meagre seasons, despite great writing and positive critical reception. Each episode follows the embittered staff of an exxy Hollywood catering company as they serve hors d'ouvres and try not to get too caught up in the lives and mayhem of their wealthy clients.
Party Down might be receiving a belated limited series reboot, so now's your chance to don a tacky pink bow tie and get in on the action before a third season comes out. With its stellar cast playing failed actors and wannabe screenwriters, there's definitely a relatable, aching quality to Party Down that only makes the comedy more biting and effective. Are we having fun yet?