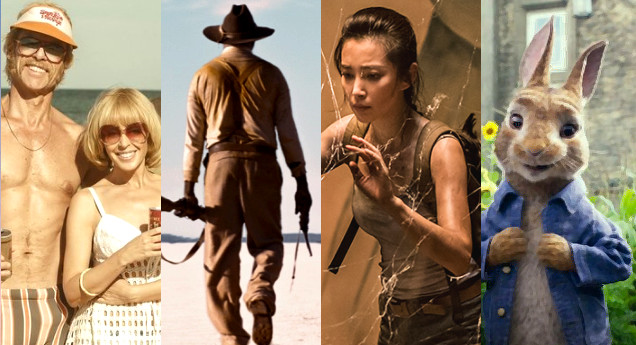 There are some huge Australian films coming to cinemas in 2018, which looks to be a big year for the local industry. We have searched through the release dates and picked six titles we reckon you need to look out for.
They are a mix of big international co-productions and stories that are uniquely Australian. The films mentioned below are from a range of different genres, so there is something for everybody, from a friendly pelican to swarms of man-eating spiders.
Stormboy
Mr Pervical, Australia's most famous pelican, is back! Originating in Colin Thiele's novel Stormboy, and famously brought to life in director Henri Safran's beloved 1976 family film, Mr Percival befriends a young, motherless boy who lives on a coastal area with his reclusive father. Director Shawn Seet, best-known for TV shows such as The Code and Underbelly, will direct this new adaptation of Thiele's book. It has very large, pelican-shaped shoes to fill.
Here's the official synopsis:
"When a highly successful retired businessman, Michael Kingley, starts to see things he at first can't explain, his life takes a dramatic turn. And when his grand-daughter rebels against her father, he is forced to re-evaluate his life and to act to prevent her going down a similar path to one he took years before. He tells her his story, when as a boy he lived a lonely existence with his father, Hideaway Tom, on an isolated coastline and how a bond with an orphaned pelican, Mr. Percival, changed his life forever."
Old Neighbours besties Guy Pearce and Kylie Minogue reunite for the latest rambunctious comedy from Stephan Elliott, director of The Adventures of Priscilla: Queen of the Desert and Welcome to Woop Woop. Originally titled Flammable Children, Swinging Safari looks like a brutal and completely bonkers satire of Australia in the 1970s.
Here's the official synopsis:
"1975: A 200-ton blue whale gets washed up on a local beach and the kids think it's the biggest thing that's ever happened in Australia. Behind closed doors, the Mums and Dads of a quiet suburban cul-de-sac are going to celebrate in their own special way, by joining the sexual revolution and throwing a wife-swapping key party. And like the rotting whale, it's all about to go spectacularly wrong."
After starring in the great Australian film Lion, Dev Patel headlines another Australian-produced real life story. Hotel Mumbai, from director Anthony Maras, is set during the three-day siege of the Taj Hotel in India, in which 167 people were killed. Much of the film was shot in Adelaide, where the interiors of the Taj Mahal Hotel were recreated. The film has some serious talent attached, including co-writer John Collee (Master and Commander, Happy Feet) and producer Basil Iwanyk (Gods of Egypt, Sicario).
Here's the official synopsis:
"In November 2008, a wave of devastating terrorist attacks throughout Mumbai catapulted the city into chaos. Frantic tourists fled to the one place they believed would be safe. The renowned Taj Mahal Hotel. Only to discover the famed institution was the primary target. But many more would have been killed if not for the extraordinary heroism of a few ordinary hotel staff members who valiantly risked their own lives to protect the lives of guests. This is the astonishing true story of the victims and survivors. A story that celebrates humanity's capacity for compassion and courage in the face of the darkest inhumanity."
English author Beatrix Potter's most famous creation, a delightful bunny rabbit who first appeared in a book published in 1902, is coming to the big screen in a hybrid live action/animated film produced in New South Wales. The animators belong to the revered production company Animal Logic, who made The Lego Movie and Happy Feet.
Here's the official synopsis:
"When Old Mr. McGregor passes away, the mischievous Peter Rabbit and his family take over the farmer's property, throwing an endless party of fruits, vegetables, and bad behavior. When a younger, spryer and more fastidious McGregor arrives to claim his inheritance, Peter is determined to keep the party going. But Peter soon realizes the young McGregor is not only a formidable foe, but is also falling for the local painter (and the rabbits' surrogate mother), Bea. Now, Peter will stop at nothing to drive McGregor away as the two wage war over both the garden and Bea's affection. In the end, Peter must come to realize that carrots and glory are never as gratifying as love and family."
Guardians of the Tomb
The previous feature film from director Kimble Rendall, 2012's Bait, put Xavier Samuel in a flooded supermarket full of Great White Sharks. It was a big hit in China. Thus the director's next film, the science fiction thriller Guardians of the Tomb, is an Australia/China co-production about a team who battle against a swarm of man-eating spiders.
Here's the official synopsis:
"Guardians of the Tomb revolves around a team of scientists who, while making the discovery of the century, lose a colleague in an ancient labyrinth. The group must battle their way through a swarm of deadly, man-eating funnel web spiders and discover the secret behind the arachnids' power and intelligence – before it's too late."
Director Warwick Thornton's highly anticipated follow-up to his acclaimed 2009 debut Samson and Delilah has generated huge acclaim overseas, and speculation that it might be in the running to win Academy Awards. Sweet Country looks to be a beautifully shot, outback-set neo-western co-starring newcomer Hamilton Morris as an Aboriginal stockman, and Sam Neill as a preacher.
Here's the official synopsis, according to Wikipedia:
"Sam is a middle-aged Aboriginal farmer in the outback of Australia's Northern Territory. He is sent by a preacher to help a bitter war veteran named Harry to help renovate the latter's cattle yards. Sam's relationship with Harry quickly deteriorates, resulting in a fight ending with Sam killing Harry in self-defense. For the murder of a white man, Sam is now on the run from the law with his wife across the deadly outback. A manhunt for the farmer is on, led by Sergeant Fletcher, but questions of justice start to surface among the community as the true details of the murder come to light."