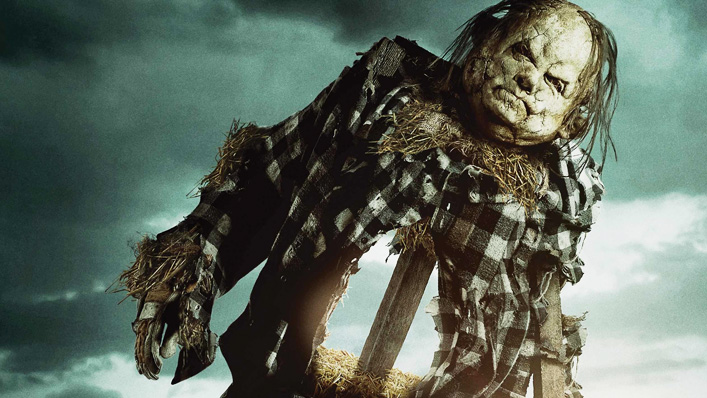 Scary movies to watch in the dark: a guide to horror movies for kids

---
Scary Stories to Tell in the Dark is the latest kid-friendly fright fest designed to scare children out of their jim-jams. Travis Johnson compiles a list of the best horror movies for young'uns.
Based on the beloved creepy collections of stories by Alvin Schwartz, Scary Stories to Tell in the Dark slips into cinemas this week. Coming to us courtesy of producer Guillermo del Toro (Hellboy, The Shape of Water) and director André Øvredal (Troll Hunter, The Autopsy of Jane Doe), this charming chiller brings to life a number of the original stories' most unnerving creatures and tales to scare another generation of kids out of their jim-jams.
And good-o: we need more of that. Everyone starts somewhere and entry-level horror is thin on the ground. If you're a kid the answer is simple: you just watch whatever you can get away with (the author saw Alien and An American Werewolf in London when he was six), ratings and parental concerns be damned.
If you're a parent, though, and wanting to introduce your sprog to the joys of the genre, it's a thornier proposition. Tou want to show your kids The Good Stuff, but perhaps don't want to deal with a week's worth of nightmares afterwards. Well, we've got your back: peruse this menu of kid-friendly frights and see if any of them might scratch your offspring's horror itch.
Sign up for Flicks updates
For a while there Disney experimented with darker-than-you-might-think live action fare, and this rarity is one of the most notorious. When an American family, the Curtises, move to rural England they are soon beset by seemingly supernatural occurrences.
It all seems to be connected to the disappearance of a local girl, Karen, 30 years ago – and wouldn't you know it, young Jan Curtis (Lynn-Holly Johnson) bears a striking resemblance to young Karen. This is an old fashioned ghost story that starts off uncanny and builds steadily and creepily to a truly unsettling climax. If you think "M.R. James, but for kids", you're on the right track. Skip the 2017 remake, though.
Steven Spielberg produces and the Texas Chain Saw Massacre's Tobe Hooper directs (he did too!) this stone cold classic of suburban terror. The hapless Freeling family, headed by mum JoBeth Williams and dad Craig T. Nelson, contend with eerie spirits in their new home that seem to have evil designs on their youngest daughter, Carol Anne (Heather O'Rourke).
Things really kick off when a team of parapsychologists, including psychic little person Tangina (Zelda Rubinstein), are called in to clear the house of horrors. Possibly a little too scary for the littlest lurkers (the scene where the guy pulls his own rotting face apart is likely to make the squeamish nope right out), this one sits right at the turning point from the fun frights of youth to the more haunting horrors of maturity.
Another salvo from Disney's Dark Age, this adaptation of Ray Bradbury's beloved novel sees two young boys, Will Halloway (Vidal Peterson) and Jim Nightshade (Shawn Carson), grapple with the seductive nature of evil when Mr. Dark's Pandemonium Carnival steams into their picturesque, bucolic little town.
Jonathan Pryce is magnificently malevolent as Mr. Dark, a saturnine figure who offers the various townsfolk everything they ever dreamed of… for a price. The great Jason Robards brings effortless gravitas to the proceedings as Will's ageing father, whose hard-won wisdom stands in counterpoint to Dark's intoxicating but hollow confections.
From director Joe Dante and producer Steven Spielberg comes this darker-than-you-remember classic, which will have younger kids nervously checking under the bed for weeks after viewing. When Billy Peltzer (Zach Galligan) is gifted with a weird little critter called a Mogwai by his inventor father one Christmas, he thinks he's just getting an exotic pet.
What he really gets is an apocalyptic plague of ravenous, mischievous, murderous gremlins who threaten to destroy his entire town. Mostly played for laughs, Gremlins nonetheless harbours some real moments of darkness, the fluff and fun concealing the surprising hard edge common to all the best kids' horror flicks.
It don't mean a thing if it ain't got that King – Stephen, that is. This is probably the horror maestro's most child-friendly tale of terror (Stand by Me ain't horror). Based on his novella Cycle of the Werewolf (which was illustrated by Swamp Thing creator Bernie Wrightson), this chiller sees wheelchair-bound Marty (Corey Haim) trying to figure out the identity of the werewolf munching its way through his small town on a monthly basis (spoiler: it's Everett McGill's sinister pastor).
Cheerfully gory but never not fun, this classically constructed monster romp is buoyed by winning performances across the board. Especially from the great Gary Busey as Marty's boozy Uncle Red.
A gregarious gaggle of nerdy kids take on the Universal Monsters in this enjoyably crass offering from director Dred Dekker (Night of the Creeps) and co-writer Shane Black (Lethal Weapon, The Nice Guys). There's a lot of fun to be had reveling in memories of being a horror-hungry tween (one kid sports a t-shirt that simply reads "Stephen King Rules").
But the real attraction here is seeing Dracula (Duncan Regehr), Frankenstein's Monster (Tom Noonan), The Mummy (Michael McKay), The Wolfman (Jonathan Gries) and The Gill-Man (Tom Woodruff Jr.) reimagined by the late special effects legend Stan Winston. While the '80s pop culture references have dated, this love letter to classic horror remains immortal.
Joel Schumacher's none-more-80s teen vampire flick sees teen brothers Sam (Corey Haim again) and Michael (Jason Patric) discover that their new home town (weird how many of these are about moving to a new house) is infested with vampires, led (OR ARE THEY?) by Keifer Sutherland's bleached bad boy, David.
Staple of a million slumber parties, The Lost Boys is a pitch-perfect blend of horror, comedy and cool (well, it was cool then) buoyed by a great soundtrack and the most MTV of MTV visual stylings. Plus, you get Corey Feldman and Jamison Newlander as the stoic, paramilitary Frog brothers, teen vampire hunters extraordinaire.
Tim Burton does Washington Irving – it's a match made in mall goth heaven. Johnny Depp is Ichabod Crane, 18th century detective, who is dispatched to the titular hamlet to investigate a series of beheadings. The culprit? None other than the Headless Horseman (Christopher Walken with noggin attached, former Darth Maul Ray Park without), who is carving his way through the town's moneyed population for… well, that would be telling.
Burton's gothic stylings are at their peak here and he clearly relishes bringing the hoary old ghost story to vibrant life and populating it with some of his faves, including Michael Gambon, Christopher Lee, Ian McDiarmid (that's three Sith if you're keeping count), Jeffrey Jones, and Martin Landau, with Christina Ricci on love interest duties. This is one of the last of the fabled Early Good Films from Burton and, as such, deserves to be cherished.
Stop-motion horror! Henry Selick, who directed The Nightmare Before Christmas no matter what Tim Burton fans tell you, adapts Neil Gaiman's 2002 novella to gloriously off-kilter effect. When young Coraline (voiced by Dakota Fanning) moves into a new house, she finds a secret door to another dimension populated by button-eyed doppelgangers of her friends and family.
It's all very cute and colourful, but the Other Mother (Teri Hatcher) wants Coraline to stay there forever and fixing to sew buttons over her goddamn eyes to make that happen. Coraline is cute and colourful and twee right up until you start thinking about it, and then it becomes downright horrifying. A top notch voice cast including Dawn French, Jennifer Saunders, Keith David and Ian McShane are the spoonful of sugar that help the nightmares go down.
Officially calling it: new classic status. More jaded horror hounds might balk at the latest episode in the Conjuring Universe, but as an entry level horror flick it's an absolute banger. When her demonologist parents (Vera Farmiga and Patrick Wilson) take a road trip, nascent psychic Judy (emerging scream queen Mckenna Grace) is left home with her babysitter (Madison Iseman), the babysitter's best friend (Katie Sarife) and, of course, her parents' Black Museum of haunted artifacts, cursed objects, and other talismans of evil.
What could possibly go wrong? Everything, my friends, everything. A fun rollercoaster ride that combines a knowingly spooky atmosphere with well-crafted jump scares, Annabelle Comes Home is a succession of bloodless boos that should titillate the tweens without pushing them into therapy.