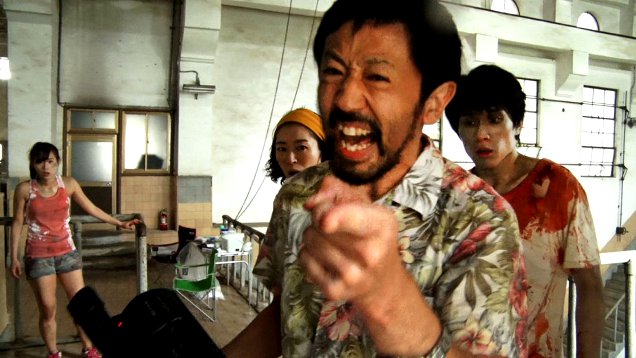 Is the year's best zombie film the low-budget Japanese flick One Cut of the Dead?

---
If you think you've seen every kind of zombie movie there is to see, think again. Fans of the genre need to know about One Cut of the Dead, which is currently screening (or about to screen) around the country as part of the Japanese Film Festival. 
When George A. Romero made Night of the Living Dead, he did so with just $114,000, an unknown cast and plenty of creative decisions dictated by a lack of cash. Released in 1968, his feature debut earned back over 250 times its budget. More than that, it became the definitive zombie movie that all others have tried to take a bite out of since. Night of the Living Dead also spawned its own franchise, with the horror maestro directing five further installments.
Fifty years later, Romero's masterpiece might just have another successor – or, at least, a zombie film that not only endeavours to follow in its footsteps as the masses already have, but also firmly evokes its spirit. That's no slight on the hordes of excellent zombie flicks that have shuffled across screens big and small, although just as many terrible efforts have as well.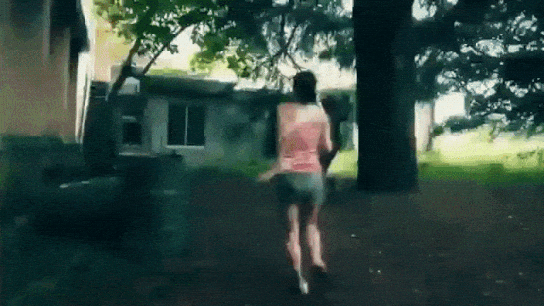 The off-screen parallels between Night of the Living Dead and Japanese effort One Cut of the Dead are many, with the latter working with a budget of three million yen (US$27,000) and making over three billion yen at the box office to date. It was shot in eight days by a first-timer, and initially released on just two screens in Tokyo. It's also an inventive, intelligent and amusing take on a jam-packed genre.
There's more than a little winking evident when Shinichiro Ueda commences his debut with a film crew making a zombie movie. Ueda knows that viewers have been here and done this over the past five decades, and that Romero himself went found-footage with 2007's Diary of the Dead. Over One Cut of the Dead's first 37 minutes, it both proceeds as expected and sets audiences up for something else. When a plot that'd usually need 90 minutes to unravel is condensed into a third of that time, more is clearly brewing.
Sign up for Flicks updates
One Cut of the Dead's on-screen director, Higurashi (Takayuki Hamatsu), wants lead actress Chinatsu (Akiyama Yuzuki) to ramp up the fear in his cheap addition to the fold, which is filming in an old water filtration plant. When her character's boyfriend, played by lead actor Ko (Nagaya Kazuaki), gets an appetite for brains and comes a-munching, she just doesn't seem scared enough. Higurashi rages, the stars gossip with make-up artist Nao (Syuhama Harumi), and someone comes stumbling in, zombie-style, as they're swapping zombie tales. Everyone thinks that this cast member is just fooling around, but the horror film shoot has become host to its own horrors. Higurashi loves it, demanding that the cameras keep rolling as his actors fight for their lives.
True to the movie's name, Ueda shoots the film's opening in one unbroken take. The camera roves through its setting, peering close as Higurashi yells at Chinatsu, stepping back when everyone takes a breather between tantrums, and bobbing and weaving when the chomping begins. It chases Chinatsu through every inch of her surroundings, up and down stairs, through gardens and onto rooftops, as she wields any weapon that she can find and simply tries to survive.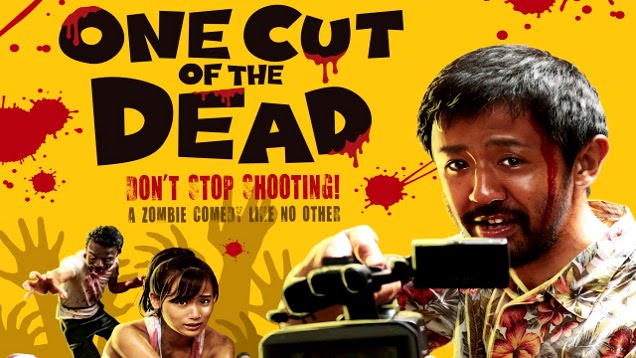 If the story sounds straightforward to this point, that's because it is, Higurashi's glee at how meta his movie becomes notwithstanding. Taking a cue from his joy is recommended, because One Cut of the Dead only gets more meta from there. In its opening third, off-screen director of photography Takeshi Sone favours resourceful angles to enliven this matryoshka doll-like zombie movie, with its visuals initially proving its main highlight. But then the lengthy single take stops. One Cut of the Dead ends its one cut, jumps back in time and adds more layers to its narrative.
Spoilers follow. Higurashi's passion project isn't merely a bloody, over-the-top Japanese version of every zombie movie and every found-footage film combined. Rather, it's a live TV broadcast being made by a director known for being "fast, cheap but average". He spends a month preparing, only for everything that can go wrong to go wrong. One Cut of the Dead dedicates its mid-section to the rehearsals, and its action- and joke-packed final act to seeing the shoot in action, revealing everything happening around its single take.
For clarity, this means that One Cut of the Dead is a zombie movie about the making of a live zombie television show about a zombie movie shoot that's interrupted when the production is overrun with zombies. With horror already so stuffed with the rampaging undead, the film's self-reflexive nature is a masterstroke. Writing and directing, Ueda recognises how interconnected the zombie realm has become – that watching any zombie effort instantly conjures memories of everything that's come before. He can't make the idea of ravenous walking corpses seem new, but he can blaze his own trail by viewing the genre through almost as many layers as it has amassed over the years.
Zombie movies weren't new when Romero reshaped the genre in Night of the Living Dead's image, either, but smarts, a spark, a statement and a slathering of ingenuity goes far. That Ueda possesses both the energy and skill to bring One Cut of the Dead's concept to life ranks among the Japanese filmmaker's big feats – and that he balances irreverence with gore, too – however his entertaining effort also has something to say.
It sinks its teeth into the idea of male artists expecting blood for their supposed genius. It lays bare the fact that all films, even terrible ones, are a labour of love, while hilariously deconstructing just what goes into a low-budget movie. And, it's savage via its structure, embodying the old cliché about not judging a book by its cover (or a movie by its first act). Or perhaps, One Cut of the Dead is simply an ode to good ol' fashioned perseverance. It pays off when fending off hungry zombies, when waiting for the zombie genre to throw up a new instant classic, and when watching a zombie film find its footing.