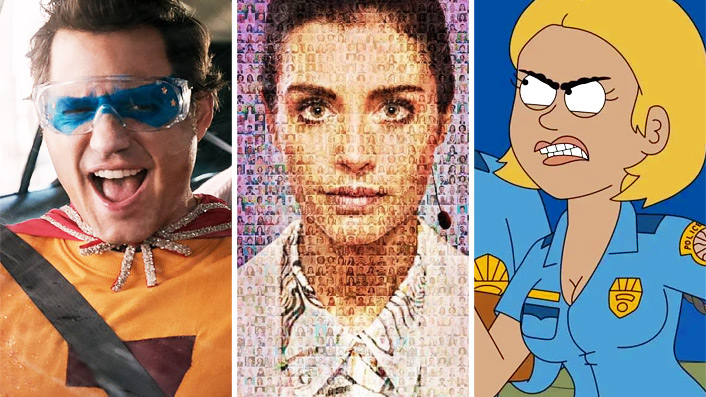 Best new movies and TV series on Netflix Australia: March 2021

---
Each month, loads of new films and TV shows are added to Netflix Australia's library. Critic Craig Mathieson presents his picks for titles worth watching. For the full list of everything arriving on the platform, scroll down. Also check out our top 50 movies on Netflix list.
Top picks: TV
If you've exhausted every episode of The Family Guy and/or your taste in animated humour tends to the filthier end of the scale, then Netflix has low-key been making a series for you since 2018. Created by Roger Black (a Howard Stern Show regular) and Waco O'Guin (Brickleberry), Paradise PD thoroughly delights in the scabrous exploits of an inept police department in a crime-ridden town.
The chief of police has had both testicles shot off, his top female officer is a psychotic fat fetishist, and the sniffer dog, Bullet, is addicted to drugs. There's another sexual deviant or two—and this is before you get to the underworld. While Netflix keep it on the down-low, a third season indicates that it has an audience.
Coming a month after Behind Her Eyes—which had the nuttiest finale Netflix has ever aired—this sci-fi mystery about the researchers and company who have changed society in the near future by discovering the gene that irrefutably matches everyone in the world with their true soul mate is further evidence that the platform loves an over-the-top thriller.
Adapted by Howard Overman (Misfits) from the novel by John Marrs, with Hannah Ware as a wilful researcher and CEO, it has corporate intrigue, a police investigation and fractured relationships in a world where the concept of true love has been overturned. Will it run off the rails? Quite possibly. Will it be entertaining? Quite possibly.
Sky Rojo season one (March 19)
Netflix are obviously happy to be in the Alex Pina business. The Spanish writer/producer created Money Heist for the streaming service, its biggest Spanish language hit. Since then Netflix has given Pina the green light for White Lines, a juicy Brits partying in Ibiza murder mystery, and now there's this amped up and irreverent action thriller about a trio of sex workers—Coral (Veronica Sanchez), Gina (Yany Prado) and Wendy (Lali Esposito)—who go on the run from their maniacal pimp.
The trailer suggests a touch of Thelma & Louise and a lot of the Harley Quinn movie Birds of Prey. A few Pina staples to expect: outrageous plot twists, luscious colours and a devil-may-care worldview.
Turns out there's always another angle on Sherlock Holmes. The original Baker Street Irregulars were the Dickensian street urchins who served as errand boys and street scouts in a handful of Arthur Conan Doyle's original stories, about fiction's most famous consulting detective.
Sign up for Flicks updates
Created by Tom Bidwell (the Watership Down limited series), this new incarnation turns The Irregulars into a suitably diverse group of teenage crime fighters caught up in a horror-tinged supernatural affair in 19th century London. Holmes and Dr Watson still feature (Henry Lloyd-Hughes and Royce Pierreson play the respective roles), but it's the young adults on the frontline—and those watching—who'll be leading the way.
Top Picks: Movies + Specials

Amy Poehler has perpetual icon status for starring in Parks and Recreation, putting some backbone into Saturday Night Live, and making the Golden Globes of all events a must-see whenever she co-hosts with Tina Fey. But her directorial debut, Wine Country, wasn't a strong film despite a stacked ensemble cast of female comics, so the stakes are genuine with her follow-up, a shout of encouragement from the empowered women of Generation X to teenage Generation Z girls.
Hadley Robinson plays Vivian Carter, a 16-year-old who's come to accept the rampant sexism at her high school, only to fight back and embrace rebellion by starting an underground zine and protest movement to follow in the footsteps of her mother, Lisa (Poehler). It's affirmation and a backbeat for the win.
Thanks to Back to the Future everyone knows what a DeLorean is, but the man who created it—and was also involved in a titanic criminal scandal—is no longer as prominent. The late John DeLorean was a celebrated Detroit auto industry executive who climbed the ranks at General Motors then started his own company in 1973, only to be subsumed by dire circumstances and his own extensive hubris.
The 2019 documentary mixes archival footage with dramatic recreations—DeLorean is played by Alec Baldwin—to tell a story that is the epitome of fact being stranger than fiction. This film has a lot of gears and it goes through all of them.
Few genres are harder to pull off than the family comedy—the most common outcomes are sappily sweet, implausibly jolly, or wilfully inappropriate. This take—about a harried clan with a rule-bound mother and father who agree to say yes to their children's requests for a day, instead of no—at least has some promising contributors.
There's the capable Jennifer Garner and Edgar Ramirez as the parents of the Los Angeles family that cuts loose, while the director is the versatile Miguel Arteta (Beatriz at Dinner, Alexander and the Terrible, Horrible, No Good, Very Bad Day). Given the lockdown year many families have been through, even if they get this half right the movie could have a sizable and excited audience.
March 1
Biggie: I Got a Story to Tell — NETFLIX DOCUMENTARY
Batman Begins (2005)
Blanche Gardin: Bonne Nuit Blanche (2021)
Crazy, Stupid, Love (2011)
Dances with Wolves (1990)
DC Super Hero Girls: Season 1
I Am Legend (2007)
Invictus (2009)
Jason X (2001)
Killing Gunther (2017)
LEGO Marvel Spider-Man: Vexed by Venom (2019)
Nights in Rodanthe (2008)
Power Rangers Beast Morphers: S2
Rain Man (1988)
Step Up: Revolution (2012)
Tenacious D in The Pick of Destiny (2006)
The Dark Knight (2008)
The Pursuit of Happyness (2006)
Training Day (2001)
Two Weeks Notice (2002)
Year One (2009)
March 2
Black or White (2014)
Word Party: Season 5 — NETFLIX FAMILY
March 3
Moxie — NETFLIX FILM
Murder Among the Mormons — NETFLIX DOCUMENTARY
Parker (2013)
Safe Haven (2013)
March 4
Pacific Rim: The Black — NETFLIX ANIME
March 5
City of Ghosts — NETFLIX FAMILY
Dogwashers — NETFLIX FILM
Nevenka: Breaking the Silence — NETFLIX DOCUMENTARY
Pokémon Journeys: The Series: Part 4 — NETFLIX FAMILY
Sentinelle — NETFLIX FILM
March 8
Bombay Begums — NETFLIX ORIGINAL
Bombay Rose — NETFLIX FILM
March 9
The Houseboat — NETFLIX ORIGINAL
StarBeam: Season 3 — NETFLIX FAMILY
March 10
Dealer — NETFLIX ORIGINAL
Last Chance U: Basketball — NETFLIX DOCUMENTARY
Marriage or Mortgage — NETFLIX ORIGINAL
March 11
Coven of Sisters — NETFLIX FILM
March 12
Love Alarm: Season 2 — NETFLIX ORIGINAL
The One — NETFLIX ORIGINAL
Paper Lives — NETFLIX FILM
Paradise PD: Part 3 — NETFLIX ORIGINAL
YES DAY — NETFLIX FILM
March 14
Audrey (2020)
March 15th
Bakugan: Armored Alliance
The BFG (2016)
The Last Blockbuster (2020)
The Lost Pirate Kingdom — NETFLIX ORIGINAL
Zero Chill — NETFLIX FAMILY
March 16
RebellComedy: Straight Outta the Zoo — NETFLIX COMEDY SPECIAL
Savages (2012)
Waffles + Mochi — NETFLIX FAMILY
March 17
Operation Varsity Blues: The College Admissions Scandal — NETFLIX DOCUMENTARY
Under Suspicion: Uncovering the Wesphael Case — NETFLIX ORIGINAL
March 18
B: The Beginning Succession — NETFLIX ANIME
Cabras da Peste — NETFLIX FILM
Deadly Illusions (2021)
The Fluffy Movie (2014)
Nate Bargatze: The Greatest Average American — NETFLIX COMEDY SPECIAL
Skylines (2020)
March 19
Alien TV: Season 2 — NETFLIX FAMILY
Country Comfort — NETFLIX FAMILY
Formula 1: Drive to Survive: Season 3 — NETFLIX ORIGINAL
Sky Rojo — NETFLIX ORIGINAL
March 20
Jiu Jitsu (2020)
March 22
Loyiso Gola: Unlearning — NETFLIX COMEDY SPECIAL
March 24
Seaspiracy — NETFLIX DOCUMENTARY
Who Killed Sara? — NETFLIX ORIGINAL
March 25
Caught by a Wave — NETFLIX FILM
DOTA: Dragon's Blood — NETFLIX ANIME
Millennials: Season 3
Secret Magic Control Agency — NETFLIX FAMILY
March 26
A Week Away — NETFLIX FILM
Bad Trip — NETFLIX FILM
Big Time Rush: Seasons 1-4
Croupier (1998)
The Irregulars — NETFLIX ORIGINAL
Magic for Humans by Mago Pop — NETFLIX ORIGINAL
Nailed It!: Double Trouble — NETFLIX ORIGINAL
March 29
Mandela: Long Walk to Freedom (2013)
Rainbow High: Season 1
March 30
7 Yards: The Chris Norton Story (2020)
Octonauts & the Ring of Fire — NETFLIX FAMILY
March 31
At Eternity's Gate (2018)
Haunted: Latin America — NETFLIX ORIGINAL
---
See also
* Best new movies and TV series Stan
* Best new movies and TV series on Amazon Prime
* Best new movies and TV series on Disney+
* All new streaming movies & series