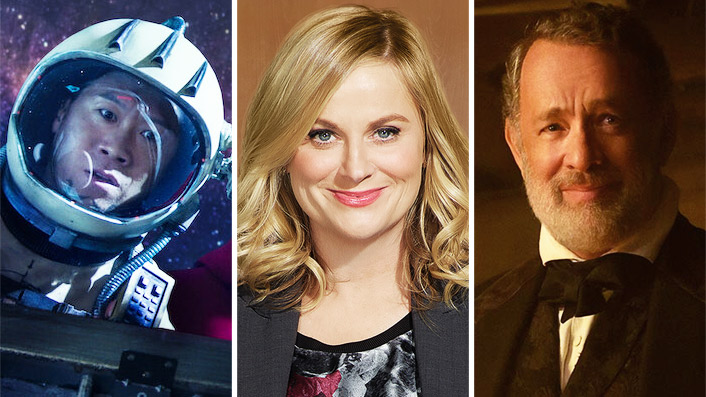 Best new movies and TV series on Netflix Australia: February 2021

---
Each month, loads of new films and TV shows are added to Netflix Australia's library. Critic Craig Mathieson presents his picks for titles worth watching. For the full list of everything arriving on the platform, scroll down. Also check out our top 50 movies on Netflix list.
Top picks: TV
The struggle for American sitcom domination continues on Australia's streaming services: Netflix has Friends, 30 Rock, and Community, while Stan boasts Seinfeld, How I Met Your Mother, Frasier and the US version of The Office. Netflix's latest addition is all seven seasons—2009 to 2015—of this modern classic about the cheery antics of the public servants in an Indiana town's parks department.
Led by Amy Poehler's Lesley Knope, a devotee of public service with a Joe Biden crush (the U.S. President has a lovely 2012 cameo), this crew stumble through good deeds and misadventures, with a stacked cast including Rashida Jones, Nick Offerman, and Aziz Ansari. The show's humanist faith is more welcome than ever.
Best friends get the then and now treatment in this drama, which cuts between the teenage meeting and bonding of two girls, Tully and Kate, in the 1970s and their support for each other 30 years later as they traverse career and family difficulties. The structure suggests This is Us, and the emotional stakes are likely to be same, with creator Maggie Friedman (Witches of East End) adapting a best-selling novel by Kristin Hannah.
As adults Tully and Kate are respectively played by Katherine Heigl, who has been looking to get her television career back to its Grey's Anatomy peak, and Sarah Chalke. But it will be the teens—Ali Skovbye and Roan Curtis—who have to craft a lasting foundation.
With Dark and Babylon Berlin, Germany has been Netflix's top European contributor. Their latest subtitled offering is this kitchen sink post-apocalyptic drama, set in a fractured 2074 where a global catastrophe has opened up all kinds of possibilities: marauders on horses, sword-wielding warriors, Thunderdome-like gladiator pits, mysterious elites, and The 100's taste for young conspirators.
When three siblings recover a mysterious cube with unknown powers, they're flung into a maelstrom of plotting and possible salvation. The crucial work here will be to distinguish the series from its many predecessors.
Top Picks: Movies + Specials

The made in lockdown movies are coming: shot in a single house over two weeks with a scaled down cast and crew (never more than 12 present) who went through quarantine before and after, Malcolm & Marie follows a Hollywood filmmaker (John David Washington) and his girlfriend (Zendaya) through their night together after returning home from the triumphant premiere of his new film—where he has forgotten to thank her.
Sign up for Flicks updates
Writer/director Sam Levinson, who oversees Euphoria with Zendaya, uses that starting point to study inspiration, L.A. power dynamics and the motivating power of bad reviews. With the stars from Tenet and Dune, this two-hander couldn't have more timely headliners, and they're suitably shot on black and white 35mm film to accentuate the image making's sensuous power.

Need a full tilt palate cleanser as awards season take over? Writer-director Jo Sung-hee's South Korean space opera is set in 2092 and offers deep space scrap merchants looking to make a score, a lippy robot and careening spaceships. This is a long way from Jo's 2012 hit A Werewolf Boy, but it looks to hit the sweet spot between the original Star Wars and The Expanse, with a touch of Red Dwarf for added comic mayhem. CGI-heavy science-fiction is one of the few genres South Korea's burgeoning film industry hasn't cracked this century, but this could change that.
Given that the director is Paul Greengrass, who reinvented the espionage genre The Bourne Supremacy and The Bourne Ultimatum, you could be forgiven for thinking this is a thriller about the British newspaper shut down after the phone hacking scandal.
Actually, it's a western that reunited the English filmmaker with his Captain Phillips lead, Tom Hanks, who plays a Civil War veteran making his living reading newspapers aloud across the frontier. When the itinerant newsreader encounters an orphaned child (Helena Zengel), he reluctantly agrees to escort her to safety, a situation that proves difficult to attain in this chaotic revisionist western.
All titles arriving on Netflix Australia in February
February 1
Justin Bieber: Never Say Never
Parks And Recreation: Season 1-7
White Chicks
February 2
Kid Cosmic
Mighty Express: Season 2
Tiffany Haddish Presents: They Ready: Season 2
February 3
Capitani
Firefly Lane
Black Beach
February 5
Hache: Season 2
Invisible City
The Last Paradiso
Little Big Women
Malcolm & Marie
Space Sweepers
Strip Down, Rise Up
February 7
Brooklyn Nine-Nine: Season 7
February 10
News of the World
The Misadventures of Hedi and Cokeman
Crime Scene: The Vanishing at the Cecil Hotel
Homeland: Season 8
February 11
Layla Majnun
Red Dot
Squared Love
February 12
To All The Boys: Always and Forever
Nadiya Bakes
Buried by the Bernards
Xico's Journey
Hate by Dani Rovira
February 15
The Crew
Saving Private Ryan
The Truman Show
February 16
Animals on the Loose: A You vs. Wild Movie
February 17
Hello, Me!
Behind Her Eyes
MeatEater: Season 9 Part 2
Outlander: Season 5
February 18
Thus Spoke Kishibe Rohan
February 19
Tribes of Europa – Original Series
February 20
Classmates Minus
February 23
Pelé
Brian Regan: On The Rocks
February 24
Ginny & Georgia
Canine Intervention
February 25
High-Rise Invasion
Geez & Ann
February 26
Crazy About Her
Caught by a Wave
Bigfoot Family
February 28
Rocketman
See also
* Best new movies and TV series Stan
* Best new movies and TV series on Amazon Prime
* Best new movies and TV series on Disney+
* All new streaming movies & series