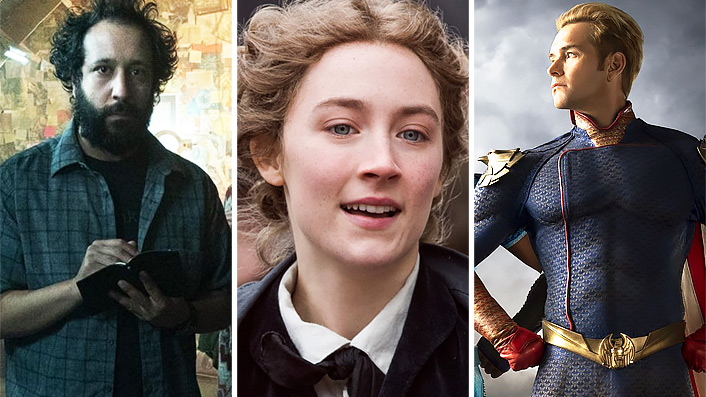 Best new movies and TV series on Amazon Prime Video Australia: September 2020

---
Each month, new films and TV shows are added to Amazon Prime Video's Australian library. Eliza Janssen presents her picks for titles worth watching. For the full list of everything arriving on the platform, scroll down.
Top picks

With great power comes great responsibility, and the amoral supermen of The Boys have long been willing to abuse that power for their own selfish means. In season one of this edgy Prime Video original, Karl Urban's badass vigilante Billy Butcher started taking down the corrupt Seven, a crew of publicly beloved but privately corrupt and evil superheroes.
Sign up for Flicks updates
Season two sees The Boys take on new villains like Nazi sympathiser Stormfront, as well as uncovering just what's going on with Butcher's rediscovered wife, who has been raising all-American hero Homelander's child. Sounds complicated, but it's probably going to be a more raucous and hilarious view than any earnest depiction of superpeople on Marvel's release schedule.
We all know there's been a million adaptations of Louisa May Alcott's tale of family, fortune and womanhood, but Greta Gerwig's Oscar-winning take from last year really does rank among the best. Gerwig's muse Saoirse Ronan is the perfect Jo, and Florence Pugh is even charming enough to make the typically bratty Amy just as human and empathetic as the rest of the March sisters.
With an inventive flashback structure that shows the girl's adolescence in comparison to the women they'll become, Gerwig has dressed this beloved classic in vibrant new clothes, and affirms Timothee Chalamet as the Dicaprio pretty-boy girl-crush of his generation.
Utopia (September 25)
Fandom is an eternal state of 'reading into things too much'. But what if all that loving and geeky dissection of pop culture actually uncovered something truly troubling, with mortal consequences for humanity? Utopia is an American remake of a recent British series, with Sharp Objects and Gone Girl scribe Gillian Flynn acting as show runner and executive producer; she'll bring her scathing social critique and sharp characterisation to the table in this eight-episode conspiracy thriller.
Jessica Rothe and a stellar ensemble cast play a group of comic book nerds who decode a series of world-changing hidden messages in their favourite comic franchise, and come to face-to-face with the comic's lead character; can the comic's disturbingly accurate predictions for the real-world really come true? I'm assuming yes, but I'm still keen to watch and find out exactly how Flynn will fare in the world of high-concept sci-fi.
---
All titles arriving on Amazon Prime Australia in September
1 September 
Chicago Med (S1-4)
Law & Order: SVU (S1-7)
South Park
Southpaw
What To Expect When You're Expecting
Hollow Crown
Bloodshot
4 September
21 Bridges
The Boys Season 2
6 September
The Lighthouse
H Is For Happiness
8 September
Little Women
11 September
Comicstaan (Tamil)
Playing With Fire
14 September
T2 Trainspotting
15 September
Bones
Bad Boys For Life
18 September
All In: The Fight For Democracy
22 September
A Beautiful Day In The Neighborhood
25 September
Utopia
Fernando Alonso
27 September
Midway
Go!
30 September
The Gentlemen
Avatar: The Last Airbender
The Legend Of Korra
Dora The Explorer
Spongebob Squarepants
Sons Of The Soi
The Penguins Of Madagascar
---
See also
* Best new movies and TV series on Netflix
* Best new movies and TV series on Stan
* All new streaming movies & series