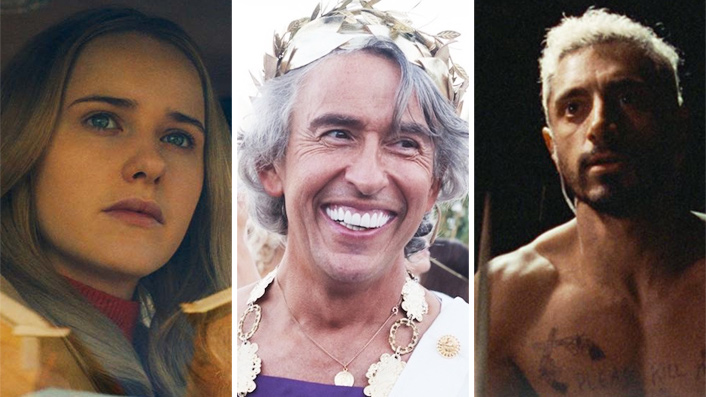 Best new movies and TV series on Amazon Prime Video Australia: December 2020

---
Each month, new films and TV shows are added to Amazon Prime Video's Australian library. Eliza Janssen presents her picks for titles worth watching. For the full list of everything arriving on the platform, scroll down.
Top picks
Greed (December 1)
Michael Winterbottom's satirical comedy films can be a little stiff for me, sometimes feeling like more of a detailed and amusing lecture than funny movies in their own right. But this is a year in which the US's billionaires earned an additional $637 billion during the COVID-19 crisis, whilst hundreds of thousands of extra coronavirus cases have been attributed to illegal residential evictions in the very same country. I am willing to watch any movie that attempts to criticise the one percent, which is precisely the target of Greed.
Starring Steve Coogan as a self-made fashion mogul celebrating his 60th birthday with a wild Mykonos rager, Greed also features Isla Fisher, David Mitchell and Shirley Henderson as Coogan's critics and fellow hedonists. Coogan is certain to impress with his grotesque, cringe-worthy and transformative lead performance; maybe this would be a good triple feature with those two Fyre Fest documentaries.
I've been excited for this film for quite a while, and not just because it stars a buff bleach-haired Riz Ahmed. Okay, maybe that's a large part of this drama's appeal. But it's also been applauded for its sensational sound design, which apparently does a lot of the narrative's heavy-lifting. Ahmed is Ruben, a punk-metal drummer who believes that his career may be over once he begins to experience intermittent hearing loss from a series of intense gigs.
When his girlfriend (Olivia Cooke) checks him into a secluded house for the deaf, he struggles to stay sober, but also finds an accepting new community who may help him start a new chapter. Directed by Darius Marder, Sound of Metal could be the closest thing to a live gig for many viewers. But it promises much more than just that: a clear-eyed look at disability, community and changing one's own life.
Billed as "a decidedly female take on the crime dramas of the 1970s", I'm Your Woman sounds delectable right off the bat, starring Rachel Brosnahan as a suburban housewife in way over her head. You might recognise Brosnahan as the titular star of The Marvelous Mrs. Maisel. As with that fizzy period piece, it's all her husband's fault again; this time, her thieving partner Eddie (Bill Heck) betrays his criminal partners and forces Brosnahan's Jean to hit the road with her infant child in tow.
At least Jean has her new ally Teri (Marsha Stephanie Blake) as a travelling companion, and the two women set out on a dangerous odyssey to set things right and maybe even claim their lives for themselves. Hopefully if the movie doesn't live up to that exciting plot, it'll feature enough gorgeous 70s production design to make up for it.
---
All titles arriving on Prime Video Australia in December
December 1
Greed
Where's Waldo S1
December 3
Widows
The Kill Team
December 4
Sound Of Metal
Sons Of The Soil: Jaipur Pink Panthers S1
December 10
Don't Let Go
​Bull S1-S3
December 11
The Wilds S1
I'm Your Woman
Durgavati
15 December
Mao's Last Dancer
16 December
The Expanse S5 (first three episodes, then rolling out weekly)
Elementary S1-S7
Hawaii Five-0 S1-S6
December 17
Like A Boss
Miss Fisher And The Crypt Of Tears
Unpaused S1
The Photograph
El Cid S1
December 18
The Grand Tour Presents: A Massive Hunt
Mirreyes Vs. Godinez, Home Office
Putham Pudhu Kaalai
December 21

MacGyver S1-S3
December 25
Sylvie's Love
Coolie No. 1
Halal Love Story
December 26
Thalayvi (Malyalam)
Covers
December 30
10
Yearly Departed S1
31 December
Bellbird
Luther S5
---
See also
* Best new movies and TV series on Netflix
* Best new movies and TV series on Stan
* Best new movies and TV series on Binge
* All new streaming movies & series