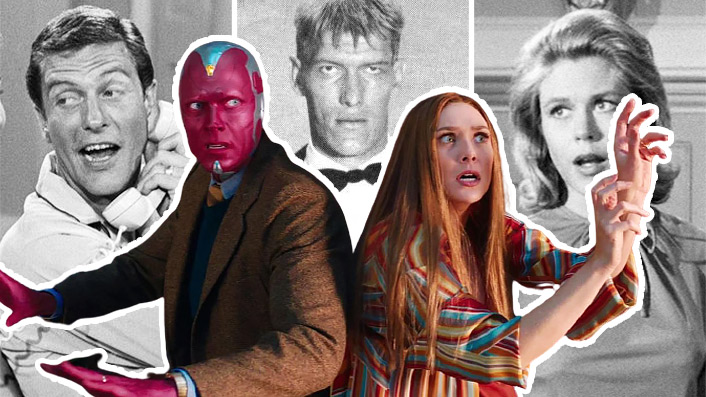 7 classic sitcoms to watch now that WandaVision has finished

---
The acclaimed Disney+ series WandaVision draws on many inspirations—including these seven classic sitcoms.

If you've ever escaped into a sitcom to avoid your troubles, Wanda Maximoff (Elizabeth Olsen) understands. The Marvel hero does so in a far more literal fashion than mere mortals can manage, turning her whole life into a television show to cope with her post-Avengers: Endgame grief.
See also:
* All new streaming movies & series
* Best new movies & shows on Disney+
That's the tale that Disney+ mini-series WandaVision tells over its nine-episode run, complete with classic sitcom nods aplenty. From Leave It to Beaver and The Brady Brunch through to Step By Step and Full House, the latest addition to the MCU nods at as many TV comedy greats as it does to its own franchise.
As well as slightly shaking up the Marvel formula, WandaVision's affectionate references provide a hefty list of must-watch (and rewatch) sitcoms. Not all of them are available on streaming or video-on-demand; however, you can watch these seven right now.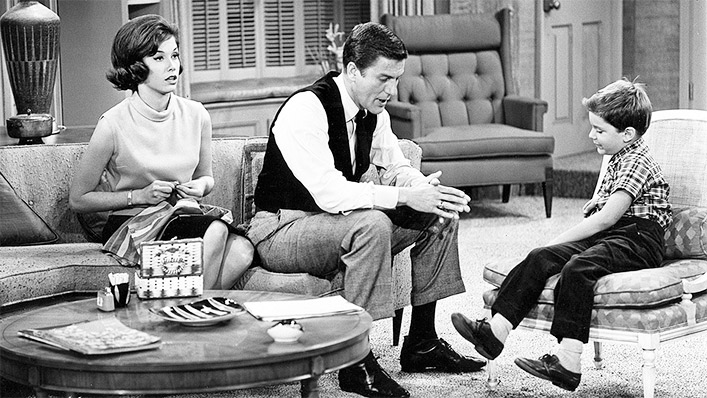 The Dick Van Dyke Show
Stream on iTunes
The great Carl Reiner created The Dick Van Dyke Show, and occasionally popped up in it, too. Of course, there are zero prizes for guessing who took on the lead role in the 158 episode series, which aired between 1961–66. Before he appeared in Mary Poppins and Chitty Chitty Bang Bang, Van Dyke starred as TV comedy writer Rob Petrie, while the equally legendary Mary Tyler Moore played his wife Laura.
Emmys followed—15 from 25 nominations—as the series stepped through Rob's personal and professional lives. Every show that's peered behind the scenes of a television show since owes it a debt. So does WandaVision, not only by taking inspiration from it in its first two episodes, but also working it into Wanda's backstory.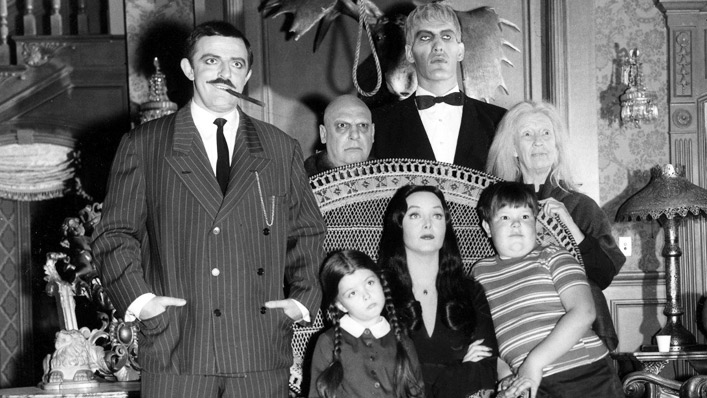 The Addams Family
Stream on iTunes
Forget the terrible recent animated movie, which is somehow getting a sequel. If you're keen on stepping inside popular culture's creepiest, kookiest, most mysterious and spookiest household, only two choices will do. The 1991 film The Addams Family and its 1993 sequel Addams Family Values are still both all-ages gems, and well worth revisiting. But, on screen, it all began with the 1964–66 TV series that ran for 64 episodes.
Long before Wanda and Vision's eccentric family were livening up Westview, Gomez (John Astin), Morticia (Carolyn Jones), Uncle Fester (Jackie Coogan), Wednesday (Lisa Loring) and Pugsley (Ken Weatherwax) were doing the same at 0001 Cemetery Lane. Or making it gloomier, to more accurate reflect the Addams' love of all things macabre.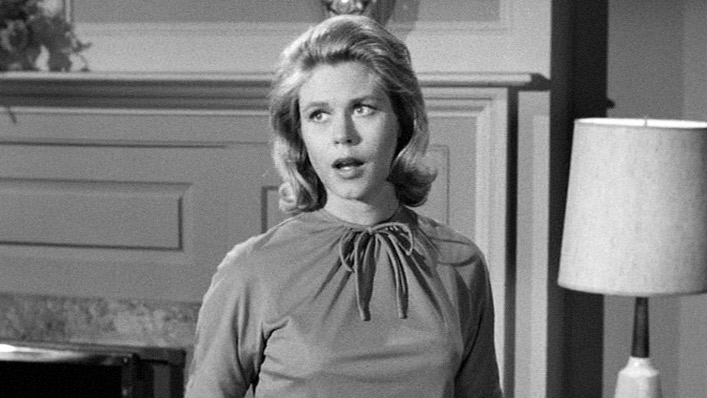 Bewitched
Stream on Google Play
Stream on iTunes
Bewitched originally aired for eight seasons between 1964–72. If you grew up in Australia in the 1980s or 1990s, however, you've seen more than your fair share of episodes of this often–repeated TV staple. The premise is straightforward: what if a witch became a suburban housewife? But Elizabeth Montgomery is a delight as Samantha, who obviously struggles to leave magic behind after marrying Darrin Stephens (first played by Dick York, and then by Dick Sargent).
In WandaVision, Wanda doesn't ever twitch her nose like Bewitched's heroine, but she's clearly following in her footsteps. Also familiar: the way a witch's powers leave an imprint on an entire household's day-to-day existence.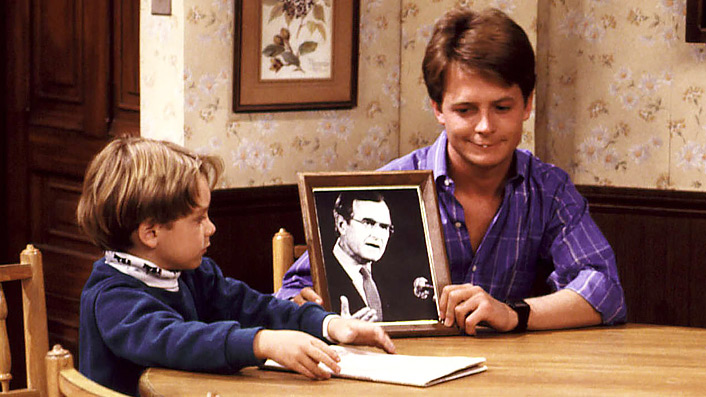 Family Ties
Stream on iTunes
Before Michael J Fox donned a puffy vest and drove a Delorean at 88 miles per hour, he was a teenager sporting business attire in Family Ties. As the ultra-ambitious Alex P Keaton, he was often the sitcom's main source of conflict, with his character's conservative ideals clashing with the liberal beliefs of his ex-hippie parents Steven and Elyse (Michael Gross and Meredith Baxter).
Also starring Justine Bateman and Tina Yothers as Mallory and Jennifer, the two other Keaton children, Family Ties took the culture clash trope and applied it within a family—and not just between an opposites-attract style couple. WandaVision openly apes the show's opening credits, although that's just one of its many nods in the direction of the 1980s hit.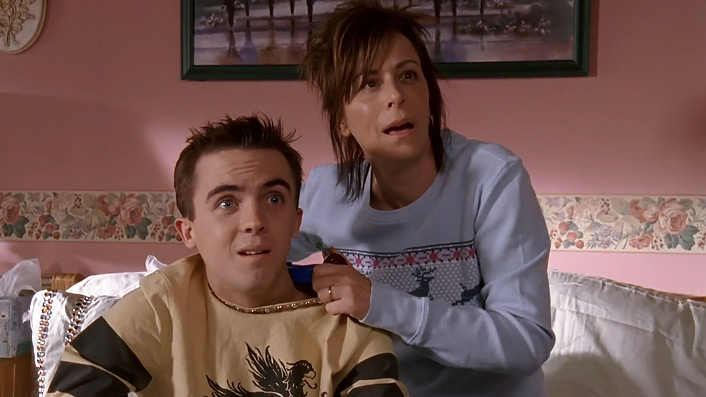 Malcolm in the Middle
Stream on 9Now
Long is the list of sitcoms that have presented family life as frantic and erratic, but in a pleasant and easy-to-handle way. Malcolm in the Middle doesn't belong in their company. One of the most refreshing things about the seven season 2000s show is how it refused to shy away from the bedlam of raising kids—five boys in particular.
The eponymous child genius (Frankie Muniz) narrates his experiences, both at school and at home with his brothers and exasperated parents (including a pitch-perfect Jane Kaczmarek and Bryan Cranston). Life here is constantly chaotic. Indeed, there's a reason that WandaVision tips its hat in Malcolm in the Middle's direction, and serves up one of its strongest odes, just when things start getting particularly jumbled for Wanda.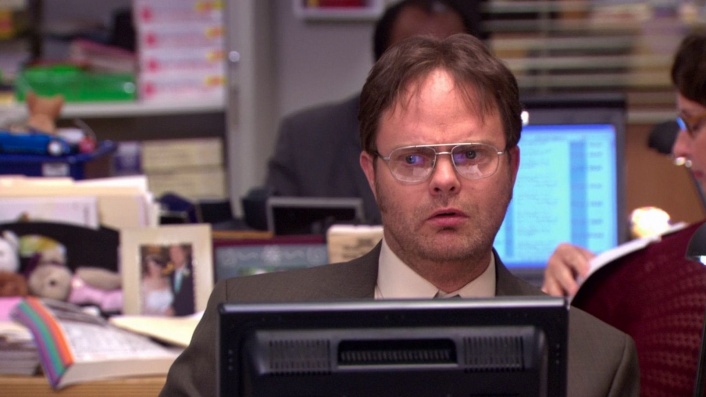 The Office
Viewing streaming options
The UK and the US versions of The Office share much in common, including their workplace settings, their general character dynamics, a plethora of plot points and their faux documentary approach. But mention the show's title and it's the American remake that jumps to mind first, holding a fonder spot in many sitcom fans' hearts.
Like numerous TV shows since the US version of The Office debuted in 2005, WandaVision borrows its to-camera chats, which provide a brilliantly easy way to explore what its characters are feeling. There's a broader commonality in the two series' overall setups—being beholden to the erratic person in charge proving a theme in both, whether that person is played by Steve Carell or Elizabeth Olsen.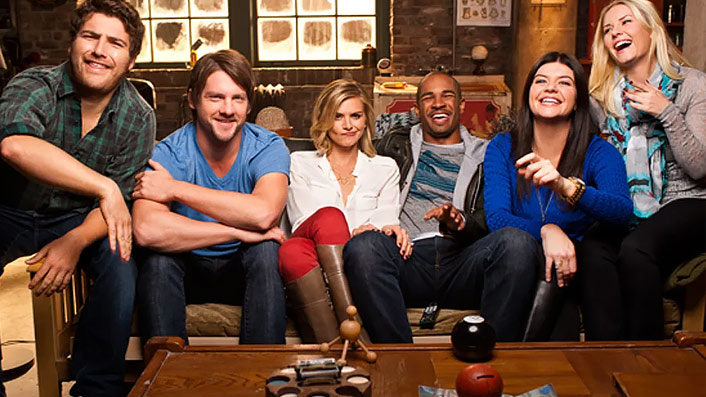 Happy Endings
Stream on iTunes
Of all the 1990s, 2000s and 2010s sitcoms that follow six friends going about their 20-something lives, the Chicago-set Happy Endings is easily the standout. There's a bite and a spark to its equally perceptive and warm style of comedy. And, while it didn't last as long as Friends or How I Met Your Mother, it never once decided to settle into a comfortable niche or let its characters become one-note.
WandaVision's nod to Happy Endings is subtle, as seen in one episode's opening credits. But it was also bound to happen—with the latter executive produced by Anthony and Joe Russo before they directed four MCU movies, including both Avengers: Infinity War and Avengers: Endgame.