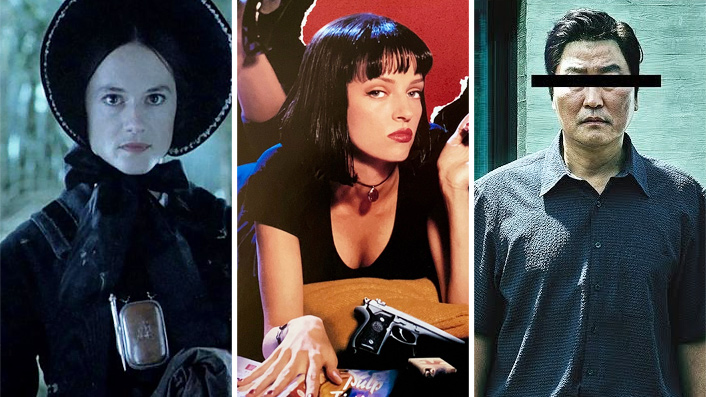 7 Cannes Palme d'Or winners you can stream right now

---
The coronavirus pandemic has brought this year's Cannes Film Festival to a grinding halt, but that doesn't mean you can't experience Cannes-related brilliance from the comfort of your couch. Here are seven Palme d'Or-winning films you can stream, picked by critic Sarah Ward.

When May rolls around each year, it's time for red carpets, famous faces and many a movie premiere on the French Riviera. Well, it usually is. In 2020, due to the COVID-19 pandemic, the Cannes Film Festival isn't taking place in its normal timeslot. In fact, just how and when it will occur this year is yet to be revealed.
That doesn't mean that May 12–23, the festival's initially scheduled 2020 dates, need be free of Cannes films. Since its formation, the lauded French film fest has been handing out shiny trophies—and that means there's decades worth of award-winners to enjoy.
If you'd like to pretend you're on the Croisette by watching a selection of the festival's best and brightest—its Palme d'Or winners—here are seven standouts that are all available to stream right now.
Sign up for Flicks updates
Where to watch
Combining the inimitable talents of Federico Fellini, Marcello Mastroianni and Anita Ekberg, La Dolce Vita steps through seven days and nights in the life of a gossip magazine journalist—although no plot description could ever do this 1960 cinematic triumph justice. Sublimely shot, superbly acted and wielding its episodic structure with aplomb, this is just one of Fellini's great works. That said, thanks to its savvy combination of style and commentary—ravaging and unpacking the excesses splashed across the frame—it's certainly one of his best.
Where to watch
One of Cannes' best-known Palme d'Or winners—and one of its most quoted, too—Taxi Driver turns the tale of a lonely outsider and the corrupt urban world around him into a blistering masterpiece. From Robert De Niro's commanding central performance as Travis Bickle, to Bernard Hermann's slinky score, to Martin Scorsese's expressive and astute directorial choices, every aspect of this psychological thriller is not just precise, but perfect. In a film that continues to spawn many an imitator (see: Joker just last year), the same applies to Paul Schrader's sharp and continually relevant script as well.
Where to watch
The late, great Harry Dean Stanton was such a constant presence on screens big and small for so long—with 205 credits on his resume over the course of 65 years—that it's easy to forget that Wim Wenders' Paris, Texas was considered his breakthrough part. In one of the best performances in a career filled with memorable portrayals, the distinctive character actor plays a vagabond who re-emerges from the desert and reconnects with his family. As always with Stanton (and with Wenders' work, too) what goes unsaid is just as important as every line of dialogue.
Where to watch
It remains a stain on Cannes' reputation that, in all of its decades, the festival has only once awarded the Palme d'Or to a female-directed film. That was in 1993, with Jane Campion making history when The Piano took home the prized accolade. If ever a movie was going to blaze that trail, this is certainly worthy of taking that mantle. Set in the mid-19th century, in New Zealand, Campion's three-time Oscar winner is hauntingly evocative as it steps into the lives of the mute Ada (Holly Hunter) and her daughter Flora (Anna Paquin). It's also a film that couldn't have been made by any other director.
Where to watch
Now, in 2020, Quentin Tarantino is reportedly nearing the end of his filmmaking career. If he sticks to his plan to only direct 10 features (counting the Kill Bill movies as one film), he only has one more left before he shuts up shop. If anyone needs a reason as to why that's sad news, Pulp Fiction is as good a reminder as any. And not just because, after Reservoir Dogs made a splash at Sundance, this multi-part crime film is the flick that put QT on the map. The cast, the narrative, the soundtrack, the filmmaking flair oozing from every scene—it's all as alluring as a $5 shake and a twist contest.
Where to watch
As his life inches towards its end, Uncle Boonmee (Thanapat Saisaymar) does what the title of Apichatpong Weerasethakul's 2010 film promises, exploring his previous guises and connecting with loved ones long lost. That said, there's nothing straightforward about Uncle Boonmee Who Can Recall His Past Lives, a movie that's meditative and patient, yet always probing and interrogating. The first Thai feature to win the Palme d'Or, it's also filled with entrancing imagery, with Weerasethakul possessing an eye, a sense of visual storytelling and a style that's all his own.
Where to watch
Over the past year, Parasite has become such a cinematic force to be reckoned with that it's perhaps easier to name the few prizes it hasn't notched up. That sparkling run began at Cannes, where Bong Joon-ho's twisty thriller nabbed the Palme d'Or, and unleashed its oh-so-smart and entertaining tale upon the world. A movie that rewards repeat viewings, Parasite slices deep into South Korea's economic disparities, all by watching the worlds of two families collide. And collide, they do, as exquisitely brought to life not only by the ever-meticulous Bong, but by his stellar cast.