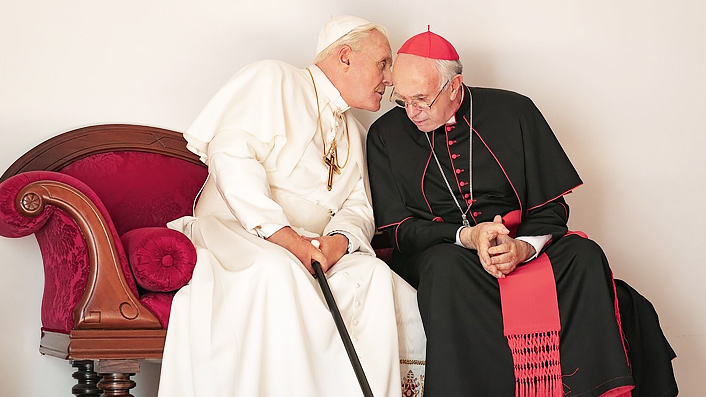 The Two Popes is a superbly acted addition to film and TV's pope-naissance

---
Anthony Hopkins and Jonathan Pryce are irresistibly cast as two duelling popes in this thoughtful and superbly performed drama from the director of City of God, writes critic Sarah Ward.
If Jude Law can play a young pope in two TV shows, then Anthony Hopkins and Jonathan Pryce can play duelling Catholic head honchos in the same film. That's the broad gist of Fernando Meirelles' The Two Popes – the latest on-screen papal story (available to stream on Netflix) reaching audiences as part of the current cinematic pope-naissance.
Indeed, while Meirelles and screenwriter Anthony McCarten (Bohemian Rhapsody) draw upon recent real-life events, they hew closely to the Vatican-set film's underlying idea. With two pontiffs comes opposing personalities, diverging interpretations of Catholic theology and, crucially, a neat but involving personification of the church's big 21st-century battle to remain relevant.
Staunch conservative German Joseph Ratzinger (Hopkins), aka Pope Benedict XVI, embodies the two-millennia-old religion's penchant for tradition. Personable Argentinian Jesuit Jorge Bergoglio (Pryce), aka Pope Francis, epitomises a more progressive way of thinking. Reality dictates that the Latin-loving hard-liner gave way to the tango and football aficionado in 2013, all in the appropriate cloud of white smoke. Here, before that change takes place, the two men argue about their differences, chat through Bergoglio's complicated past in 70s-era Buenos Aires and contemplate the fate of their shared faith.
Sign up for Flicks updates
Meirelles concisely captures the texture of their back-and-forth in an early scene, as the men gather in the papal conclave to elect a new leader after Pope John Paul II's 2005 death. In a moment that doubles as a glimpse of meatier clashes to come, then-cardinals Ratzinger and Bergoglio crossing paths in the bathroom as they're washing their hands. Hearing Bergoglio humming a tune, Ratzinger asks which hymn it is. Some pop fans may disagree, but Bergoglio's choice of song doesn't quite fit that category: he's humming Dancing Queen, which Ratzinger seems unfamiliar with. Later they discuss The Beatles in far more detail.
Marking Meirelles' first feature since 2011 Hopkins-co-starring drama 360, the result is an actor's showcase, as should be expected when Hopkins and Pryce share a screen in a two-hour chamber piece. Strip the pair of their vestments, place them in any old room and document their tete-a-tete, and they'd remain compelling. Hopkins is in the stern, steadfast mode that often serves him well, which contrasts fittingly with Pryce's more likeable down-to-earth performance.
Even as a semi-fictionalised record of history, there's no point focusing on multiple popes without reflecting on this position and the religion behind it. The Two Popes doesn't scream or shout, but it does have weighty matters on its mind. While Meirelles' interest in Bergoglio could spring from the latter's significance as the first pope from the Americas and from the southern hemisphere, the film muses on one of the director's recurrent fascinations: power structures and their impact on the already disadvantaged.
In the 2002 crime drama City of God, Meirelles pondered the topic during a frenetic trip through Brazil's drug trade. Consider that his gritty, on-the-ground treatise, and The Two Popes his theological rumination on enabling a punitive status quo to the detriment of the masses – while recognising the stark fact that such behaviour is hardly Christian.
The Two Popes remains respectful and even light-hearted, bordering on an odd-couple buddy comedy at times. It is rendered in bright hues, filled with airy spaces and boasts many a wide and open shot to match – but it doesn't avoid the obvious. Although this isn't a By the Grace of God-style exploration of the impact of sexual abuse, being complicit in those and other crimes by failing to act casts a firm shadow.
Meirelles' aim, however, is to evaluate an ideological juxtaposition via two men – one representing the Church of old, the other embodying the religion as it could be. It might be a fantastical notion, but this is a movie about interrogating moral responsibilities, reconciling differing views, and deciding upon a future rather than committing to blind, dutiful adherence. Still, while thoughtful and superbly performed, The Two Popes doesn't plunge too deeply. It's also a film that gets mileage out of its two pontiffs sharing pizza and watching soccer together.