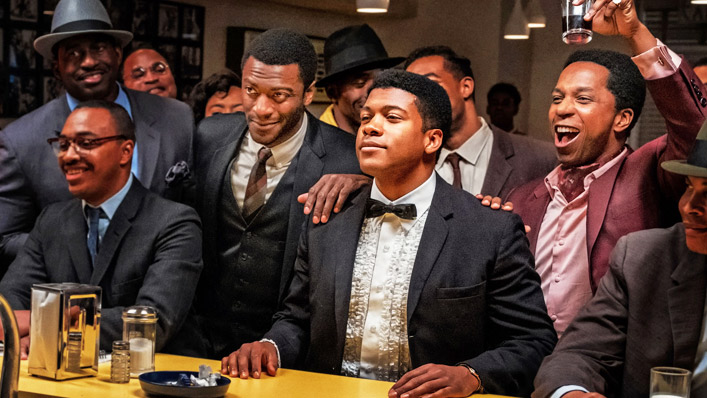 One Night In Miami is a blistering fictionalised account of real historical legends

---
One Night in Miami (now streaming on Prime Video) presents a blistering fictionalised account of a night in the 1960s that brought together Muhammad Ali, Malcolm X, Sam Cooke and Jim Brown.

When Cassius Clay met Sonny Liston in the ring in Miami Beach on February 25, 1964, he wasn't expected to win. The defeat of the reigning heavyweight champion by the man who'd soon change his name to Muhammad Ali was an upset, and forever earned the night a place in history. But that date has become notable for another pivotal event, too. Gathering for the boxing bout, Clay spent time with his friends before and after his world title-claiming fight. In his company: NFL player Jim Brown, A Change Is Gonna Come singer/songwriter Sam Cooke and Malcolm X.
See also:
* Best new movies & series on Prime Video
* All new movies & series on Prime Video
* All new streaming movies & series
One Night in Miami can't recreate the exact details of the quartet's real evening together; however, it can serve up a blistering fictionalised account. It isn't trying to play fast and loose with reality. Instead, the film draws upon known details to imagine the discussions that might've arisen. Accordingly, it ponders Clay, Brown, Cooke and Malcolm's chats and debates—as friends snatching what moments they can together, celebrating a monumental night and navigating complicated interpersonal relationships; as men earning fame and acclaim at different points in their chosen careers; and as black Americans well aware that they live in an era of significant upheaval and injustice. A powder keg of ideas is thrust to attention in the process, its fuse lit by the period and prevailing attitudes.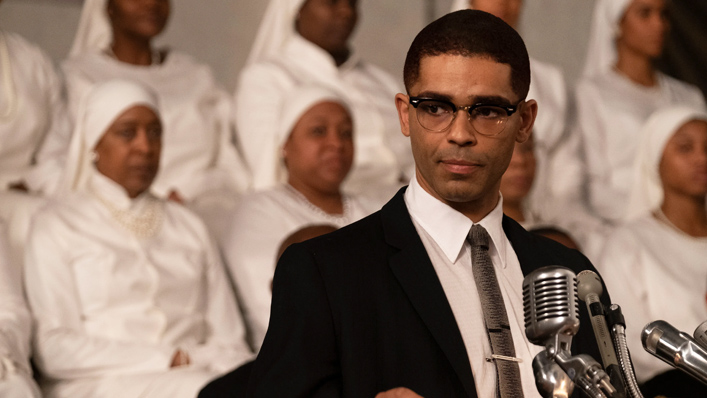 Based on the 2013 play by Kemp Powers, scripted by him for the screen and marking the feature filmmaking debut of actor-turned-director Regina King, One Night in Miami clearly peers backwards, but it does so while proudly flaunting its 21st-century lens. The result: an impassioned interrogation not only the period, as embodied by this one specific night, but also of the ongoing quest for racial equality in the US.
The topic hasn't faded in importance over the last six decades. Indeed, when One Night in Miami first premiered in September 2020, it did so with the year's Black Lives Matter protests fresh in the public consciousness. King and Kemp want their audience to confront the truth about America's past, present and future—as much as they want them to enjoy Clay, Brown, Cooke and Malcolm's banter over drinks and bowls of ice cream, in fact—and to face how little has changed since the four men spent that evening together.
One Night in Miami isn't just a weighty and worthy cinematic reckoning, as expertly and meticulously as it fits the bill. No stranger to acting plaudits, If Beale Street Could Talk Oscar-winner and Watchmen Emmy-winner King guides exceptional performances out of her cast, leaning on the energy and passion of their fine-tuned portrayals as much as the concepts espoused in their dialogue.
With Eli Goree as Clay, Aldis Hodge as Brown, Hamilton Tony Award-winner Leslie Odom Jr as Cooke and Kingsley Ben-Adir as Malcolm, the feature's key actors are given a considerable task, as stepping into a well-known figure's shoes always proves. For Goree and Ben-Adir, they follow not only in the footsteps of the real-life men they're bringing back to cinematic life, but of other actors (Will Smith and Denzel Washington) who've earned Academy Award nominations for the same feat. The entire ensemble is phenomenal; that Odom Jr and Ben-Adir stand out, by inches not miles, is a product of the former's perfect fit for this role and the texture, conflict and unexpected vulnerability the latter brings to his.
As many of the movie's discussions make plain, Clay hadn't yet converted to Islam when the events of One Night in Miami take place. He hadn't uttered his best-known phrase, either. "Float like a butterfly, sting like a bee" easily applies to the film, though—it's assembled with that lithe and fluid a touch, and with such a savvy willingness to let its scenes flow naturally and gracefully, all while repeatedly packing a powerhouse punch Clay would've been proud of.
Whether sticking with her central figures throughout the night or cutting away to individual chapters of their lives, King rarely makes the expected decision as a filmmaker. Her direction and the feature's accompanying imagery searches for life and depth, and never simply lurks at a hotel with four influential men. When One Night in Miami was greenlit, Clay, Brown, Cooke and Malcolm already ranked among the greats; now this stunning film exists, King and her cast join them.