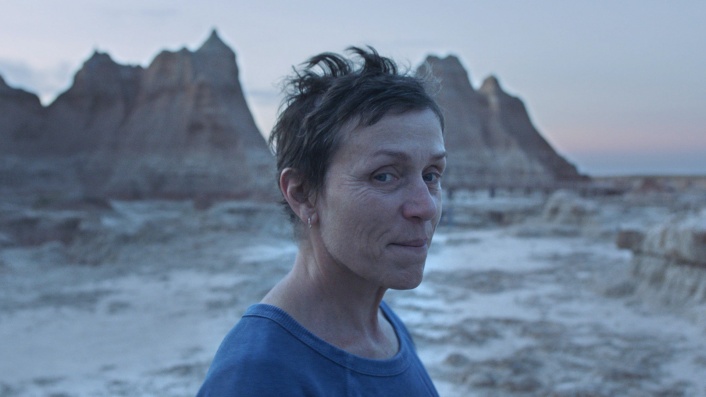 Nomadland is a masterful character study led by a stellar Frances McDormand

---
A stellar Frances McDormand performance headlines this rich invocation of life out on America's new frontier that's already an Oscars front-runner, writes critic Craig Mathieson.
One of Frances McDormand's great strength as an actor is how on screen she so naturally looks at and takes in other characters. She sizes them up. She listens. She hears not just what they're saying, but also the intimations that start to suggest why. McDormand made it integral to her dogged investigator in Fargo, had fun with it in Almost Famous, then gave it a jagged and judgmental edge in Three Billboard Outside Ebbing, Missouri.
That instinctive ability to let the camera watch her watching others finds its ultimate expression in Nomadland, Chloe Zhao's bittersweet frontier drama about a woman, McDormand's widower Fern, who puts her life into a white van to traverse America's western states. Episodic by nature, the film makes extensive use of non-actors who talk about their lives, McDormand serving as a conduit for their experiences while slowly defining herself. Moment by moment the film becomes something more.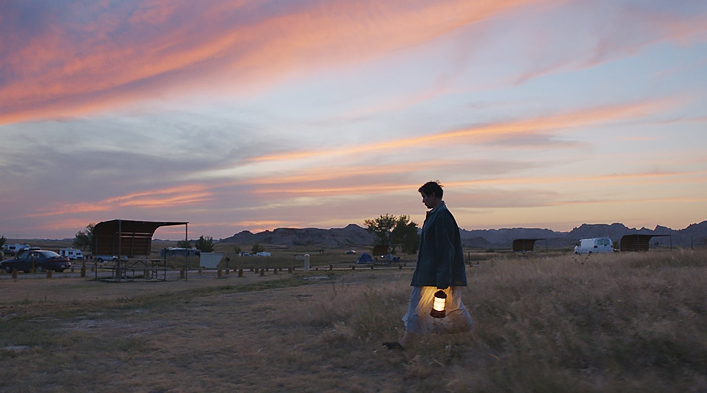 This is Zhao's third feature film (her fourth is Marvel's forthcoming blockbuster The Eternals) and it builds on the naturalism of 2017's The Rider, a contemporary western that mostly unfolded on a Lakota Sioux reservation in South Dakota. Previewing for a fortnight from Boxing Day and then opening on March 4, the picture makes clear that Zhao and cinematographer Joshua James Richards are attuned to the routines and revelations of daily life. They start with Fern already in motion: the Nevada town where she lived and worked has disappeared with the closure of a gypsum plant, so her possessions are going into storage as she takes to her home on wheels—Fern calls it Vanguard and considers it a fellow female—to move from one RV camping ground and parking lot to the next.
This life is Fern's choice and Zhao is scrupulously open to the both the possibilities and risks it presents. "You can die out there," one of Fern's new buddies tells her after a lack of a spare tire becomes a wintry issue. The mostly ageing characters—these boomers really are okay—are both explorers and exiles. In testimonies shot in tight close-up but documentary in nature, they talk about their lives with sometimes shocking openness.
The 2011 setting puts Fern among the ranks of Americans who lost their livelihoods to the Global Financial Crisis, while also avoiding the spectre of Donald Trump. Nomadland is intensely political, but not implicitly ideological—it's about living at the margins. Holiday season work packing boxes in a giant Amazon warehouse temporarily pays well, but when Fern encounters family friends a teenager she once tutored is worried that Fern is homeless. Inspired by Jessica Bruder's 2017 non-fiction book of the same name, the movie segues between widescreen beauty and procedural realities: Fern cleans bathrooms, shifts vegetable produce and shits in a bucket.
"I like work," Fern says, and McDormand's performance never seeks sympathy. A fellow traveller, Dave (David Strathairn), who gently pursues Fern, adds a conventional choice to the narrative, but as Zhao and McDormand unfolds Fern's life over a year the film's ability to illuminate her life and choices without resorting to exposition acquires a profound grace. The Chinese-born filmmaker, like the European expatriates who came to Hollywood in the 1930s, views America with fascination and affection.
Nomadland pivots on what you want versus what you need, but it also sees the lives of Fern and her fellow nomads as links in a chain. "What's remembered, lives," Fern says, quoting her late father. And this masterful film remembers nearly everything.