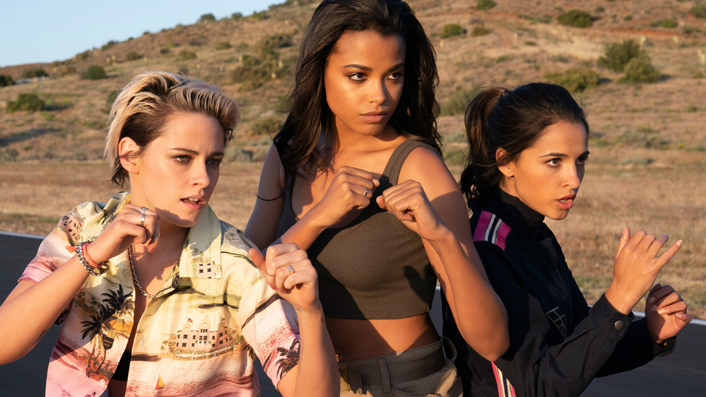 Kristen Stewart is the best thing about the enjoyable Charlie's Angels

---
Kristen Stewart is the best thing in this action-comedy reboot of a now very familiar concept. She brings movie star allure to a modestly enjoyable movie, writes critic Craig Mathieson.
Every version of Charlie's Angels is a balancing act, trying to mix fantasy and empowerment as a group of undercover female sleuths with exceptional hair snoop, snap and sideswipe cut-out criminal adversaries. The original 1970s American television series had a strain of serious dedication while the 2000 and 2003 McG movies were extended parodies, both of themselves and audience expectations.
The latest iteration puts a woman in creative control: actor and now filmmaker Elizabeth Banks (Pitch Perfect 2). She also has a prime supporting role, but the result isn't that great of a deviation from its predecessors. That's not Banks' fault – there are parameters in place she must adhere to – and what she does provide is a welcome degree of a quality lacking at the movies in 2019: fun.
Fun should never be overrated – it's still the best quality Marvel movies alight on – and amidst the hand-to-hand combat and deadpan quips, Banks gets a major assist from Kristen Stewart. As Sabina Wilson, one of the undercover female operatives for the now global private eye organisation the Townsend Agency, the emotionally translucent dramatic actor makes a whip of Rebel Rebel blonde highlights and maximum insouciance into a charismatic performance.
Stewart has movie star diffidence – she knows the camera is taking her in – and plays it up. Her Sabina makes an entrance and makes a crack with equal ease. Bonus quality: every time Stewart sits down or leans against a bench she looks like an icon on down time. Long may she recline.
Sign up for Flicks updates
Sabina's comrade and contrast in character is former British spy Jane Kano (Ella Balinska), a no-nonsense run-and-gun merchant. There's a bond of sorts between the two opposites as they attempt to protect nervy scientist Elena Loughlin (Naomi Scott), who has invented a device you don't need to know the name of that's extremely powerful, has potential for murderous misuse, and requires multiple heists to recover. The Bosley role, the supervisor of the Angels, is now shared around a crew of middle managers, played by Banks, Djimon Hounsou and Patrick Stewart among others. The action scenes, replete with numerous goons and a creepy assassin (Jonathan Tucker), are feisty if overly edited.
If the heroines of the last two movies were mostly oblivious to the male enclaves they infiltrated, Banks positions the new generation in a world of male delusion and petty imposition, made explicit in a playful opening sequence that starts with an extended close-up of Stewart. The driest wit is deployed to undercut action film convention.
"Hugs work," Bosley tells Elena, even as the plot uses betrayal and deceit for a more cartoonish version of the original Tom Cruise Mission: Impossible. In this case it's Mission: Very Much Possible and the movie has enough energy to only occasionally lag. Fun doesn't need to be overthought, and if you do Kristen Stewart will just wink as she sweeps by.