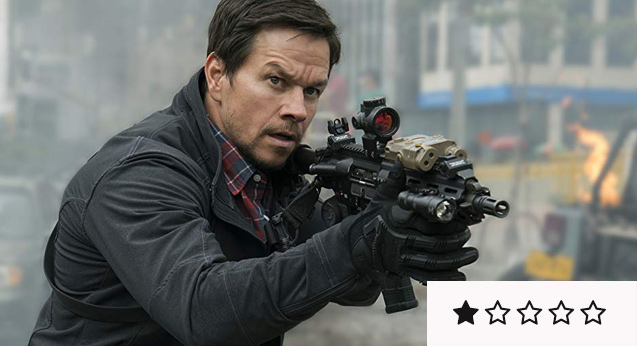 In Mile 22 being an arsehole is totally acceptable so long as you're a patriot

---
Seven years after The Raid confirmed Iko Uwais as an action force to be reckoned with, the Indonesian talent should be a huge star. The 2014 sequel to his breakout hit might've solidified his on-screen credentials, but elsewhere he has been sorely squandered – in a small part in the Keanu Reeves-written and directed Man of Tai Chi, in a blink-and-you'll-miss-it appearance in Star Wars: Episode VII – The Force Awakens and in sci-fi sequel Beyond Skyline.
With Mile 22, the martial artist turned actor finally gets his best showcase in years; however that still doesn't mean what it should. His furious fists and kicks are put to kinetic, frenetic use as a defecting former agent from a fictional Asian nation and, as he's forced to fend off more than one attempt on his life during a 22-mile trip to the plane that'll take him to safety, his action choreography as well. But appreciating his presence comes with three enormous caveats: he's still used sparingly, his physical displays are shot and edited with jerky incoherence, and he always comes second to the gung-ho pairing of Mark Wahlberg and Peter Berg.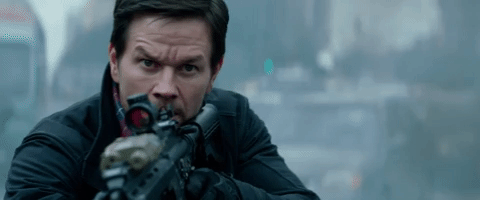 Four films into director Berg's collaboration with the man formerly known as Marky Mark, just mentioning their names in the same sentence says plenty about the movie in store. As Lone Survivor and Patriot's Day demonstrated, jingoistic men doing whatever it takes for the good of America is the duo's all-too-comfortable niche.
Wahlberg's protagonists love their country, sport a near-permanent grimace and get difficult jobs done, all while Berg combines flag-waving emotion (and, often literal flag-waving) with action. The narratives change – indeed, all three films prior to Mile 22 took their tales from rousing true stories, with Deepwater Horizon the most convincing and entertaining of the bunch – but the approach and outcome remains the same.
Sign up for Flicks updates
Working with a fictional screenplay by literary editor turned author Lea Carpenter, Mile 22 pops firmly out of the same mould. It might come with an over-geared, over-cut and over-energetic sense of urgency, and devolve into a gleefully violent ticking-clock chase thriller, but it's the same basic product. No-nonsense special ops agent Jimmy Silva (Wahlberg) has made saving America from terrorists his bread and butter, so when Li Noor (Uwais) proposes a surrender – he'll help them bring down his own government and stop a nuclear attack as long as he's escorted to safety within the US – there's clearly only one gruff man for the job.
But is that really Silva? Unsurprisingly, that's not a question the film asks. Berg is as committed as ever to Wahlberg as America's red-white-and-blue blockbuster hero, and virtually ignores co-stars John Malkovich, Lauren Cohen and Ronda Rousey. But the filmmaker and his lead's continued partnership has never before idolised a character this grating or woefully underwritten. Nor has the duo ever tried so blatantly to endorse the idea that being an inane arsehole is completely acceptable as long as you're a patriot.
The annoying antagonist in most other movies, Silva barks orders at his colleagues, waxes about the chip on his shoulder so much that Malkovich tells him to stop monologuing, and thinks nothing about killing if he's ostensibly crusading for his cause. You could call him a savage statement on the current US political climate, but that's giving Mile 22 credit that it doesn't earn or deserve.
Instead, the film is simply happy to champion both American and white male superiority through a flimsy protagonist that's given a penchant for being insufferable rather than a personality (and a one-note backstory via a montage over the opening credits). And, it's happy to do so through a lead performance that's the blandest mark on Wahlberg's three-decade resume.
Against Wahlberg at his worst, the balletic Uwais was always going to stand out. One leaves viewers wanting not only less, but to seize control of the edit suite and retroactively excise him from the movie altogether. The other has the charisma and panache that Mile 22 desperately needs, even if it's only glimpsed in small bursts. They're both saddled with terrible dialogue, though there are no prizes for guessing who fares better. When Uwais is tasked with uttering the line "say hello to your mother for me" – a line that has no place even in a film this poor – he at least makes it feel like a joke. When Wahlberg mutters it back, his confusion reaches far beyond his character.
Viewers slogging their way through the movie feel his pain. Indeed, when an otherwise irrelevant figure curses whoever "wrote this script", they mightn't be referring to the film itself, but Mile 22's audience will heartily recognise the sentiment.