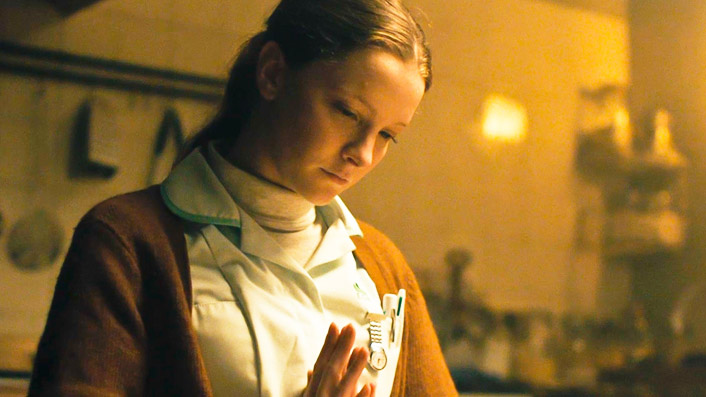 Praise be to Saint Maud, an instant classic of the religious horror canon

---
Every shot, cut and design element is perfectly in place in this stunning religion-themed debut feature from writer and director Rose Glass, writes critic Travis Johnson.

Devout Catholic palliative care nurse Maud (Morfydd Clark) is tasked with providing in-home end-of-life care for dancer and choreographer Amanda (Jennifer Ehle), who is in the final stages of lymphoma. Acerbic, brittle Amanda is a hedonist (and queer to boot!) and clearly doesn't think there's an afterlife waiting for her. Maud believes God has sent her here to save Amanda's soul.
See also:
* Movies now playing in cinemas
* All new streaming movies & series
What is more horrifying: the existence of God or His absence? That seems to be the central question in this utterly compelling debut feature from writer and director Rose Glass. And make no mistake: Saint Maud is a horror movie par excellence, starting off in fairly straight forward psychodrama territory before spiraling down into far stranger and more disturbing areas.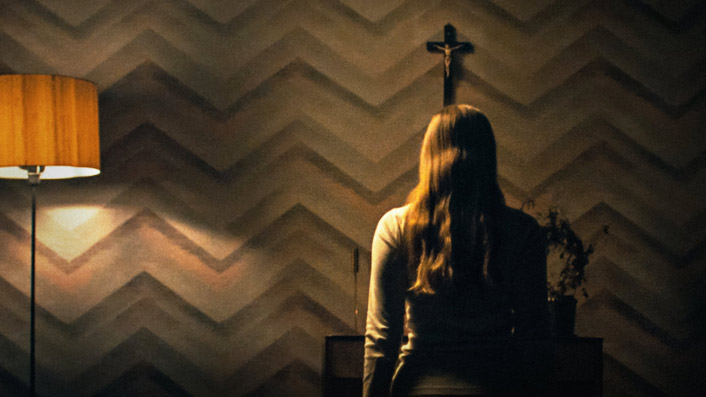 The film's inspirations are apparent to the keen eye—the faith-based horror of The Exorcist, the Gothic sensibilities of Shirley Jackson, David Cronenberg's unflinching and distressing body horror, Paul Schrader's fascination with aberrant psychology—but Glass is not merely borrowing here, she's reinterpreting, making something wholly new from existing elements. It's a stunningly assured film; it's rare for a first feature to feel as though it's exactly the film it needs to be, but that's the case here. Every shot, cut, design element is perfectly in place.
And so too are the performances. Saint Maud fools the viewer into thinking we're in for a two-hander. Although the scene is set in an English seaside holiday town and other characters drift in and out of the narrative, the focus appears to be on the interplay between mousy, unnerving Maud and the droll, snarky Amanda. But that's not quite true; it gradually becomes apparent that we're firmly anchored to Maud's point of view, and that is an increasingly upsetting place to be. Maud's religious fervour is a recent trait, and the film makes allusions to a wilder, hard-partying past.
As she exists now, her dominant characteristic is not her faith but her incredible loneliness; her social isolation is palpable as we see her trudge past brightly lit pubs and tourist attractions or prepare hors d'oeuvres in the kitchen alone while Amanda holds court amongst a gaggle of admirers. Morfydd Clark's turn here is utterly compelling and painfully believable; convincing whether she's carrying the shopping home or committing unsettling acts of self-mortification.
This rock-solid sense of identification is vital as things becomes increasingly unreal; Maud seeks signs and portents, and she finds them. Whether they are objectively real is beside the point: they're real to her, and so to us. As events occur that point to either actual religious phenomena or a complete mental breakdown, the horror flows from being trapped in Maud's point of view.
We build to that slowly, though. Glass's command of tone is superb, and the way that the quotidian drama of the film's early movements is gradually invaded by (seemingly) supernatural elements is utterly arresting. While we are shocked and repulsed at several points, there's no stomach-drop top-of-the-roller-coaster whiplash moment; rather what we know slowly gives way to the unknowable, the impossible—or perhaps the horrifyingly true. What's terrifying about religious zealots isn't that they might be crazy, it's that they might be right.
It's stunning, disturbing, thrilling stuff. Saint Maud asks a lot of its audience, chiefly that we engage in an act of radical empathy to connect with its protagonist. If you can't do that I imagine the film will not do much for you. But if you're capable of putting yourself in Maud's shoes, Saint Maud is an unforgettable, deeply troubling experience and a genuine modern classic of the horror genre.