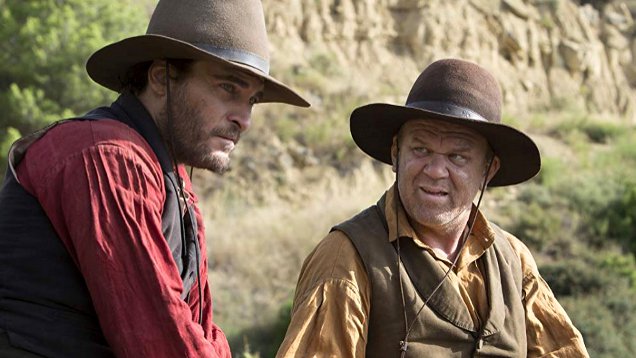 Early look review: The Sisters Brothers is a thrilling western with the action turned down

---
Joaquin Phoenix and John C. Reilly play infamous bounty hunters in a deeply compelling western that subverts expectations, writes critic Blake Howard.
The eponymous Sisters Brothers have arrived at a farmhouse in the dead of night to collect a bounty and don't want to have to kill everyone inside. Staged with an objective calm, there's a distant symphony of muzzle flashes that illuminate the setting. The occupants are easily waylaid and the last man standing falls while attempting a rooftop escape.
Joaquin Phoenix's Charlie Sister casually wanders to his broken lump of a body, and puts a bullet in his head. John C. Reilly's Eli sees the barn ablaze and in a frenzy runs headlong into the blaze as dark silhouettes of the panicked steeds thrash about. Jacques Audiard, the filmmaker behind A Prophet and Rust and Bone, immediately sets a darkly comedic mood for The Sisters Brothers by inverting archetypal 'western' tropes and elevating the matter of fact conflict between men of violence and men of ideals.
It's the 1850s, in the thick of the gold rush. Infamous assassins the Sisters Brothers are sent on a mission from the Commodore (Rutger Hauer) to kill Hermann Kermit Warm (Riz Ahmed), an idealistic gold prospector under the watchful eye of detective John Morris (Jake Gyllenhaal). There's a problem, when Warm makes Morris an offer he can't refuse and they form a coalition promising messy collision.
Audiard and co-writer Thomas Bidegain (Rust and Bone, Dheepan) constantly subvert expectations by omitting moments from the movie that would normally constitute a 'greatest hits' in any other action western. For example Charlie fights off a grizzly who attacks the Sisters brothers' horses; we learn this only as Eli rouses to find a giant dead grizzly adorning the floor of their camp like a rug. In Oscar-nominee The Revenant this was the film's centrepiece; in The Sisters Brothers it's a cue to chat over breakfast. Cinematographer Benoît Debie (Spring Breakers and Enter the Void) anchor the wilderness with a subjective lens that draws you into the minutiae of each performers facial movements, in some cases drawing you into a void for them to speak privately to the audience.
Sign up for Flicks updates
Reilly delivers another first-class emotional performance, often caught staring hang dog, coveting Charlie's position with the Commodore or John Morris' (Gyllenhaal) familiarity with a toothbrush. Phoenix's Charlie is an antagonistic tormentor to his older brother. Niggling Eli with being the better killer, the better looking brother and to have the better standing in this criminal organisation.
Phoenix adds just the right sprinkle of unpredictable paranoia. Both men habitually murder whole gangs of unsavoury types to get to their mark. Gyllenhaal's Morris, the detective diarist, is chronicling a classic and blooming western frontier. Gyllenhaal does great work using an accent and air of superiority to imprint European worldliness. He sees abandoning his mission for gold as the morally right thing. Ahmed's terrific visionary is a balm for these larger than life characters (the aptly named Warm). He has lofty ambitions for what wealth can do, and the promise of America. His understated performance draws confessional epiphanies from both Eli and John, in two of the most memorable moments.
Sisters Brothers pits abused, impulsive and damaged men whose currency in the world is aptitude for killing against men of ideals, science, courtesy and reflection. They aren't burdened by being required to tell you something pretty.