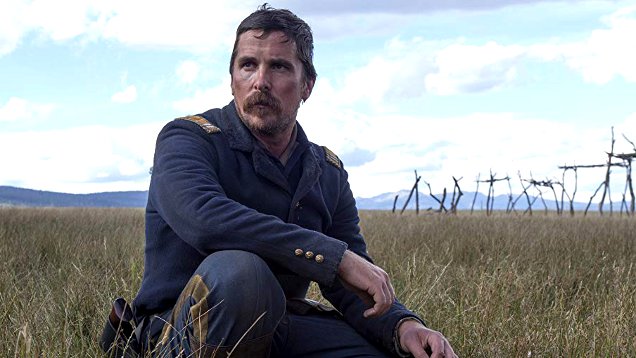 Hostiles is a stirring western that sees the past in shades of grey

---
Hostiles is the latest example of how the genre of the western has changed and modernised in deeply interesting ways, writes critic Sarah Ward. 
For a genre that was once so black and white, championing its prescribed heroes and lambasting its chosen villains, the western has become a masterful canvas for painting with shades of grey. Or, for interrogating situations that were once perceived as clear-cut, yet have proven otherwise with the passage of time. It's the perfect forum for viewing history anew, filled as westerns are with harsh landscapes that bear scars just like the folks walking upon it. In Hostiles, for example, a glimpse of a dusty, rocky expanse doesn't just provide a scenic sight. It also embodies the turmoil and unrest that's baked into the earth and its inhabitants.
A perceptive and poignant wander across America's sprawling plains, as well as through the nation's complicated past, Hostiles excels at doing what today's westerns do best. Written and directed by Scott Cooper (Black Mass) based on a manuscript by the late Donald E. Stewart (The Hunt for the Red October), it recognises the prejudice and hatred that has long shaped the country, and doesn't simplify it – but, while wrestling with guilt and despair, it still spies a sliver of human decency. People can learn and grow, the film posits, although it still knows that the notion doesn't always ring true. Indeed, there's another reason that recent westerns often strike such a chord, with the line between the behaviour of the Old West, attitudes during the genre's early 20th-century heyday and the reality today proving all too thin.
When Captain Joseph Blocker (Christian Bale) is charged with escorting an imprisoned but dying Cheyenne war chief from Fort Berringer in New Mexico to the Valley of the Bears in Montana, the Calvary great is horrified; he has spent his military career rounding up and killing Native Americans, not coddling them, and has had run-ins with the ailing Yellow Hawk (Wes Studi). His angry objections fall on deaf ears, and so he corrals a squad to accompany him, including his regular offsiders Metz (Rory Cochrane) and Woodson (Jonathan Majors), new graduate Kidder (Jesse Plemons) and the French-speaking DeJardin (Timothée Chalamet).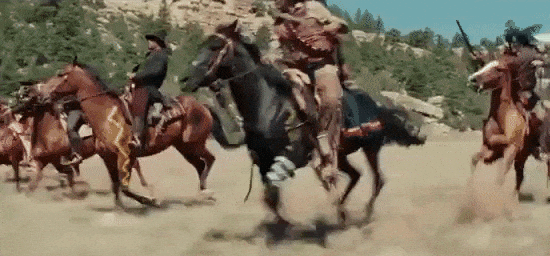 That's not the beginning of Hostiles' story, however. The movie spends its first moments watching Rosalee Quaid (Rosamund Pike) lose her family to brutal Comanche attackers, and then waits for Blocker's party to cross her path. While Yellow Hawk, his son (Adam Beach), daughter (Tanaya Beatty), daughter-in-law (Q'orianka Kilcher) and grandson (Xavier Horsechief) all remain peaceful, tension stalks their group – although, as Blocker soon realises, bigger threats await on their travels.
Sharing common thematic ground with fellow 21st-century westerns such as The Three Burials of Melquiades Estrada, The Homesman and parts of The Ballad of Buster Scruggs – and with genre great The Searchers decades before them – Hostiles accepts its narrative arc. But the western is a genre where the same terrain can spawn many tales, and where a distinctive perspective can spawn more again. Here, Blocker and Rosalee's journeys are never in doubt, and yet Cooper doesn't take the easiest or most obvious route. Conjuring up a scenario that's indebted to the past without being blindly formulaic, there's care and sensitivity deployed in bringing this story to the screen, and depth and texture in delving into its details.
Sign up for Flicks updates
As he did with Crazy Heart and Out of the Furnace, Cooper dives into troubled souls confronted by change – and, as he did in both features as well, does so with lived-in lead performances. An understated Bale finds the humanity in a man that begrudgingly evolves from abhorrence to empathy, while Pike lets Rosalee's sorrow cut sharply, then lets her eventual understanding shine through. And, though Hostiles' supporting figures could use a little extra flesh, no one is merely one-note. That applies to Blockers' varied colleagues, to the ex-solider (Ben Foster) who joins the posse later, and to Yellow Hawk and his family.
Hostiles isn't trading in simplicity, after all. Rather, it explores the complexity that litters sweeping terrain, a person's character and society as a whole – the colour, for better and worse, that can't be captured with a monochrome palette. That's the genre's modern-day plight, as infused into every frame of this addition to the fold. As cinematographer Masanobu Takayanagi (Spotlight) segues from sunburnt deserts to thriving greenery, from blistering daylight to soft dusk, and from contemplative wide shots to pensive close-ups, it's the image of a vast, intricate and changing land that prevails.