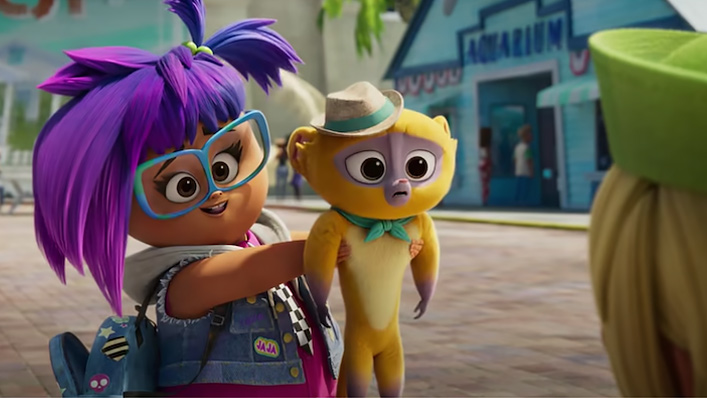 The animated Lin-Manuel Miranda musical Vivo is about to land on Netflix

---
Never heard of a kinkijou before? Don't worry, you're not alone: after a quick Google Images search you'll see they're basically a yellow-furred, long-tongued rainforest beast of sorts, except more closely related to bears and raccoons than primates. Underrated mammal TBH.
The critter is about to explode in popularity with the release of Vivo, with the incredibly prolific Lin-Manuel Miranda voicing the titular cuddly character. The animated kinkijou himself is just about the goddamn cutest thing I've ever seen and audiences don't have to wait long to meet him and hear his musical monkeyshines: Vivo arrives on Netflix on August 6.
Havana is turned into a colourful playground of song and sweetness in the trailer below, setting up Vivo's rescue by elderly musician Andrés. The kinkijou is determined to bring one of his owner's greatest love songs to famous singer and old flame Marta (Gloria Estefan), but instead gets stuck with Andrés' bumbling niece Gabi. There's simply no way these two will ever form a life-affirming friendship despite calamitous set-pieces and tearjerking low points. I just don't see it.
Miranda is having a massive 2021, with the release of In The Heights in cinemas and the Colombiano fantasy Encanto later this year from Disney. The Broadway breakout writes the music for this family feature, too, and it's bizarre that we haven't had more hype surrounding such a clearly expensive and well-loved project.
Like the vibrant The Mitchells Vs. The Machines, Vivo seems to have been part of a recent slate of Sony animated films in which the studio lost confidence, abruptly dropping the movie on Netflix rather than giving it a broad theatrical release. Looking on the bright side, this also means nobody will be around to hear you cry, laugh, and sing as you watch Vivo from August 6, either alone or with the musical monkey companions in your own life.