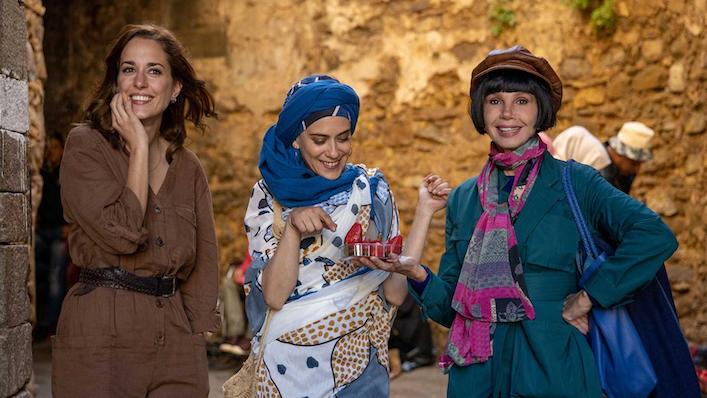 Say hola to the vibrant lineup for the 2021 Moro Spanish Film Festival

---
Ready for some reel inspiración? The Moro Spanish Film Festival couldn't come at a better time, bringing joyous and challenging films to Palace Cinemas near you.
There's something for every kind of international cinema fan, from crime to comedy to coming-of-age, and it's all happening during April and May in Sydney, Melbourne, Canberra, Adelaide, Perth, Brisbane, and Byron Bay.
Opening night selection Rosa's Wedding is one of many heartwarming romantic comedies in this year's lineup, following a put-upon single woman who shocks her family with the announcement of a mystery wedding. In Melbourne, Sydney and Brisbane, Australian filmmaker Simon Palomares will introduce screenings of his documentary Latigo, a hilarious exploration into Cuba's comedy scene (trailer below). And multi-Gaudí-award winning drama A Thief's Daughter stars real-life father and daughter Eduard and Greta Fernández, in a Barcelona-set family crime story.
Battles between the sexes seem to be pretty trendy in Spain this time of year, with both Bye Bye Mr Extebeste! and Under The Same Roof following a disintegrating marriage to satirical effect. And Spanish actor Álex Garcia appears in not one but two wild comedies: the rags-to-riches story If I Were Rich and another marital laugh festm The Wedding Unplanner.
Outside of Spain itself, the Moro Spanish Film Festival also has a promising selection of Latin American films from Argentina, Chile, Cuba, Mexico and Uruguay. Probably the most anticipated of these is Pablo Larraín's Ema, a Golden Lion-winning dance drama with a pulse-pounding electro soundtrack for the ages. Art history nerds should also consider the thriller The Goya Murders, starring Maribel Verdú as a detective hunting down a serial killer who finds "gruesome inspiration in the famous paintings of Francisco Goya".
Whether you speak fluent Spanish or just love the country's vibrant national cinema, this year's lineup is sure to impress. Tickets are already on sale via the Moro Spanish Film Festival official website. Festival dates and locations below. Me gusta.
Sydney 20 Apr – 9 May: Palace Norton Street, Palace Verona, Palace Central and Chauvel Cinema.
Canberra 21 Apr – 9 May:  Palace Electric Cinema.
Melbourne 22 Apr – 9 May: The Astor Theatre, Palace Cinema Como, Palace Brighton Bay, Palace Westgarth, The Kino, Palace Balwyn and Pentridge Cinema.
Adelaide 27 Apr – 16 May: Palace Nova Eastend Cinemas.
Perth 28 Apr – 16 May: Palace Raine Square Cinemas, Luna Leederville and Luna on SX.
Brisbane 28 Apr – 16 May: Palace James Street and Palace Barracks.
Byron Bay 29 Apr – 12 May: Palace Byron Bay.