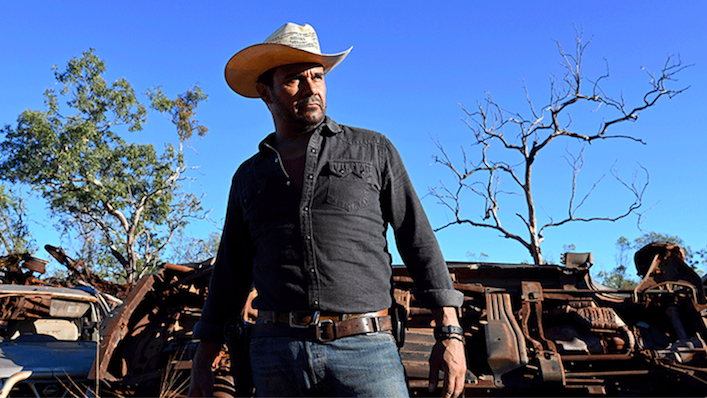 Mystery Road season 2 coming to iView in April, serving up more outback murder

---
Warwick Thornton and Wayne Blair are certainly some of the top directors that come to mind when thinking of Aussie auteurs speaking to contemporary Indigeneity. Between them, they've put out great works such as Sweet Country, Top End Wedding, The Sapphires and Samson and Delilah.
If you're more of a homebody than a moviegoer, you'll be happy to learn that the second season of their Australain neo-western drama Mystery Road (created by Iven Sen, who directed the first two movies) is returning to the ABC.
After premiering its first episode on a world stage at the prestigious Berlin Film Festival, Mystery Road's second season arrives on ABC and iView on Sunday April 19 at 8.30pm. New fans can also check out the first season on iView from that date.
Filmed in the rugged yet beautiful surrounds of WA's Dampier Peninsula and Broome regions, the six-part series stars Aaron Pedersen as Detective Jay Swan, who has been assigned to a grisly local case in order to stay close to his family. Describing its newly coastal setting as a world where "secrets past and present run deep and dark," the ABC is highlighting Mystery Road as one of their star attractions for the coming year.
Sign up for Flicks updates
Mystery Road's ongoing story of Detective Swan and the fractured lives he tries to fix are drawn from Ivan Sen's original films Mystery Road and Goldstone, both of which blended a crime procedural with themes of corruption and prejudice.
The input of great Australian directors like Blair and Thornton only makes Mystery Road's returning season all the more fascinating. And if we're still all cooped up for fear of the coronavirus by April 19, the show's searing western movie vistas will keep us from getting too stir-crazy indoors.
Mystery Road season one and two will be available on ABC and iView on Sunday April 19.