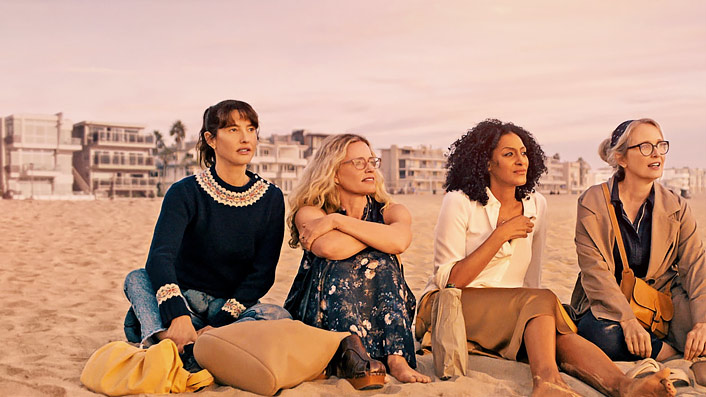 Female friendship comedy On the Verge has landed on Netflix

---
You can't mess with the formula of a TV series about four different women, coming together to discuss love and work and life. We've got Girls to cover your messy 20s, Sex and The City for aimless 30-somethings, and Desperate Housewives and Golden Girls beyond that. Love it.
Netflix's own spin on this bolstering genre, created by and starring Julie Delpy, comes in the form of On The Verge. The first season's 12 episodes are all available to stream right now via Netflix, so get three (and NO MORE than three) of your best mates together for an almighty and empowering binge sesh.
In the sunny trailer below, Delpy is considering big moves in her career and domestic life. She's not the only one, either: Elisabeth Shue is a crunchy granola hippie lady getting hit on at the local supermarket, Alexia Landeau plays a mum trying to cling onto her kid's fleeting innocence, and Sarah Jones's character begins having panic attacks at the age of 46.
She wisely ponders, "sometimes I think we're all just grieving the person we hoped we'd become."
Maybe we should expect On The Verge to be a tad more existential than some of Netflix's less substantial sitcoms. Delpy did, after all, make a name for herself in Richard Linklater's illuminating and romantic Before trilogy.
We don't know yet whether On The Verge will return for further seasons, but here's hoping that the show can speak to a broad range of viewers in its depiction of middle-aged womanhood.
Choosing On The Verge as one of her most anticipated new titles for the month, Jenna Guillaume celebrates its focus on an underrepresented demographic: "It's still all-too-rare to see television focusing on women over the age of 40, which makes this heartfelt, real, and warm offering even more exciting."
If you're still on the verge of watching Delpy's new series, that endorsement should be your official sign to get started.