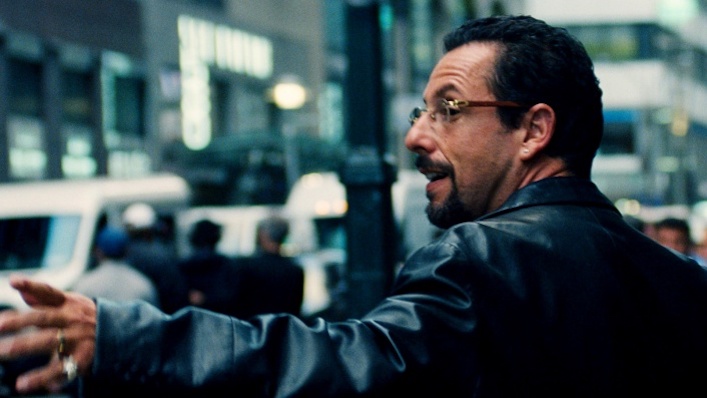 Adam Sandler delivered a very Adam Sandler speech at the Independent Spirit Awards

---
The Safdie brothers' tremendous Netflix effort Uncut Gems got paid absolute dust by the Academy of Motion Picture Arts and Sciences this year. Despite being A24's highest grossing film and earning rave reviews for its anxiety-inducing direction and editing, the Oscars still stuck up their collective noses at the project, maybe because it stars low-brow comedy auteur Adam Sandler in a transformative lead role.
Sign up for Flicks updates
At least the 35th Film Independent Spirit Awards righted this grave cinematic wrong, giving Sandler not just a nomination for Best Male Lead, but a win! The actor took to the stage to deliver an acceptance speech that not only gently roasted the Oscars for their snub of his work in the film, but also did so in a highly irreverent, deeply Sandlerian fashion.
Perhaps to distance himself from seeming too sincere and self-serious, Sandler spoke in a highly irritating 'Adam Sandler' voice, pointing out that his collaboration with ceremony host Aubrey Plaza in the 2009 film Funny People was "the last time critics pretended not to hate me for five fucking minutes."
The self-deprecation continued with a shout-out to the other nominees, "who will now and forever be known as the guys who lost to fucking Adam Sandler." But then things took a turn for the heartfelt, with the actor alluding to his omission from the Oscar's Best Actor category nominations.
Sandler pointed out that the Film Independent Spirit Awards are basically the Hollywood equivalent of a high school yearbook's Best Personality award. He spoke for the whole room in expressing his gratitude: "So when those feather-haired douchebag motherfuckers get their Oscars tomorrow night, their handsome good looks will fade in time, while our independent personalities will shine on forever!"
Regardless of who wins the more popularly acknowledged Best Actor award at the ceremony today (let's be real, it's definitely Joaquin), it's at once hilarious, bizarre, and kind of sweet that Adam Sandler was this year's awards season underdog. God bless the Independent Spirit Awards for acknowledging a role in which Billy Madison gets possessed by the spiritual power of a magic Ethiopian opal.