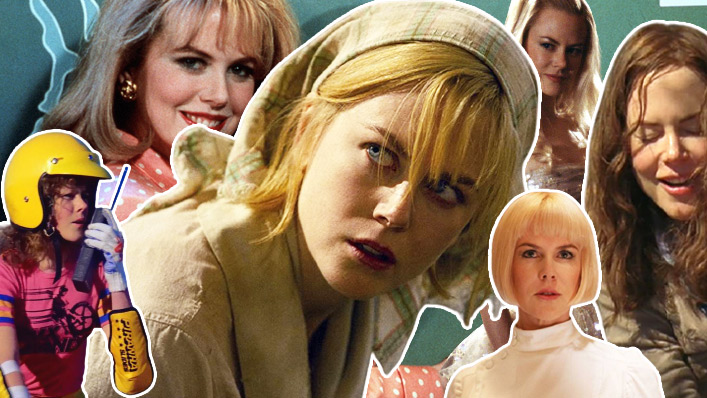 A Nicole retrospective, coming to Melbourne and Sydney? You've gotta be KIDding, MAN!

---
'A murderous weather-girl…a Moulin Rouge courtesan…Virginia Woolf…a villainous taxidermist.' Nicole Kidman has often been singled out for her physical beauty or tabloid appeal as a huge Aussie celeb, making it easy to forget just how incredibly diverse her film roles have been.
Yep—our Nic can seemingly do anything, and now there's a retrospective of some of her greatest films at Lido, Cameo and Ritz cinemas to prove it.
In a career spanning almost four decades, Kidman has scooped up an Oscar, Golden Globe and an Emmy, working with some of the industry's most illustrious auteurs along the way (Kubrick! Campion! Van Sant!).
From Sunday April 11 to Sunday June 27, Melbourne's Lido, Classic and Cameo cinemas, and Sydney's Ritz cinemas, will screen a well-curated selection of Kidman's filmography, spanning her redheaded days as a rising Australian starlet to her most daring and transgressive work in arthouse and prestige circles.
It all kicks off with BMX Bandits, the daggy yet iconic Brian Trenchard-Smith flick which first revealed the young actress's star power. Kidman earned even more acclaim in thrillers like Dead Calm and To Die For, blossoming into a confirmed Hollywood star in the 90s with roles such as The Portrait of a Lady and Eyes Wide Shut (all while managing a highly-publicised relationship with Tom Cruise in the meantime).
Since then, we've seen Nicole get scary (The Others), hilarious (her villainous role in Paddington and as a brainwashed feminist in the underrated The Stepford Wives remake), and of course Academy-certified, with her Oscar-winning musical turn in Baz Luhrmann's Moulin Rouge!. Hell, she even gives a graceful, poignant performance while chowing down on bugs.
Lido, Ritz, Classic, and Cameo will display the full breadth and scale of Kidman's career, even whipping out some glorious 35mm film presentations of Dead Calm and Moulin Rouge!.
NICOLE KIDMAN RETROSPECTIVE PROGRAM – LIDO AND RITZ
Wednesday 7 April, 7pm – BMX Bandits (1983)
Wednesday 14 April, 7pm – Dead Calm (1989)
Wednesday 21 April, 7pm – To Die For (1995)
Wednesday 28 April, 7pm – The Portrait of a Lady (1996)
Wednesday 5 May, 7pm – Eyes Wide Shut (1999)
Wednesday 12 May, 7pm – Moulin Rouge! (2001)
Wednesday 19 May, 7pm – The Others (2001)
Wednesday 26 May, 7pm – The Hours (2002)
Wednesday 2 June, 7pm – Dogville (2003)
Wednesday 9 June, 7pm – The Stepford Wives (2004)
Wednesday 16 June, 7pm – Birth (2004)
Wednesday 23 June, 7pm – Margot at the Wedding (2007)
Saturday 26 June, 11am – Paddington (2014)
Tickets available at Lido here
Tickets available at Ritz here
NICOLE KIDMAN RETROSPECTIVE PROGRAM – CLASSIC
Sunday 11 April, 7pm – BMX Bandits (1983)
Sunday 18 April, 7pm – Dead Calm (1989)
Sunday 25 April, 7pm – To Die For (1995)
Sunday 2 May, 7pm – The Portrait of a Lady (1996)
Sunday 9 May, 7pm – Eyes Wide Shut (1999)
Sunday 16 May, 7pm – Moulin Rouge! (2001)
Sunday 23 May, 7pm – The Others (2001)
Sunday 30 May, 7pm – The Hours (2002)
Sunday 6 June, 7pm – Dogville (2003)
Sunday 13 June, 7pm – The Stepford Wives (2004)
Sunday 20 June, 7pm – Birth (2004)
Saturday 26 June, 11am – Paddington (2014)
Sunday 27 June, 7pm – Margot at the Wedding (2007)