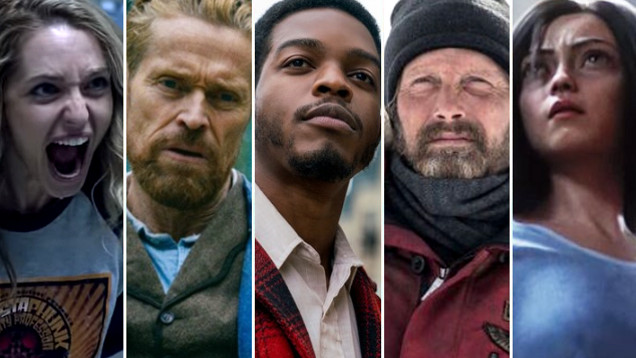 Your guide to new films playing in cinemas on Valentine's Day

---
Thinking about having a picnic in the park on Valentine's Day? Pffftt, go see a film. From battle angels to Eric Bana, and survivalist dramas to slashers, this year's slate of Valentine's Day releases is one of the most eclectic ever, writes Maria Lewis. 
Valentine's Day used to be the domain of the rom-com. It was where that genre lived, even long after they stopped being popular in the late naughts. The rest of the year might be skint, but Valentine's Day was where a rom-com would always reliably pop up. Think the terrible Bride Wars, the even terribler (?) I Hate Valentine's Day, or the absolute worst of the worst, Valentine's Day. It's obligatory to mention that movie once and then we shall never speak of it again (*makes sign of the cross*).
However, something interesting has started to happen over the last few years. There was always counter programming to the rom-coms, but they were usually slashers exploiting the theme like Valentine with David Boreanaz or the My Bloody Valentine remake. Yet now that the Fifty Shades franchise – which was usually a Valentine's Day staple – has tweaked its last nipple, the release date is wide open again. A non-romantic movie like Deadpool found success in the Valentine's Day release slot back in 2016 with a targeted campaign, eventually taking $783M globally.
Now it turns out Captain Cook getting stabbed to death by Hawaiians wasn't the only good thing to happen on February 14. This year is perhaps one of the most interesting for local cinemagoers, with the spectrum of flicks on offer very broad, very interesting and only slightly romantic.
Sign up for Flicks updates
The live-action take on the popular manga comes from a who's who of 'dudes who like to push technical boundaries with their filmmaking': namely James Cameron, Jon Landau and Robert Rodriguez. It's the only big budget, high-concept sci-fi flick on the list and it's rare you get a cyberpunk offering ever let alone at this time of the year. It will be playing everywhere. Like, really. Just try and avoid this movie.
If the thought of Willem Dafoe as Vincent van Gogh intrigues you, then see this. His performance is extraordinary enough that it edged out flashier candidates for an Oscar nomination at the upcoming 2019 Academy Awards. A solid arthouse alternative, it also features Mads Mikkelsen, Oscar Isaac and Rupert Friend in supporting roles. It's playing in limited theatrical release.
The second Mads Mikkelsen option on this list, although we dare say the Netflix original Polar might be, um, more romanticish. It doesn't get much more anti-traditional Valentine's Day fare than this, a dialogue-light film that follows a man trying to survive in the Artic after his plane goes down. Undeniably beautiful and featuring Mikkalsen carrying an entire film on his back, it's bleak but tight survivalist drama. It's playing in limited theatrical release.
The original Happy Death Day was a big surprise in 2017, with Blumhouse's take on a Groundhog Day slasher actually proving highly entertaining. The premise of a woman being forced to solve her own murder at the hands of a creepy masked foe as she relives the day over and over again sounds simple enough, yet it was elevated by Jessica Rothe's breakthrough performance, surprising humour and understanding of genre conventions. Happy Death Day 2U deserves butts in seats for that title alone. Playing in wide release.
International audiences have had Barry Jenkins' latest film for a while, but thank heck we're getting a romantic drama we can sob hysterically over just in time for Valentine's Day. Adapted from James Baldwin's acclaimed novel and shot so beautifully you want to lick the screen, it's one of the best films of the year. Playing in limited theatrical release.
Peak Valentine's Day fare and – outside of Rebel Wilson's Isn't It Romantic releasing in the US – one of the few rom-coms in the slot this year. The important thing is What Men Want doesn't feature Mel Gibson, a blessing to us all, as Taraji P. Henson steps in to play the member of the opposite sex who can suddenly hear thoughts. In cinemas everywhere.