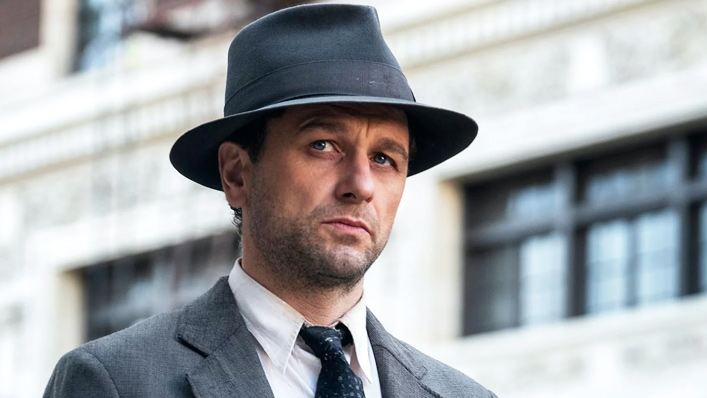 Why Perry Mason is the hard-boiled hero our times need

---
Matthew Rhys plays a rumpled, compromised but committed gumshoe in the addictive noir series Perry Mason, which is now streaming on Binge. Time to strap in, writes critic Travis Johnson.

Crusading lawyer Perry Mason has been around for simply yonks.
First conceived by American lawyer and crime author Erle Stanley Gardner back in 1933, the big-brained sleuth investigated and argued his way through some 80-odd stories and books, making the leap to both radio drama and television. It's in the latter format that Mason really flourished. As played by Raymond Burr, Mason solved murders for nine seasons from 1957 to 1966, with Burr reprising the role in a staggering 26 TV movies prior to his death in 1993.
Sign up for Flicks updates
Which is all very well and good but in practical terms and to modern audiences, Mason is basically another Matlock—the sort of cosy crime solver beloved by grandparents and derided by generations raised on The Wire, The Shield, or whatever variety of grim crime procedural you favour. But the new Perry Mason miniseries currently screening on Foxtel and Binge (by way of HBO) is, to borrow an apt phrase, not your grandma's crime drama. Starring Matthew Rhys in the title role, it's a grim murder mystery that starts with a dead baby and just spirals further into the darkness from there.
So how did America's favourite avuncular avatar of justice wind up here? Well, for one thing…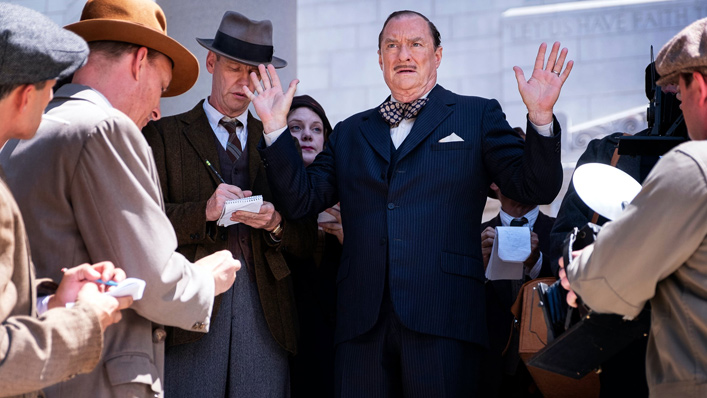 It's a prequel, see?
The eight-episode series is effectively Pre-Perry Mason, or more accurately, Perry Mason: P.I. When we meet him circa 1932, Mason is a dogged private investigator doing odd jobs for down-at-heel lawyer E.B. Jonathan (John Lithgow). This is a younger, meaner, less morally clear-cut protagonist: he drinks, he smokes, he's less than upright in his working life, running quick cons and ruthlessly leveraging any advantage to get what he needs. He's also a World War I veteran, clearly struggling with PTSD from his experiences in the trenches and rumoured to have been cut loose from the Army for some horrible atrocity. Whither Raymond Burr?
Well, surplus to requirements, frankly. Rhys is simply perfect in the role. His wary eyes and hangdog expression speak to a bruised humanity, a kind of wounded idealism. What's brilliant is that you can see how this Mason—cynical, down on his luck, damaged by horrific experiences abroad and hardened by the everyday evils his detective gig exposes him to—will evolve into the forthright warrior for truth and justice that is the traditional Mason. And Rhys is not alone here. In fact…
The whole cast is killer
We're already two for two in the Great Actor department with Rhys and Lithgow. Add to that a top-notch ensemble of character actors and you're really cooking. Like the noir films it emulates, Perry Mason understands that a great cast makes all the difference.
So, we get Robert Patrick (Terminator 2, The X-Files) as the wealthy and shady Herman Baggerly, who hires E.B. and Perry; Nate Corrdry (St. Vincent, Mindhunter) and Gayle Rankin (GLOW) as bereaved parents at the centre of the mystery at hand; Shea Whigham (True Detective, Take Shelter) as fellow shamus Pete Strickland; ace character actors Stephen Root (Office Space) and Matt Frewer (Max Headroom) as a D.A. and a judge, respectively; and Lili Taylor (Say Anything, The Haunting) and Tatiana Maslany (Orphan Black) as mother-and-daughter religious revivalists who get caught up in the case.
And what's the case? Well, strap in because…
It's dark AF
As mentioned, Mason is investigating the gruesome murder of a baby who turned up dead in a ransom exchange gone wrong. Early clues point to the poor dead mite's mother, but that would be too simple for an eight hour mystery, wouldn't it? No, the trail of bloody breadcrumbs inevitably leads to the halls of power and the upper echelons of Los Angeles society, as these things tend to do in any hardboiled detective tale worth its salt.
Still, you know that any series that starts with a dead baby is going to wind up taking us to some very bleak places, and it should come as little surprise to learn that the series was originally being developed by True Detective's Nic Pizzolatto, although it was eventually brought home by showrunners Rolin Jones and Ron Fitzgerald (Friday Night Lights). Veteran TV director Timothy Van Patten is the chief shot caller on the series, bringing with him a wealth of experience from pretty much every prestige series for the past couple of decades or so, including Deadwood, The Wire, The Pacific, Rome, The Sopranos, and Boardwalk Empire.
Indeed, the latter, which Jones also worked on, bears a close resemblance to the new Perry Mason, and not only because…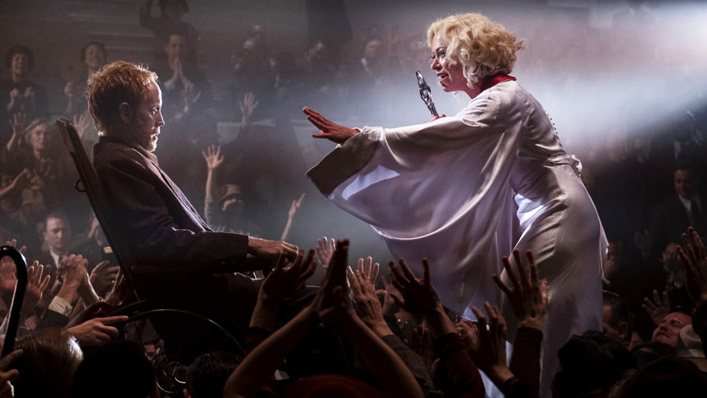 The period setting is on point—and mirrors our own grim times
Set in Los Angeles during the fading days of The Great Depression, Perry Mason weaves a path through a world marked by economic inequality, political corruption, moral hypocrisy, religious mania, racial strife, misogyny, greed, murder and malfeasance. Sound familiar?
Period series can be hard to thread the needle on. You can argue where the line is between "period" series and "historical" series, but it's probably something to do with people alive being able to recall an actual period, whereas anyone who could call out the inaccuracies in something like, say, Rome has already gone to their reward. But it's not just the period detail—which is great here—that counts; the real trick is crafting a setting that makes us reflect on our own times.
That's what makes Perry Mason genuinely great TV. It's not a distraction from the world outside our window, but a different lens through which to view it. Matthew Rhys' rumpled, compromised but committed gumshoe is our guide to both his milieu and our own, and we couldn't hope for a better one.