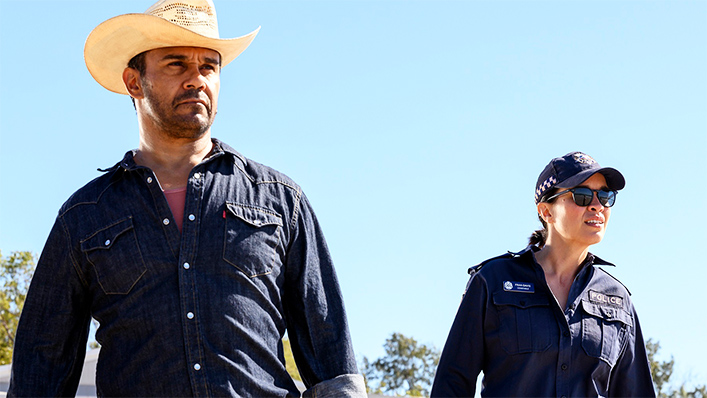 Why Mystery Road is Australia's greatest franchise

---
The latest season of Mystery Road has landed on ABC iview, with new episodes arriving weekly. Comprising two feature films and now two TV seasons, it is nothing less than Australia's greatest franchise, writes critic Sarah Ward.

When Jay Swan (Aaron Pedersen) first swaggered through Mystery Road, commanding every frame of Ivan Sen's 2013 feature film, the Indigenous detective helped kickstart a stunning Australian franchise. Seven years on, it's still going strong—with the taciturn, dogged outback cop returning to screens in the second Mystery Road television series (find where to watch it here), which arrives following a previous 2018 TV series as well as the 2016 film sequel Goldstone.
See also
* All new streaming movies & series
* Top 50 action movies to stream
That's quite a journey for any fictional character, let alone an Indigenous Australian protagonist. That's quite a journey for this thrilling franchise as well. No other Aussie series so eagerly dedicates its frames to an Indigenous lead, challenging a multitude of perceptions, stereotypes and prejudices about Aboriginal Australians in the process. And no other homegrown franchise so unflinchingly lays bare the inescapable cultural and racial divides baked into Australian society for centuries, fiercely and repeatedly calling them out.
Despite their prominence internationally, Australia has surprisingly few franchises to its name—notwithstanding popular titles such as Mad Max and Red Dog. But as action-packed as George Miller's dystopian saga is, and as heartwarming as Nelson Woss' canine series is too, Mystery Road stands apart.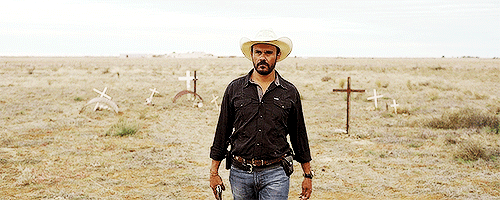 What to expect from the new series
Nearing a decade of following Swan across Australia's sun-dappled landscape, Mystery Road has its basic setup down to an art. Once again, its devoted hero is dispatched to a remote area, this time to investigate a headless corpse in the mangroves. That's just the first body requiring Swan and young cop Fran's (Jada Alberts) attention, with the case linking to the local narcotics trade, as well as protests about excavation at a sacred Indigenous site. And although Swan is in a new town working a new crime, he's still forced to look inwards thanks to the presence of his ex-wife Mary (Tasma Walton).
Commencing with one of the franchise's most memorable scenes, Mystery Road's fresh batch of episodes makes a splash from the outset—combining crime and culture, the present and the past, and Swan's professional and personal dramas. As directed by Warwick Thornton and Wayne Blair, the news series slowly pieces together a murky and compelling puzzle that's as twisty as it is weighty. In other words, it's classic Mystery Road. The franchise's fourth chapter lives up to its previous installments.
Sign up for Flicks updates
It began from a grimly real place
To appreciate the franchise's importance and impact, it's worth remembering where it begins: with a film inspired by Sen's cousin, who was found dead under a roadway. A similar event occurs at the beginning of the original Mystery Road feature, with audiences first meeting Swan when he's woken by the bleak news. Next, viewers stare into his eyes as he drives to the scene. Then the audience sees Swan standing by the road, iconic Akubra hat atop his head and central Queensland's scrubby expanse behind him, assessing the grim situation.
These shots tell audiences much about Swan, explicitly and subtly, while unfurling key elements essential to the franchise. Sen first renders his hero virtually in silhouette, cloaking Swan's face in nighttime shadows, intimating hidden details and complexity. En route, only Swan's eyes are visible in the rearview mirror, blazing and focused—traits evident in every choice he makes. By the roadside he's quick to act and ask questions, but also patient, ruminative and reflective.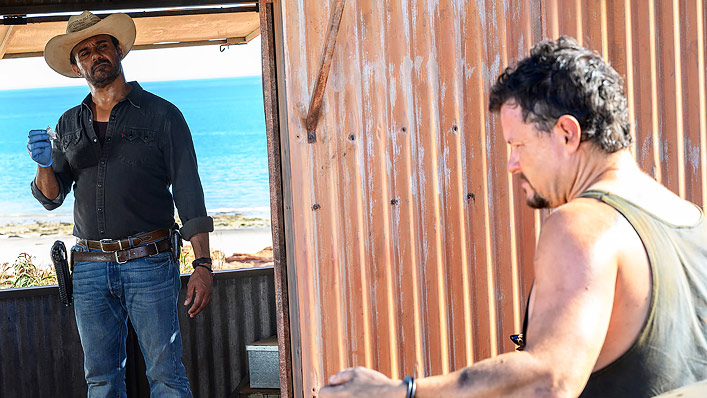 A complicated hero for a complicated franchise
In these three brief moments, Mystery Road paints an intricate portrait of the man played so disarmingly well by a quietly conflicted Pedersen, one of this country's finest actors ever since the exceptional '90s drama Wildside. There's nothing simple about Swan, even with the sleuth often saying little. There's nothing that's clear-cut, apart from his firmly entrenched sense of right and wrong. And he's always an outsider, his own community deeming him a traitor due to his badge, and his colleagues frequently treating him with suspicion.
The franchise itself shares these characteristics: layered, thorny, determined and decisive, as well as meticulous, thoughtful and contemplative. A complicated franchise after all demands a complicated hero and vice versa. It helps that, as Sen and fellow Aussie filmmakers Thornton, Blair and Rachel Perkins explore in the saga's various chapters, the crime genre lends itself to complication. Murders and missing person cases are messy. From the victim's loved ones, to perpetrators, to investigating cops, they leave fingerprints far and wide. And they never occur in a vacuum, with communities forever affected, their issues and attitudes often reflected as well.
Unearthing Australia's history and tensions
As pivotal as Swan is, Mystery Road's interrogation of modern-day Australia is equally vital. If a franchise about an Indigenous Australian detective didn't excavate engrained racial tensions and divisions, colonial history, and the clash between Aboriginal mythology and contemporary Aussie life, it'd be a dereliction of duty.
The series' formula may seem obvious now: new town, new case, new dramas, same old Swan. But that's always just the beginning, as Goldstone, the most politically charged chapter thus far, illustrated by connecting the treatment of gold rush-era Aboriginal Australians with today's Indigenous population and trafficked Asian workers. Each case unearths another slice of Australia's conflicted core, peeling away the country's multicultural facade to reveal the struggles, troubles, and moral and cultural dilemmas festering within.
No matter whether it's unpacking disappearances, historic injustices and abuses of power in the TV series' first season, or leaping from a body in a swamp to pondering Australia's embrace of revisionist history in its second, the result is potent, urgent, authentic and insatiably compelling.
This franchise attracts famous co-stars aplenty, including Hugo Weaving, Ryan Kwanten, Jack Thompson, Jacki Weaver, David Gulpilil, David Wenham, Judy Davis, Deborah Mailman, Ernie Dingo, Callan Mulvey and Gary Sweet, to name a few. However Mystery Road in all its guises boasts a protagonist, perspective and penetrating heart unparalleled on Aussie screens—other than in the work of the Indigenous Australians, such as Sen, Perkins, Thornton and Blair, who so crucially call the shots on this masterpiece of a franchise.