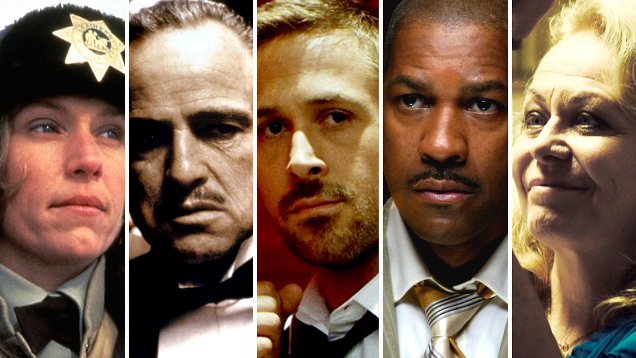 The top 20 crime films on Netflix and Stan

---
From early on the cinema tried to tell us that crime didn't pay, but movies about those on either side of the law have long been a way of talking about society as a whole, the limits it can push people to, and the clash between contradictory beliefs.
Crime movies can be vast epics or desperate diversions, but either way the best illustrate far more than just notions of right and wrong. Listed alphabetically, these are the best you can currently stream on Netflix and Stan.
Netflix
Donnie Brasco (1997)
Death of a Salesman for Mafia foot soldiers, this real life story recounts the friendship between minor mobster 'Lefty' Ruggiero (Al Pacino) and young thief Donnie Brasco (Johnny Depp), who is in fact undercover FBI agent Joseph Pistone. Mike Newell's detailed film reveals their mercantile struggle, while documenting how Joseph slowly disappears into his role.
Election (2005)
Hong Kong filmmaker Johnnie To masterfully captures the paradoxes that follow a Triad's contested leadership vote: chaos settles the organisation, violence is an adjunct of procedure, and individuals destroy each other to serve the collective. The action is explosively sudden, to the point where the police simply try to corral the warring participants.
"I believe in America" is the first line spoken in Francis Ford Coppola's masterpiece, which charts generational and organisational change amongst a post-WWII New York mafia clan with indelible images and period brutality. Fittingly, it is the initially innocent Corleone son Michael (Al Pacino) who discovers that the life he never wanted is his destiny.
A crime film for today's urban spaces, with survival on the margins and desperate calculation as opposed to prosperous vindication, this was a mainstream breakthrough for underground New York filmmakers Josh and Benny Safdie. Consumed by Oneohtrix Point Never's electronic score, the film follows Robert Pattinson's feral, calculating criminal through 24 hours of incessant flight.
With cocaine pans and Keith Richards riffs, this organised crime epic from Martin Scorsese was based on the (low) life and (bad) times of Henry Hill (Ray Liotta), a wiseguy from his youth sequestered with the calculating Jimmy Conway (Robert De Niro) and the violent Tommy De Vito (Joe Pesci). Magisterial filmmaking, damning anthropology.
Outrage at the lack of common decency is an unexpected motivation for a vigilante film, but it memorably introduces fed up nursing aide Ruth (Melanie Lynskey) and her possibly unhinged neighbour Tony (Elijah Wood) to bloody, calamitous violence and a David Lynch-like mood of inexplicable foreboding.
Spike Lee updates the bank siege dynamic of Dog Day Afternoon, with a group of thieves, led by Clive Owen's Dalton Russell, confounding the NYPD officers led by Denzel Washington's Keith Frazier who have them surrounded, while drawing the attention of Jodie Foster's off the books fixer. It's all clockwork cool plotting and vivid performances.
A horror story set in a legally sanctioned vacuum, Sicario follows a hardened FBI door kicker, Kate Macer (Emily Blunt), who joins a covert taskforce rerouting the war on drugs on the U.S.-Mexican border. Benicio Del Toro and Josh Brolin are her duplicitous instructors, but it's driven by director Denis Villeneuve with an eerie, exacting momentum.
This is a shorter cut of one of Orson Welles' periodic Hollywood films, which were repeatedly edited by studios, but even truncated it's a philosophical pulp pleasure. An earlier examination of the U.S.-Mexican border, with Welles as a corrupt police chief and Charlton Heston his Mexican counterpart, it's a film noir primed with biting asides.
Written by Christopher McQuarrie, directed by Bryan Singer, and starring Gabriel Byrne, Kevin Spacey and Benicio Del Toro, this labyrinthine thriller about a heist put in play by a criminal mastermind who supposedly doesn't exist riffs on criminal argot, updated noir archetypes, and the incriminating power of a well told story.
Stan
A deadly quiet film about the clash between a crime clan and various strands of the Victorian police force, David Michod's debut reveals a world where control is an illusion and the only certainty is oblivion. The focus moves between the telescopic and the chokingly tight, with an unerring performances from Ben Mendelsohn, Jacki Weaver and James Frecheville.
At Close Range (1986)
Crime films often portray law-breaking families as being proudly dynastic, but in this menacing drama – the best thing in James Foley's long and 50 Shades sequels inclusive career – career criminal Brad Whitewood (Christopher Walken ) coolly reels in and then callously turns on his son, Brad Jr (Sean Penn) with malignant ease.
Cop Land (1997)
A throwback to the New York corruption films of the 1970s and an early indicator of James Mangold's ambition, Cop Land stars Sylvester Stallone, bulked up and halting, as the shy, ineffectual sheriff of a New Jersey town populated by off duty NYPD officers. When they cover up a crime and he investigates, they turn on him. Co-starring Robert De Niro, Harvey Keitel and Ray Liotta.
In snow-covered North Dakota – alternate title: In Very Cold Blood – small-time criminals and out of their depth instigators make bad decisions that result in multiple lives being lost. It's an absurd Coen brothers universe, where failings define people, but redemption comes from a pregnant local sheriff, Marge Gunderson (Frances McDormand), who with dedication, cracks the bloody case.
Jackie Brown (1997)
Quentin Tarantino's final film of the 20th century was a terrific invocation of one of his storytelling idols, crime novelist Elmore Leonard. An ageing air hostess, Jackie Brown (Blaxploitation icon Pam Grier), tries to handle an aggrieved drug supplier (Samuel L Jackson) and the authorities who want her to rat on him. It's stocked with discursive dialogue, intriguing characters, and heroes drawn from the margins.
In this underrated crime thriller, Russell Crowe plays a family man whose wife (Elizabeth Banks) is sentenced to life imprisonment for the murder of her employer. When she becomes suicidal he decides to break her out, forcing him to enter the underworld and risk their child's safe upbringing. It's a heist film with a very human cost – expertly staged and meticulously tense.
Director Nicolas Winding Refn reunited with his Drive leading man, Ryan Gosling, for this Bangkok-set provocation which artfully elevates violence with noir lighting grids and nocturnal neon glows. Gosling's taciturn Julian is part of an expatriate crime syndicate, with Kristin Scott Thomas as the vituperative matriarch, pursued by Vithaya Pansringarm's ghostly, sword-wielding police inspector.
The female victims – Jodie Foster's mother and Kristen Stewart's young daughter – of an unexpected home invasion try to stay out of the male interloper's hands in this interior thriller from David Fincher. Desperation and invention go hand in hand, while the camera moves through the architectural spaces with omnipotent ease. It's smart, sustained, and thrilling.
Thief (1981)
Michael Mann's neo-noir feature film debut established his cinematic credo: James Caan plays a Chicago master thief whose self-discipline is a kind of straitjacket, but he can't control the situation (or fallout) when he falls in love with a waitress (Tuesday Weld) and is hired by an organised crime syndicate. The night scenes are luscious yet menacing.
Training Day (2001)
Los Angeles is a series of intersecting communities, alliances, and crimes in this knotty tale of police corruption, where Denzel Washington pushes his charismatic certainty into the arrogance of a narcotics detective playing both the odds and his rookie partner, delivered with pluck by Ethan Hawke. Antoine Fuqua's gleaming visual style is just right for this tale of perpetual betrayal.