The power of Crowe compels us as he tells Flicks about The Pope's Exorcist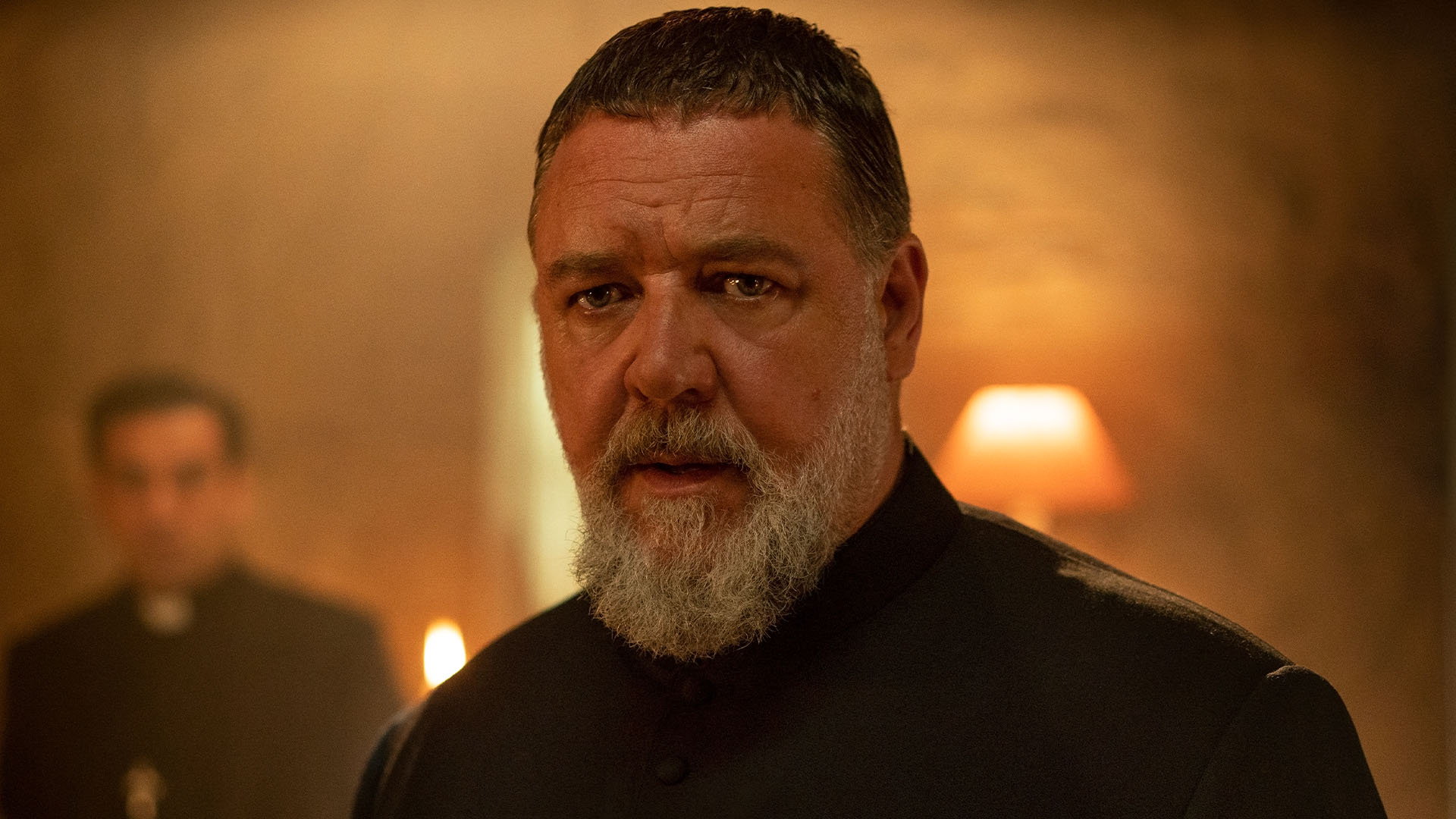 Russell Crowe is a mean m_______ing servant of God in new horror The Pope's Exorcist – Travis Johnson finds out more about the film firsthand.
Oscar winner Russell Crowe has been having fun with his choice of roles lately, and there's none more fun than a Vespa-riding, joke-cracking professional exorcist, as Travis Johnson found out when he spoke to the Gladiator himself.
If you tuned into Wrestlemania this week, you were treated to the unusual sight of Russell Crowe, in character (sans Italian accent) as Father Gabriele Amorth, the protagonist of his new film The Pope's Exorcist, introducing the Hell in a Cell match between Edge and Fin Balor.
.@Popes_Exorcist star @RussellCrowe sets the stage as @EdgeRatedR and Demon @FinnBalor prepare to wage war inside of Hell in a Cell at #WrestleMania!

Check out #ThePopesExorcist, exclusively in theaters April 14th. pic.twitter.com/B7QGcRERfS

— WWE (@WWE) April 3, 2023
It's not the wildest bit of cross-promotion we've ever seen. It's not even Crowe's most playful in-character appearance (that'd be his turn as Romper Stomper's Hando on Australian sketch comedy The Late Show back in the day). But it is a bit odd, given that Amorth, who died in 2016, was a real guy—and a real exorcist.
Chatting over Zoom, Crowe explains that what drew him to the project was not the subject matter or the genre, but the real man at the centre of the film.
"Yeah, it is a weird one," he muses. "And it was actually probably slightly weirder when I first read it. But what started to interest me was the central character, you know? So, I read what was in the script, and then I went off and did my own little research. And then everything that I found out about Amorth just made me more interested."
Directed by Australian filmmaker Julius Avery (Son of a Gun, Overlord), The Pope's Exorcist sees Crowe in the title role. Drawing on (and it must be said, liberally embellishing) Amorth's writings on his work as exorcist of the Diocese of Rome, the film sees Amorth summoned to investigate an apparent case of demonic possession at a crumbling Spanish abbey being restored by American widow Julia (Alex Essoe). Teaming up with local priest Father Esquibel (Daniel Zovatto), Amorth gradually uncovers a dark secret that strikes at the heart of the Vatican itself.
The real Amorth is a fascinating figure—a man of both reason and faith. Born in Modena, Italy, in 1925, he fought the fascists as a partisan in World War II Italy and worked as a journalist after the war before being called to the priesthood in 1954. But he only took on the role of chief exorcist decades later, having been hand-picked by the incumbent.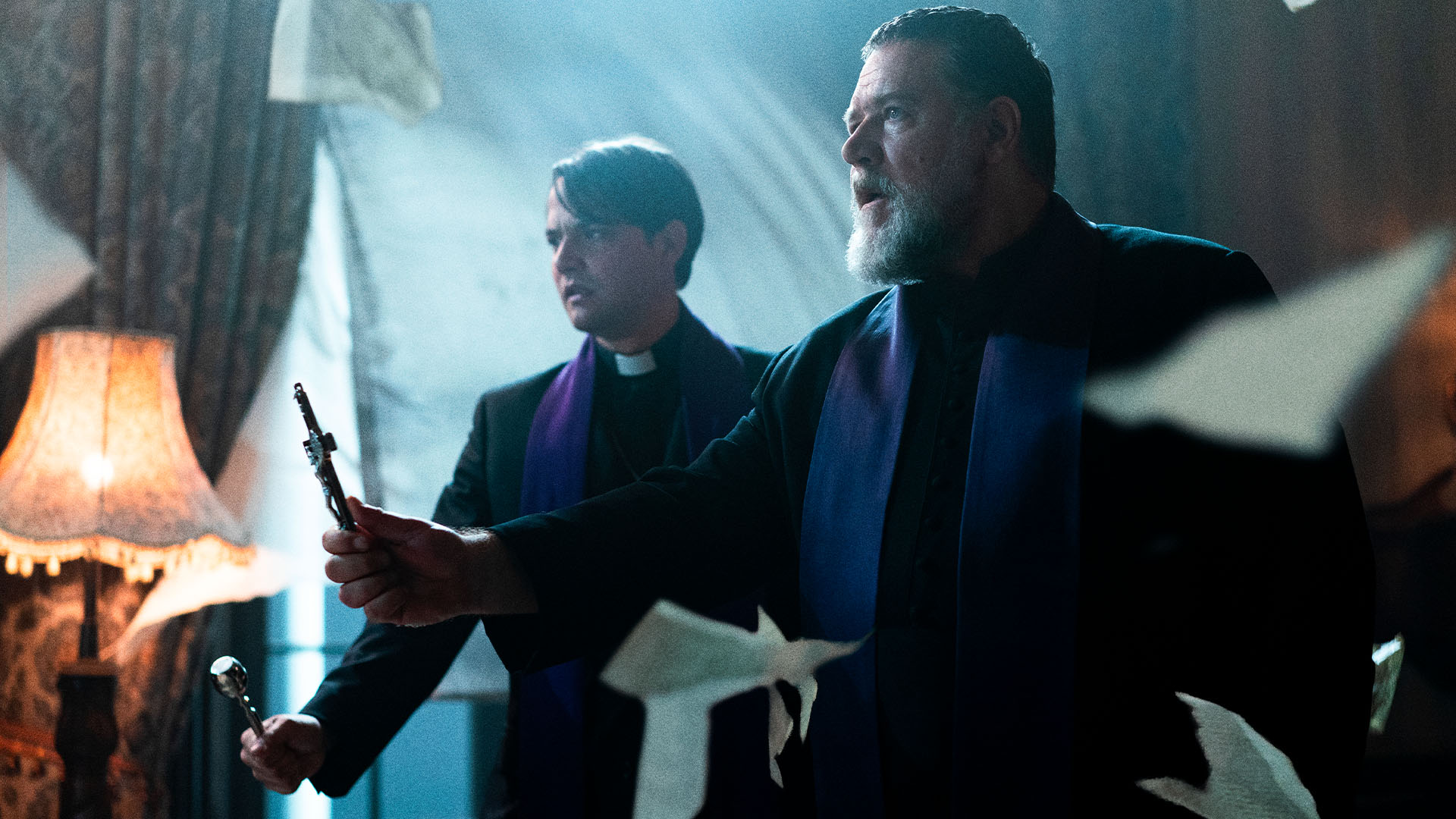 Crowe, who undertook extensive research for the role, fills us in. "When he's turning 60, he gets a tap on the shoulder from some man that he only barely knew who was in the job before him. And that guy says, 'I've looked around, I've talked to everybody. You're the priest who asked to take over this job'. Then that leads to 36 years of being the Chief Exorcist of the Vatican. That stuff, the individual, actual story of the man—that's the stuff that interests me."
But don't go expecting a dour dirge on faith and damnation. The Pope's Exorcist is a fun ride of a film, coming across more like a buddy cop movie than anything else, with Crowe's Amorth the gruff, worldly senior partner and Zovatto's Esquibel the rookie being shown the ropes. There's even some bureaucratic bother in the background, as higher-ups in the Vatican frown on Amorth's unconventional methods (don't worry, the Pope, as played by the great Franco 'Django' Nero, has his back).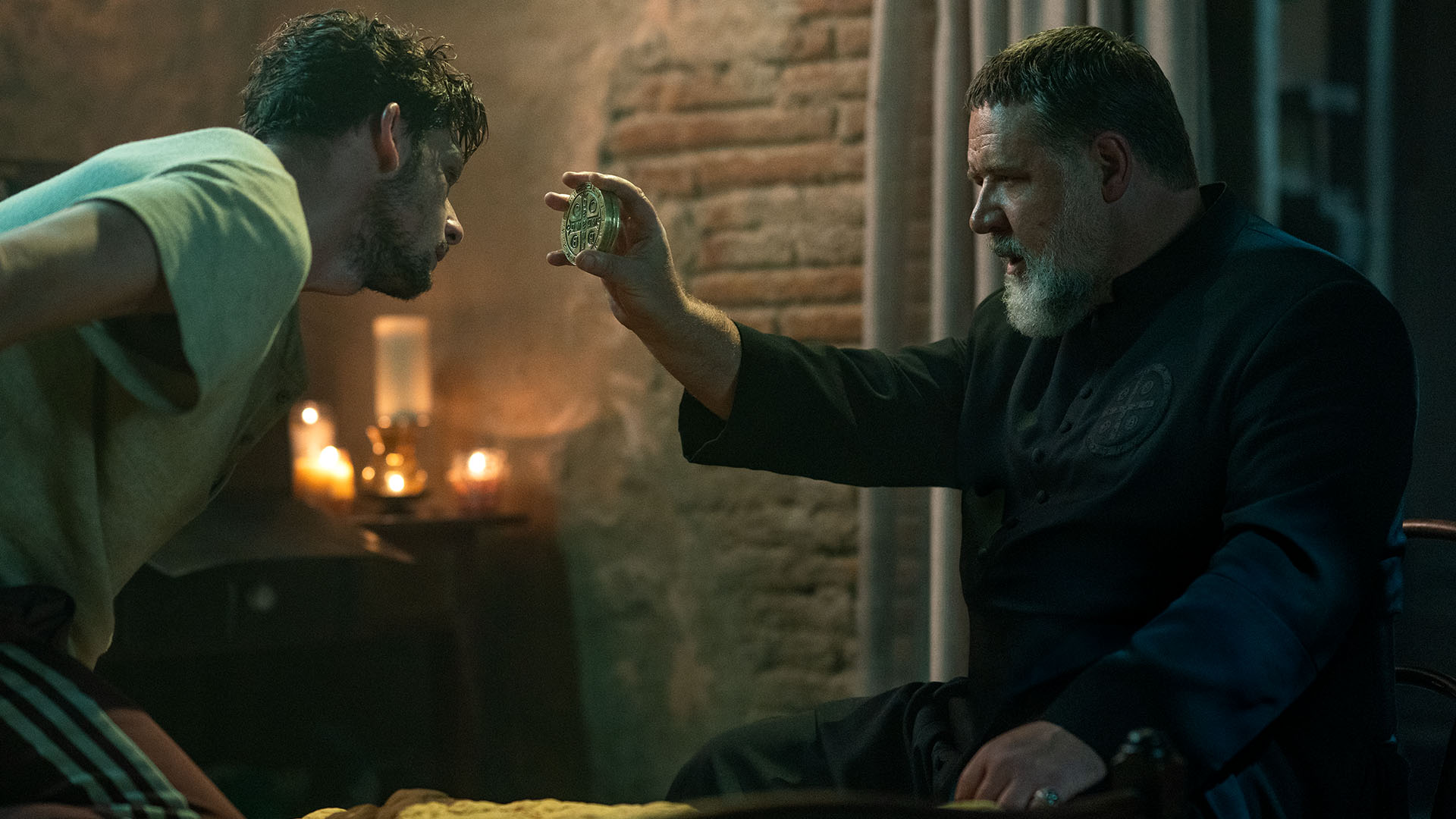 For Crowe, it marks a rare excursion into the horror genre. While it's not his first horror movie—he played Dr Jekyll and Mr Hyde in 2017's The Mummy opposite Tom Cruise—he admits to not having much stomach for fright flicks.
"I'm not a fan, I have to say," he tells us. "Straight up and down, when a horror movie comes out, I just walk the other way."
"You know," he recalls. "I saw The Exorcist at a theatre in Auckland when I was 14, and the usher thought it was a really funny idea, about halfway through the movie, to bang on the ceiling with a broom. Funny bloke!"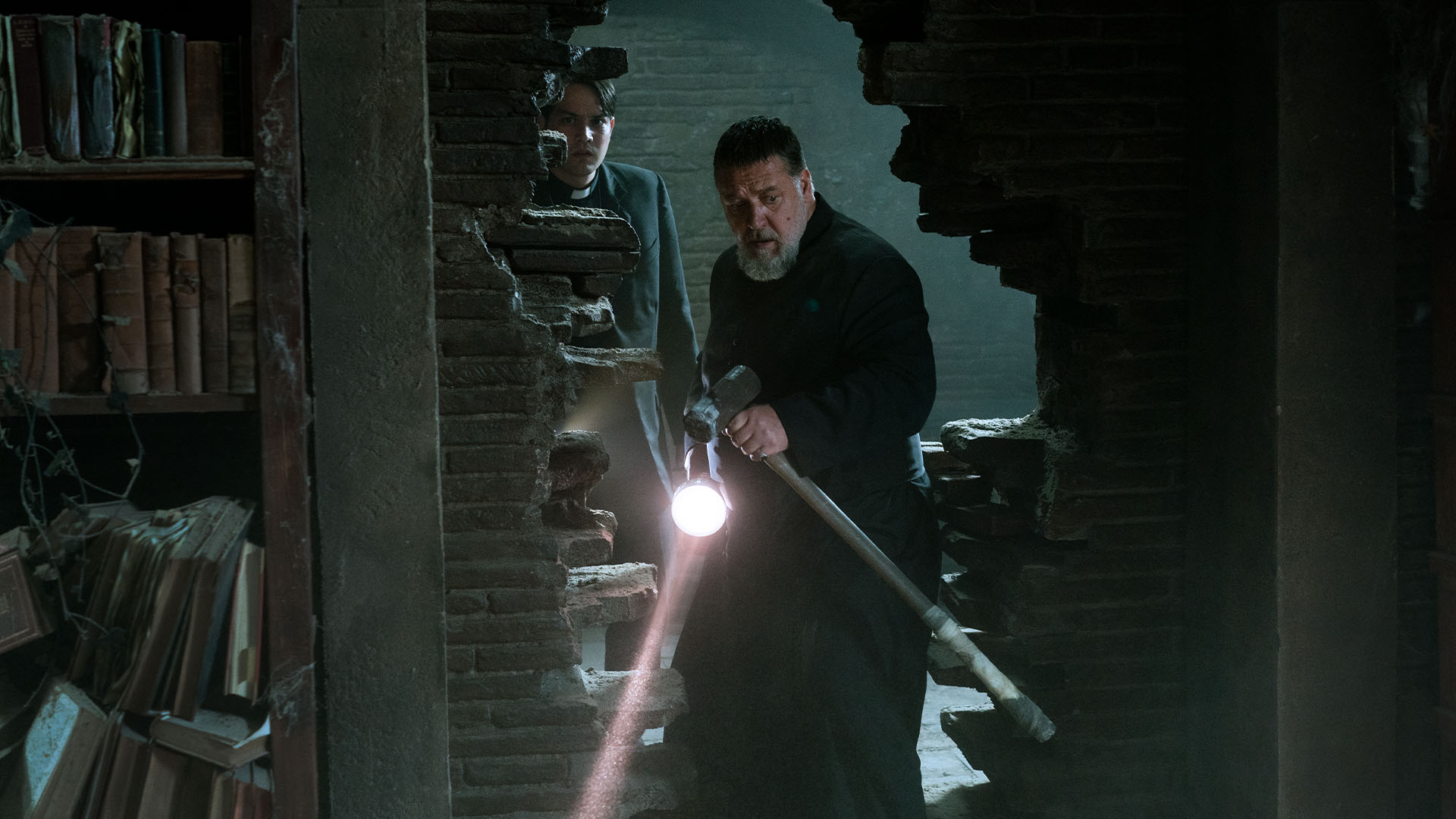 But getting over that seminal trauma was helped by having a steadfast collaborator in director Julius Avery. The Pope's Exorcist marks the filmmaker's fourth feature, and his second horror following 2018's World War II/zombie mash-up, Overlord.
"I had great time with Julius," he enthuses. "I think he's really on a learning curve as a director, and he was very definitely in control of what he was looking for, you know, he was a good collaborator."
That degree of trust and cooperation certainly paid off during the film's sometimes gruelling location shoot in Ireland. "I mean, you're always going to be suffering with your hours at a certain point during the course of a film. That's just a natural part of it. You know, we're shooting under rain towers in the middle of the night in Ireland—that's always going to come with its difficulties. But yeah, I think I think we work together as a team really well. And I definitely enjoyed his company, so it was a good combination."
Hopefully it's a combo we'll see again before long.