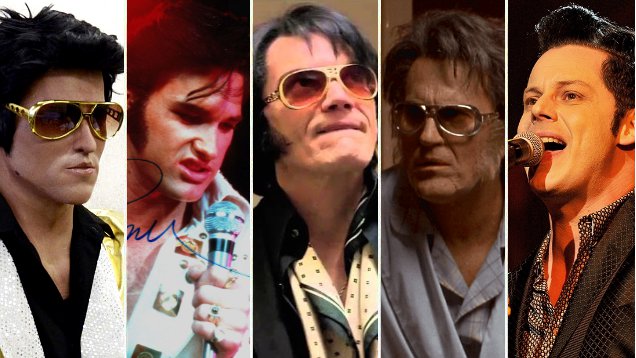 The King at the movies: films to watch before Baz Luhrmann's Elvis biopic

---
This week news arrived that Australian director Baz Luhrmann's next film will be a biopic of Elvis Presley. Whoever ends up playing The King (watch this space) will be far from the first actor to slip into the blue suede shoes, as Travis Johnson explains.
Audiences and the film industry alike are excited as all hell to learn that flamboyant Aussie director Baz Luhrmann's next project is a biopic of Elvis Presley.
Filming will take place in Queensland. And while the great Tom Hanks, who himself dabbled in music of a similar period with his feature directing debut, 1996's That Thing You Do!, has been cast as Colonel Tom Parker, the search is still on for someone – presumably an unknown – to play The King.
Elvis himself was no stranger to movies, having appeared in a string of films (mostly terrible) from 1956's Love Me Tender to 1969's Change of Habit, plus a plethora of concert movies and TV appearances.
Mr. Presley was also portrayed in movies a whole bunch of times, and it's to these that we now turn our attention. Speculation as to what kind of Elvis we might get in Baz's new venture will no doubt run wild in the coming months, but perhaps we can glean some insight by revisiting these hound dogs…
Sign up for Flicks updates
Kurt Russell in Elvis (1979) and Forrest Gump (1994)
The TV movie Elvis marked the first collaboration between Kurt Russell and director John Carpenter. Together they would go on to make Escape From New York (1981), The Thing (1982), Big Trouble in Little China (1986) and Escape From L.A. (1996).
But first came this – a departure for Carpenter, who specialised in genre movies, but a spot-on bit of business for Russell, whose quiff, lip-curl, and swivelling hips capture the essence of Elvis, if not the precise look, while country artist Ronnie McDowell provided vocals. The film rated well on the American ABC network and scored a theatrical release in Europe. Russell made such a good Elvis that he not only provided the voice of The King for Robert Zemeckis' American odyssey, Forrest Gump, he played an illegitimate son of Elvis in the 2001 crime caper misfire, 3000 Miles to Graceland, opposite his fellow Wyatt Earp, Kevin Costner.
The celebrated character actor, famous for his penchant for taking in awards ceremonies from the comfort of a local bar rather than the front row, is not perhaps the first choice that comes to mind when it comes to playing Elvis. Nor is the famed photograph of Elvis and then-President Richard Nixon (Kevin Spacey) the obvious basis for a film. In this case, two left-of-field choices make for an interesting combo of this dramatisation of that time Elvis asked to become a special undercover federal agent for… reasons.
An odd story needs an odd approach, and both actors walk a fine line between caricaturing their famously idiosyncratic real-life models and playing the whole thing absolutely straight-faced. It's…well, it's something.
Bruce Campbell in Bubba Ho-Tep (2002)
The man with the chin is a very groovy, albeit aged, King in this adaptation of cult author Joe R. Lansdale's novella by Phantasm director Don Coscarelli.
In an East Texas nursing home, a mummy is sucking the souls of helpless inmates. Only two men stand in its way – the now elderly Elvis, and his best mate Jack (the great Ossie Davis), a black man who is convinced he is John F. Kennedy (they dyed me!). Dixie-fried horror and hi-jinks ensue.
This could have been played just for laughs, but Campbell, Coscarelli and Lansdale find real pathos in the scenario, with Elvis haunted by the memories of his storied past and desperate to go out like the hero so many people think him to be. This is American mythmaking at its finest and weirdest.
AKA "The Elvis of the mind." In this Tony Scott-directed, Quentin Tarantino-written love-on-the-run crime opus, Elvis is (probably) a figment of hero Clarence's (Christian Slater) imagination, appearing in a fetching gold lame suit with his face just off camera to advise him on what to do about his girlfriend Alabama's (Patricia Arquette) pimp, Drexl Spivey (Gary Oldman).
"Shoot him in the face," Elvis opines. "Put him down like a dog." Clearly this is a no-nonsense King we're dealing with here. And so QT's fairly unapologetic self-insert hero does exactly that – just one more act of glorious violence in this giddy, groovy, high octane B-movie. Elvis is only a small part of True Romance's sprawling, everything-but-the-kitchen-sink popcorn parade, but a vital one nonetheless.
Yes, Harvey Keitel. Yes, Elvis. Much like Bubba Ho-Tep, this curio features an Elvis who has outlived his official death date, with depressed widower Jonathan Schaech picking up a hitchhiker who claims to be the king. A life-lesson-heavy road trip ensues, with the mismatched pair picking up a Marilyn Monroe impersonator (Bridget Fonda) along the way.
Frankly, your mileage may vary on this one – it's either a cornball message movie or a quirky meditation on healing and forgiveness. Still, Priscilla Presley was an executive producer, some scenes were filmed inside Graceland, and by god, Keitel sure does look like he's enjoying himself.
Sure, Tyler Hilton did a bang-up job as Elvis on the Johnny Cash biopic, Walk the Line (2005), but rocker Jack White is having way more fun in Jake Kasdan's merciless piss-take thereof, Walk Hard: The Dewey Cox Story (2007). White's drawling, drooling, swaggering King is a one scene wonder. But what a scene – strutting off stage, threatening young Dewey (John C. Reilly) with karate ("Only two kinds of people know that…") and then exiting stage with a gaggle of willing groupies. In terms of Elvis performances, this is where the bar is, and it is high.