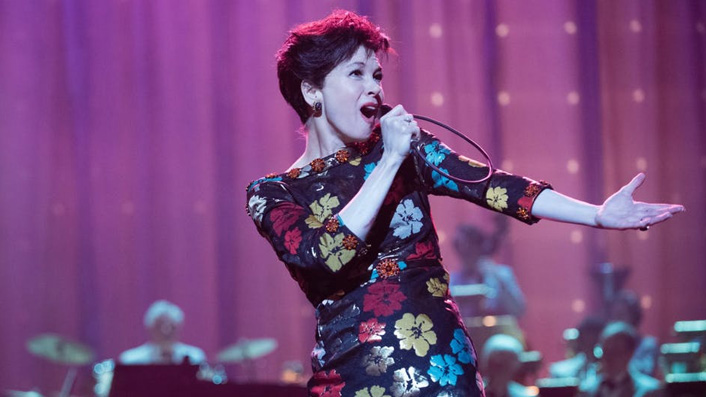 Judy gives the world the perfect chance to re-discover Judy Garland's genius

---

Judy Garland was immortalised for following a yellow brick road. But her life and career, explored in the new biopic Judy (opening in cinemas October 17, with sneaks October 11-13), stood for a lot more than a single film. Sarah Ward explores this unforgettable star's enduring legacy.

With Judy, Renee Zellweger seems set to follow a tried-and-tested path: playing a real-life figure and winning an Oscar for her troubles. No actor can merely 'play' Judy Garland, however. Stepping into a legend's shoes is rarely that easy – let alone doing justice to a star who, although forever immortalised for following a yellow brick road, spent her life on a stage or in front of a camera from the time that she was just two years old.
A combination of nervous, neurotic energy and over-emphasised bravado, Zellweger does more than imitate or mimic Garland. She bubbles with the anxiety that made The Wizard of Oz and A Star Is Born actor constantly feel like she wasn't good enough, using both pills and alcohol as an escape.
With the same purposeful pinch of her eyes, expressive wave of her arm or determined slink across a stage, she also exudes the magnetism that lit up every room Garland was in. It's a performance that doesn't simply ape the real-life figure's mannerisms, instead dedicating every moment to conveying Garland's inner steeliness and sorrow – as well as the battle between her resolve and pain that the latter kept winning.
To this day, Judy Garland remains a household name
Zellweger's portrayal also shines the spotlight firmly where it belongs: on a woman who remains a household name a half-century after her death, and boasts a story that extends over the rainbow, beyond the sunny heights of fame and into its depths as well. Primarily focusing on the last year of her life, when she wowed London audiences with her talents and shocked them with her boozy sadness, Judy only tells a fraction of Garland's tale. As well as inspiring Academy voters to bestow an award upon Zellweger, however, it should inspire audiences to a dive further into Garland's work, impact and legacy.
The girl next door, the dreamer whisked away to another world, the ingénue, the explosive superstar – with versatility one of her great strengths, Garland journeyed through them all. For others, each of these labels could summarise an entire showbiz stint; for her, they furnished mere chapters of a lengthy career. And, the list only continues.
Garland was also a music icon and a TV star, her voice echoing off-screen across her eight albums and numerous concert tours, and on the small-screen while hosting her own variety show. She might be best-known for The Wizard of Oz, a status that lingers 80 years on, but both before and after she clicked those ruby slippers, Garland was much more than just Dorothy Gale.
Forging a path to stardom
The path to stardom came early for Garland, although it was rarely as golden as the one she'd become a legend for walking along. Born Frances Gumm – as a tyrannical Louis B. Mayer (Richard Cordery) reminds the young star (Darci Shaw) in one of Judy's flashbacks – she was singing and dancing almost as soon as she could talk and walk. With her elder sisters, she performed vaudeville shows at the family's movie theatres, first in Minnesota and then in California. Then, at the age of seven, she made her film debut alongside her siblings, with the trio doing what they did best in a short called The Big Revue. From there came more shorts, including her first appearance for Metro-Goldwyn Mayer in Every Sunday.
Enter Garland, America's little sister. It's not an easy task, convincing the viewing public to consider you a part of their family, but it's one that she managed in her early work. Through a mix of exuberance and earthiness, the teenage Garland earned a soft spot in many a heart – although, as the literal girl next door to Mickey Rooney, she couldn't win his. She appeared in three films in one of the big franchises of the era, the Andy Hardy series, and eight films with Rooney in total.
Innocence, sweetness, the verve of youth: that's what the pair oozed in everything from Thoroughbreds Don't Cry, to Babes in Arms, to Words and Music. In Judy's scenes between the two, especially when they sit in a diner on a staged date, talking about the real nature of their relationship, these traits beam through.
Sign up for Flicks updates
Of course, there's a reason why Judy opens with Garland on the cusp of securing her part in The Wizard of Oz – a movie that capitalised upon her voice and her presence, and, as the world well knows, made her an icon. Watching as Mayer enforces his expectations of the young Garland as they wander through the movie's set (yellow brick road and all), the scene mirrors some of the most famous words to flow out of the actor's mouth.
Judy (and Dorothy) become hope's beacon
Pursuing her dreams in Hollywood, she's wishing on a star, and hopefully she'll wake up where the clouds are far behind her. Hope is the key concept in The Wizard of Oz: hope that a different future will come, that a shining path filled with helpful folks will emerge, and that an adventure will happen along the way. Dorothy Gale becomes hope's beacon – and so does Garland.
That hope remained in many of her exceptional performances over the next two decades, radiating from her smile and echoing in her melodic voice as she shaped the musical genre around her. Without mentioning most of her hit films by name, Judy steps through them in song, from Meet Me in St Louis' The Trolley Song and Have Yourself a Merry Little Christmas, to Summer Stock's Get Happy, to The Man That Got Away from A Star Is Born.
These tunes have since taken on lives of their own, beyond the movies that Garland sang them in, but they remain a testament to her verbal and acting range. Indeed, perhaps nothing makes that case better than Meet Me in St Louis and A Star Is Born – the former filled with charm while flirting with darkness (as directed Vincente Minnelli, who would become her second husband and father to her daughter Liza), and the the latter a combination of fantasy and devastation (marking the tale's first of three remakes).
Garland earned her first Oscar nomination for A Star Is Born and her second for courtroom drama Judgement at Nuremberg, but her later career largely played out on the stage. Judy hints at the personal turmoil that saw her deemed too much of a risk by Hollywood, with her desire to entertain – and to be adored for doing so – receiving perhaps its best outlet in her live concerts.
So did her versatility. Forget watching Garland grow up on-screen over decades; in a single Talk of the Town show during her final London tour, the divine performer could channel everything from wide-eyed optimism to shattering heartbreak (and exorcise her real-life pain in the process, too). That's a skill only the greatest possess, as Garland exemplified and as Judy demonstrates.
When Garland died from a barbiturate overdose at the age of 47, a star was gone – and far too soon. You could assess her career, her achievements and her importance through her accolades, of which there's many; however they don't tell the full story.
It's one thing to know that Garland received a Juvenile Academy Award and two other Oscar nominations, earned a Golden Globe for A Star Is Born, and became the first woman to win the Grammy Award for Album of the Year. It's another to understand why all that recognition and adoration came her way. To do that, there's nothing like watching Garland in action, seeing her come alive in more than 35 films and hearing her voice ring out – and letting it sweep you to a place where troubles melt like lemon drops when she's performing.