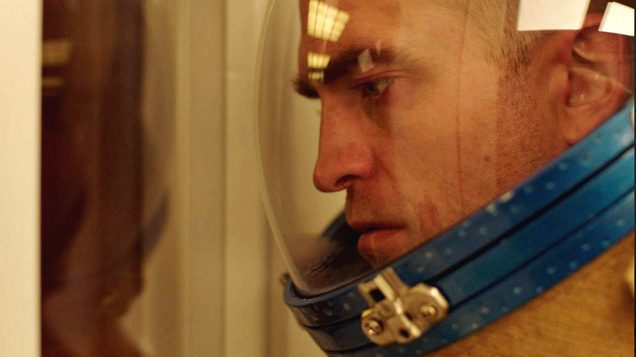 The best science fiction films directed by women

---
The upcoming Robert Pattinson film High Life is just one of many excellent sci-fi films directed by women. Alexandra Heller-Nicholas combs through cinematic history and chooses her favourite 10. 
Expectations were high for acclaimed French filmmaker Claire Denis' English-language debut, and High Life – screening in the 2019 Alliance Française French Film Festival – does not disappoint. Following Robert Pattinson's Monte, a young single dad stranded in space raising a child, he throws off the last of his teen heartthrob reputation in a powerhouse performance that arguably marks the peak of his career thus far. He is joined by Mia Goth and long-time Denis collaborator Juliette Binoche in Denis' sensual, bold tale of love and hate amongst the stars.
While Denis brings her own signature flourishes to the science fiction genre and makes it uniquely her own, films like Doris Wishman's 1961 sexploitation classic Nude on the Moon reveal that Denis is by no means the first woman filmmaker to see erotic potential in the universe's imaginary cosmic terrain.
Although the imbalances of the film industry have failed to grant women the same opportunities to direct sci-fi films as their male counterparts, those who have are notable for the diversity of their output as much as for how they overlap. Women filmmakers are turning to sci-fi with increasing passion and creativity, and High Life's Australian release appears just as Australia readies itself for the release of two forthcoming locally-produced, women-directed sci-fi movies: Dee McLachlan's The Wheel and Sandra Sciberras's The Dust Walker.
Alexandra Heller-Nicholas looks at her 10 favourite woman-directed science-fiction films.
Humanoids from the Deep
Barbara Peeters' 1980 sci-fi classic Humanoids from the Deep is a low-budget monster film about a horny sea creature who embarks on a rape spree after being pulled from the oceanic depths. Legend holds that Peeters was unaware that legendary B-grade producer Roger Corman had filmed these scenes of sexual assault on the sly, adding them to the final cut without her knowledge. Despite this, the film remains an intriguing watch, despite the nastiness of some of its (unintentional) content.
Wolf's Cabin
Horror and sci-fi merged in an altogether more progressive manner in Czech New Wave filmmaker Věra Chytilová's 1987 alien invasion slasher film Wolf's Cabin. With a familiar body count plotline structuring its tale of a group of teens on an isolated skiing trip, the villainous aliens provide an effective metaphor for her country's authoritive regimes that Chytilová had long sought to critique in her influential career.
Sign up for Flicks updates
Testament
Lynne Littman's chilling 1983 film Testament also utilises sci-fi to communicate a political message and remains a fascinating vision of life after a nuclear war. Driven by the Cold War anxieties that so dramatically influenced the popular imagination at the time, Testament's star Jane Alexander received an Oscar-nomination for her extraordinary performance. Even today, it remains a powerful but often widely forgotten sci-fi treasure.
Lizzie Borden's electrifying 1983 cult film Born in Flames also unites a dystopian vision of the future with an unambiguous political message, and this lo-fi early mockumentary explores how sexism and racism manifest and affect the lives of different women living in New York City. Still wowing audiences on the festival circuit, Born in Flames is as notable for its role in Afrofuturist film history as it is for what is today a chillingly prophetic image of the World Trade Center being blown up.
Strange Days
Amongst its many highlights, Born in Flames also features an on-screen performance by filmmaker Kathryn Bigelow, who would go on to become the first woman to win the Oscar for Best Director. Renowned for unflinching films typically seen as 'male genres' like war films, action films and horror movies, in 1995 Bigelow directed the techno-noir Strange Days. Although a commercial disaster, it has since established a strong cult following and is considered by many to be one of her best films.
Ghost in the Machine
While most immediately recognisable today as a regular Doctor Who director, Rachel Talalay has had a long career that reveals her dedication to genre filmmaking. Alongside her 1995 dystopian bubblegum riot grrl classic Tank Girl, in 1993 Talalay made the sci-fi cyber-thriller Ghost in the Machine which epitomised the 90s obsession with the networked computer technologies that were rapidly becoming a part of everyday life.
The Matrix Trilogy
Films like Ghost in the Machine lay the foundations for one of the biggest multimedia franchises of the late 20th and early 21st centuries: The Matrix, brainchild of the Wachowskis, Lana and Lilly. Starring Keanu Reeves in all three films (1999's The Matrix, and the sequels The Matrix Reloaded and The Matrix Revolutions, both released in 2003), they brought cyberpunk culture to the mainstream with the tale of an A.I.-controlled virtual reality that almost obliterates actual reality itself.
With the combined superpowers of Oprah Winfrey in front of the camera and Ava DuVernay behind it, in 2018 they brought to life Madeleine L'Engle's beloved 1962 novel A Wrinkle in Time, about the teenage daughter of an astrophysicist who must travel across the universe to save her father. Although not living up to commercial and critical expectations, A Wrinkle in Time is a vivid declaration of the power of women and how sci-fi is a potent space to tell their stories.
Tecknolust
If you thought Tilda Swinton playing two different characters in Suspiria was exciting, wait until you see Teknolust. Made by groundbreaking new media artist and filmmaker Lynn Hershman Leeson, Teknolust was one of her and Swinton's three collaborations together, alongside Conceiving Ada in 1997 and Strange Culture ten years later. With its wild performances and epic production design, Teknolust remains the strongest of Leeson's feature films in its tale of a bio-geneticist who creates sexy cyborg clones of herself, whose thirst for Y-chromosome rich semen ultimately raise questions about traditional approaches to human reproduction.
The best sci-fi film you've (probably) never seen, Kristina Buožytė award-winning 2012 film Vanishing Waves was the first Lithuanian sci-fi film ever made. Like Denis High Life, Leeson's Tecknolust (and, yes, even Wishman's Nude on the Moon) Buožytė's too focuses on the sensual potential of the genre in a film often compared to Christopher Nolan's Inception with its narrative blurring of reality and dream states. Made with a fraction of Nolan's budget and turning its attention towards sexuality and psychology over popcorn-friendly blockbuster CGI spectacle, Vanishing Waves is a textbook example of a genre film doing a lot with a little.