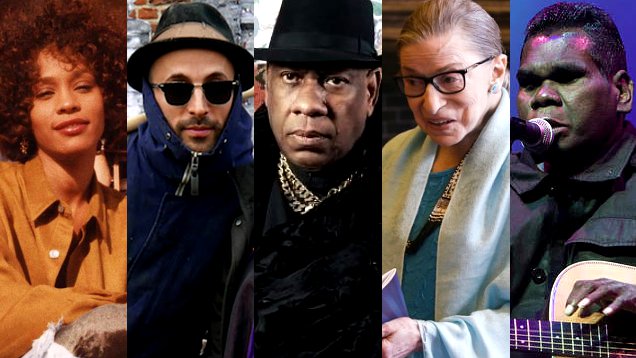 The best documentaries of 2018 so far

---
Fact isn't just stranger than fiction, as the old adage goes. It's often more compelling, fascinating, enlightening and moving as well. With 2018 now past its halfway point, critic Sarah Ward picks 11 documentary highlights from the year so far.
The second documentary about Whitney Houston in as many years, Whitney does what many others have of late, piecing together a life-to-death portrait of a star gone too soon. There's an element of the familiar that lingers over the film as a result, especially for those who've seen Amy or I Am Heath Ledger, but Kevin Macdonald excels at plotting out the many specific complications surrounding Houston.
From a childhood spent waiting for her singer mother Cissy to return from touring, to the first bursts of success, to succumbing to the trappings of fame, there's a wealth of information to cover, which the film does with interviews with friends and family, archival performance footage and deftly edited montages that put Houston's career in context. Unsurprisingly, it's the glimpses of Houston's talent in action that make the documentary stand out. Similarly unsurprisingly, a late-stage revelation is poorly handled, although that's the only aspect of Whitney that earns that description.
With more than 100 hours of newly discovered 16mm material to work with, Jane tells one of humanity's great stories. As Jane Goodall dedicates years to living in the Tanzanian forest, studying its primate inhabitants and becoming accepted by them, Brett Morgen's documentary not only charts her journey primarily through vision recorded at the time, but examines the life of a woman determined to understand the world around her.
Contemporary interviews with Goodall, as well as the now-octogenarian primatologist, ethologist and anthropologist's own narration, put the striking footage into context; however the documentary is at its strongest when it takes her own approach to heart. It's a tactic that served Morgen brilliantly with Cobain: Montage of Heck, and it makes Jane an enthralling watch from start to finish. When the film observes her work of observing Gombe's chimpanzees from the 1960s, it couldn't better channel its subject's curiosity and wonder – or better pay tribute to her simian friends.
While Gurrumul is steeped in sorrow by virtue of its timing, it's a documentary about celebration as well as one worth celebrating. Geoffrey Gurrumul Yunupingu might've passed away mere days after giving the film his tick of approval in 2017, but it's his presence that echoes throughout Paul Damien Williams' effort. And what a presence it is – compellingly quiet when thrust into the spotlight, jovial and relaxed when he's at home on Elcho Island off the coast of Arnhem Land, and powerfully resonant when he lets his inimitable voice soar. Expertly combining performance, tour, media and behind-the-scenes footage, it's a portrait that lives up to the musician at its centre, and one that's as affecting as Yunupingu's haunting songs.
Agnes Varda's career has been filled with triumphs ever since she made her directing debut back in 1955. Sixty three years later, Faces Places adds yet another highlight to her busy resume – a documentary as playful as the delightful figure herself, and one that astutely and intimately addresses the now-90-year-old's longevity (and the fact that, one day, it'll come to an end). With the much-younger photographer and artist JR, Varda drives around the French countryside taking snaps, meeting people, and plastering giant versions of locals' faces in different places. Every other documentary, artistic project and filmmaker wishes it could be this charming and thoughtful, in what ranks among cinema's best-ever road trips.
Grace Jones: Bloodlight and Bami
Many words have been used to describe Grace Jones, and many of them apply to Grace Jones: Bloodlight and Bami. Directed over the course of a decade by Sophie Fiennes, it's a film that endeavours to follow in the fierce, unflinching, uncompromising singer's footsteps, weaving together her on-stage performances with candid behind-the-scenes footage as she records, hits the road and goes about her life. And while that might sound as standard as music-focused biographical documentaries come, the end result isn't filled with talking heads or a chronological timeline. Instead, Grace Jones: Bloodlight and Bami is loose, energetic and revealing – and really, nothing else could've captured Jones' distinctive persona.
Later this year, Ruth Bader Ginsburg will get the biopic treatment, with Felicity Jones headlining a dramatisation of the US Supreme Court Justice's early career. RBG isn't simply a factual precursor, but an overarching, accessible look at the life and influence of a woman now synonymous with dissent in the American legal system.
Justice Ginsburg's achievements are many, from her trailblazing law school days, to dedicating her time and energy to fighting for gender equality before the highest court in the US, to her 25-year stint (and counting) in her current position. The memes, the Saturday Night Live skits, her controversial friendship with now-late controversial fellow Supreme Court justice Anthony Scalia – they're all addressed, in a film by Betsy West and Julie Cohen that does something anyone would expect, given its subject's depth and complexity: it leaves viewers wanting to spend more time with Ginsburg.
With a personality as vibrant as André Leon Talley's – and an eye for style as well – Kate Novack could've pointed her camera at the renowned fashion editor and just let him do the talking for 90 minutes or so. He does plenty in The Gospel According to André, but the film isn't concerned with merely telling his tale. Rather, it wants to show his life story, put his career in context in the world that he loves, and also embody a piece of wisdom that he himself offers early in the film: "Fashion is fleeting. Style remains."
An unashamedly affectionate film results, though it's one as impassioned as Talley himself. The film steps through his childhood in America's south, his determination to make it into fashion and his pioneering status as a publicly visible queer black man.
Jill Bilcock: Dancing the Invisible
A superstar of the Australian film industry, Jill Bilcock is accustomed to splicing together movies that relay other people's narratives. Dogs in Space, Muriel's Wedding, Romeo + Juliet, The Young Victoria, Red Dog, The Dressmaker – they're just some of the features the celebrated editor has worked on. Jill Bilcock: Dancing the Invisible is an ode to her work, skill and impact, as well as a chance to hear Bilcock reflect upon her career. Many other famous faces join in, with writer/director/editor Axel Grigor able to draw upon a who's who of local talent, but it's Bilcock herself and her glorious work that shines brightest.
Like Hollywood's other certainties – remakes, reboots and the fact that some film franchises will go on forever – Three Identical Strangers was always going to become more than a documentary. Expect a dramatized feature in cinemas in the coming years, but delve into where it all began first. This factual effort simply covers a story that's too fascinating to pass by, with triplets separated at birth just the beginning of its strange-but-true tale. Indeed, director Tim Wardle knows the value of his material, taking his time to tease out its twists and turns in a gripping fashion. That it looks standard from start to finish is easily swept away by the content, and by the footage of its subjects relaying their experiences.
A documentary like Filmworker could've gone many ways. It could've been a tribute to Stanley Kubrick that simply touched upon his right-hand man Leon Vitali. It could've painted a shiny, happy vision of toiling away behind the scenes in the cinema industry. Or it could've plunged into Vitali's life and career in candid, insightful detail. It's the latter that eventuates, exploring just why someone would jump from acting in Kubrick's films to doing whatever it took – and whatever was needed – to assist the director in making his masterpieces. Vitali's involvement is vital, though director Tony Zierra is also gifted some remarkable footage from across Kubrick's filmography.
Dead Souls
A documentary that hasn't screened anywhere outside of Cannes, Dead Souls is essential viewing when and if it earns a slot on Australian shores. The 'if' part of that statement reflects something that's inescapable about this riveting, revelatory documentary: it's more than eight hours long (and yes, it's a film, even with such an enormous running time).
Interviewing survivors of China's anti-rightist campaign during the 1950s, Wang Bing could've condensed their recollections into something shorter. He could've turned them into something episodic. He could've cut down his lengthy visits to the sites of their horrors, too. Those decisions would've robbed the confronting film of its intricate detail and harrowing impact, however – and some abhorrent tragedies demand telling in full.