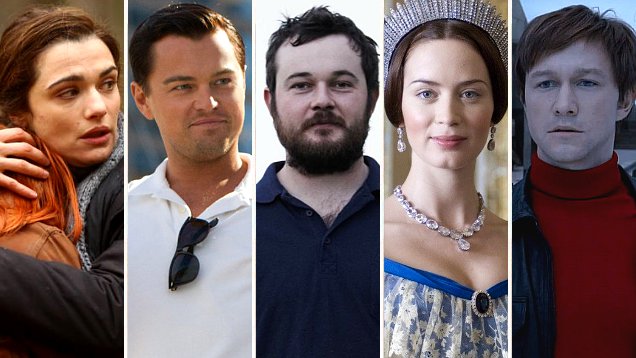 The 20 best biopics on Netflix and Stan

---
Whether the time-frame is an entire life or a key year, the lure of making a film based on an individual's real life has always drawn filmmakers and audiences alike. The practice is so common that it has its own contracted title: the biopic.
Facts, the passage of time, and inconvenient witnesses can often complicate the storytelling, but the biopic remains a cinematic staple. Here are the best 20 biopics currently available for streaming on Netflix and Stan.
Netflix
42 (2013)
The many demands of a standard-bearer weigh on Jackie Robinson (Chadwick Boseman), who in 1945 was signed by Brooklyn Dodgers owner Branch Rickey (Harrison Ford) as the first black player in Major League Baseball. Racial abuse – blunt and historically accurate – and violent competition are the norm. The resilience and fierce pride Boseman brought to Black Panther were first highlighted here.
The best of the three suffering-laced features Angelina Jolie has directed, this mostly Khmer-language drama views the horrors of the Khmer Rouge's genocidal 1970s rule in Cambodia through the eyes of 7-year-old Young Ung (Sreymoch Sareum), whose subsequent memoir was adapted for the drama. It's both earnest and brutal, with impeccable Anthony Dod Mantle cinematography, as survival drives the story forward.
The real Florence Foster Jenkins was a New York socialite in the first half of the 20th century whose vocal performances were so terrible that she had a following of sorts, a situation that a filmmaker as assured as Stephen Frears turns into a society comedy with Meryl Streep as Jenkins and Hugh Grant as her philandering, but hugely supportive, husband. Culminating in a Carnegie Hall gig, it's a canny story of privilege, affection, and wayward self-belief.
Billy Hayes' memoir about his 1970s incarceration in a Turkish prison was pushed to nightmarish extremes by director Alan Parker, a filmmaker never afraid to abandon subtlety. Amidst archaic conditions, Hayes (Brad Davis) is beaten and betrayed repeatedly, with the xenophobic circumstances demanding sympathy. The supporting cast includes John Hurt.
After science-fiction blockbusters such as Tron: Legacy and Oblivion, Joseph Kosinski brought to the screen the story of the Granite Mountain Hotshots, a crew of Arizona firefighters who in 2013 took on a deadly wildfire. It's a patient film about collective responsibility and shared fears, told through exemplary performances by Josh Brolin as the veteran leader and Miles Teller as the team's troubled rookie.
The beauty of great artistry is counterpointed with the horror of the Holocaust in Roman Polanski's coruscating story of Wladyslaw Szpilman (Adrien Brody), a Polish musician who survived Warsaw's Jewish ghetto during the Nazi occupation. Polanski, who endured a similar experience in the Krakow ghetto as a child, and Brody both won Academy Awards for a movie that is harrowing and yet marked by poignant moments.
Popular music has been a source of biopic subjects since the talkies arrived in the 1920s, and many of the genre's tropes – early struggle, a domineering figure, and the demands of fame – are at play in writer/director Gregory Nava's recounting of the breakthrough career of Selena Quintanilla-Perez (a young Jennifer Lopez), a Texas-born Hispanic vocalist who died under tragic circumstances in 1995. The project was family-approved, so optimism wins out.
The best telling of how French high-wire artist Philippe Petit walked on a cable strung between the twin towers of the World Trade Center in 1974 is told by James March's 2008 documentary Man on Wire. But what Robert Zemeckis' biopic possesses is the remarkable experience of the half hour finale, where it puts you on the cable with Joseph Gordon-Levitt's Petit, a man who finds liberating joy at the cusp of obliteration.
Rachel Weisz put down a place-marker for her greatness with her exacting portrayal of Kathy Bolkovac, an American police officer who joins the United Nations rebuilding effort in post-war Bosnia in 1999 only to discover rampant sex trafficking aided and abetted by local syndicates and her own colleagues. Stymied at every turn and bullied herself, Kathy is not the noble rescuer righting wrongs.
If organised crime was a crucible of good and evil, Martin Scorsese saw modern big business as a grotesque comedy driven by childish desire – for money, for sex, for relief – and comical excess. Former stockbroker, multi-millionaire and convicted criminal Jordan Belfort was his entry point, with Leonardo DiCaprio as Belfort and a remarkable Jonah Hill as his rampant business partner in a Quaalude-fuelled black comedy about the American Dream.
Stan
One gambit for a telling biopic is to tell the story of a famous figure through the lens of someone close to them, an idea memorably implemented by Steven Soderbergh in the story of the secret affair between closeted Las Vegas entertainer Liberace (Michael Douglas) and his supposed assistant, Scott Thorson (Matt Damon). Glamour, gay politics, and Rob Lowe's otherworldly plastic surgeon combine for a telling recreation.
The success of Clint Eastwood's movie meant the story of U.S. Army sniper Chris Kyle's service in Iraq was questioned, but the film's bedrock belief in good and evil and the necessity of violence as an adjunct to justice made it a natural for the veteran actor and director. Bradley Cooper humanises the myth of the legendary shooter, with an assist from Sienna Miller who brings hardy finesse to the usually thankless wife's role in between the harsh depictions of urban warfare.
In Nicolas Winding Refn's English-language debut, Tom Hardy repeatedly breaks the fourth wall to address the camera as Michael Peterson, a prisoner so violent the British jail system didn't know how to contain him. This is biopic as a droll, even theatrical assemblage that leans into the violent strangeness of the circumstances to create a barbed commentary and a benchmark for Hardy's future work.
The writers, artists and philosophers of the Bloomsbury Group not only did great work between the World Wars, but according to Christopher Hampton's witty but ultimately lovelorn tragedy they also manufactured a set of relationships, both platonic and sexual, that defied society and ultimately each other. A never better Jonathan Pryce is the author Lytton Strachey, with Emma Thompson as the painter Dora Carrington in a very British romance.
David O. Russell took the conventional storyline of an underdog Massachusetts boxer, Mickey Ward (Mark Wahlberg), who scrapped his way to a world title shot and gave it a boisterous, handheld energy, committed supporting performances from Amy Adams and Christian Bale, and a combative family dynamic. It's a wild ride about how much punishment a person can endure.
It's a very American success story that Dick and Mac McDonald (Nick Offerman and John Carroll Lynch respectively) invented fast food via their Californian food stand, but the success and wealth was annexed by struggling salesman, Ray Kroc (a roiling Michael Keaton), who created a business empire out of it. John Lee Hancock undercuts the corporate creation myths with a flinty gaze and uncomfortably dry humour.
Sometimes a biopic, whether by choice or not, feels most natural in the broadest of strokes, turning a life into a melodramatic arc that ties together with equal doses of loss and eventual triumph neatly arranged. That's the case with Bruce Beresford's version of the autobiography of Li Cunxin (Chi Cao), a ballet dancer trained by the Chinese state who rebuilt his life in the West. Like many of Beresford's latter films it's not subtle, but it's traditional and effective.
Made with a grimly direct realism that turns the cold detail of a true crime paperback into a steadily growing vortex that engulfs safety, personal morality and ultimately sanity, Justin Kurzel's debut shows the series of infamous South Australian murders as a judgement on a frayed society. Daniel Henshall is the messianic instigator, a father figure to Jamie (Lucas Pittaway) whose indoctrination ends with murder.
Before he was detailing British royalty with The Crown, writer Peter Morgan followed the arc of Tony Blair's 11 years as Prime Minister. The third and final instalment deals with Blair's relationship with U.S. President Bill Clinton (Dennis Quaid), which establishes politics as a form of personal seduction. It's a chamber piece of leaders and wives with a tragic finale: Blair believes he can influence Clinton's replacement, George W. Bush.
With the revered Sandy Powell as costume designer and Julian Fellowes penning the drawing room dialogue, this coming of age tale for Britain's 19th century monarch is a period drama, passionate love story, and political primer. What elevates it beyond melodrama is the committed performance of Emily Blunt and how attuned director Jean-Marc Vallee is to the personal dynamics of historic moments.