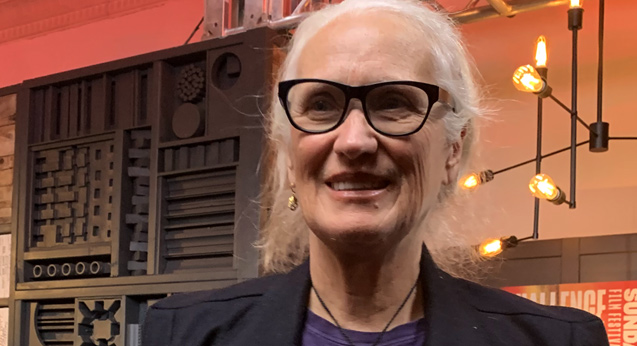 Sundance juror Jane Campion on judging films and her rocky road to greatness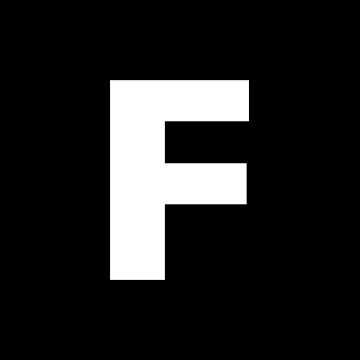 ---
The inimitable Jane Campion is one of the world's most acclaimed filmmakers, and the only female director to receive the Palme d'Or at the Cannes Film Festival. At a recent event at Sundance, where she is a juror, the legendary director offered Helen Barlow some fascinating reflections on her life and career.
In Sundance on the World Cinema Dramatic Jury, Jane Campion was joined by French producer Charles Gillibert (Mustang, Personal Shopper) and Ciro Guerra (Birds of Passage and the upcoming Waiting for the Barbarians starring Johnny Depp).
On stage, Campion announced that the section's Grand Jury prize went to British writer-director Joanna Hogg for The Souvenir, starring Tom Burke, Honor-Swinton Byrne and (her mum) Tilda Swinton.
"It was a unanimous decision for this jury. We appreciate this film's poetic sophistication and its absolute honesty, its tone of delicate and unexpected spice and emotion. The central performances were outstanding, true and mesmerising. This film fascinated us and touched us."
Campion explained her approach to being on a jury and what she thinks of awards in general. The 2014 head of the Cannes jury is also, of course, an Oscar voter.
"I just respond as myself, as a moviegoer to the films that are there and I am attracted to the ones that I like," Campion says. "But as a jury member, you are very aware that the premiere is a big deal for the filmmakers. Whether it's the best or worst film, you want to give it your full attention, you want to see the good things in it. I guess with the Oscars, it's the same. I vote for what I love, sometimes for friends," she chuckles. "I always look closely at films made by women. You sometimes feel you have to explain to the male jury members why this film is really good, to make them understand why I love it, even if they can't like it for those reasons. Maybe the film's not perfect but you still want to say, 'I want to talk about this film because it's a strong film for women'."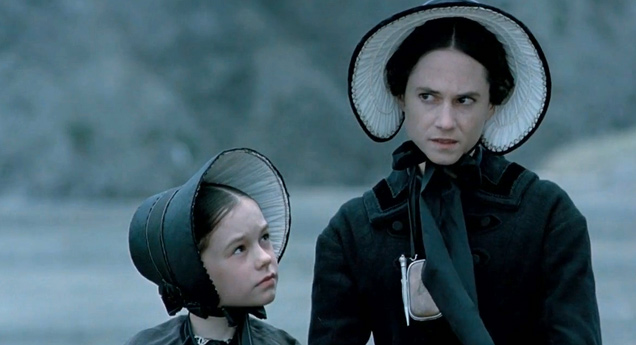 Campion remains the only female director to receive the Palme d'Or at the Cannes Film Festival in 1993 for The Piano and only the second of five women to be nominated for Best Director at the Academy Awards. Campion ultimately won Best Screenplay for The Piano while Holly Hunter scored Best Actress and Anna Paquin claimed Best Supporting Actress. Campion's first short film, Peel, won the Cannes Short Film Palme d'Or in 1986 and her 2013 mini-series Top of the Lake received eight Emmy nominations and two Golden Globe nominations.
Speaking to a crowd that included fledgling filmmakers, Campion recalled her early insecurities and how she overcame them.
"The start of my art-making venture had a lot to do with not feeling I had a place in the adult world as a young person and not really knowing how to enjoy or like the adult world. I started seeing films and, after a while, art movies. I remember seeing Apocalypse Now in the 70s and feeling this is where the exciting conversation is, that this is where people talk and ask questions and are interested in the sort of things I am interested in. Why are we here? What is the point of our lives? What's love? What are relationships? I was happy when I went to the movies but I thought directing was only for geniuses. I never thought of myself as actually being able to do it."
Sign up for Flicks updates
"I had a degree in anthropology, then I wanted to study fine arts in Chelsea in London and finished in Australia. I think art school is one of the revolutionary ways to change your thinking, of challenging ideas. Everything you thought you knew goes at art school. It was radical and I started to do little plays, performance pieces that—at the time—were very feminist. One was about walking the plank. I wore a swimsuit with mesh stockings and high heels, like you do," she chuckles at the memory. "Then, afterwards, my student friends came up, 'Oh you've gone all red,' I blushed extensively on my chest and body."
Even if her physical limitations got in the way, she says the drama course at art school proved liberating. "I thought I had potential and I could show them. They might not have realised how special I could be."
She acknowledges she wasn't very good as a painter.
"The decision I made around the age of 23 or 24, when all the partners and boyfriends didn't work out, and I was on my own and had nothing to lose, was: 'I'm going to fucking give this a try. I am not going to hold anything back. Even if I fall flat on my face at least I'll be happy that I've tried.' A lot of my work at art school was sexually explicit, about what it's like to be a woman in a patriarchy. It was like vomiting or spitting or farting or doing something like that. And saying this is my territory and I'll do anything I want."
She made Super 8 shorts before making Peel, her first 16mm film.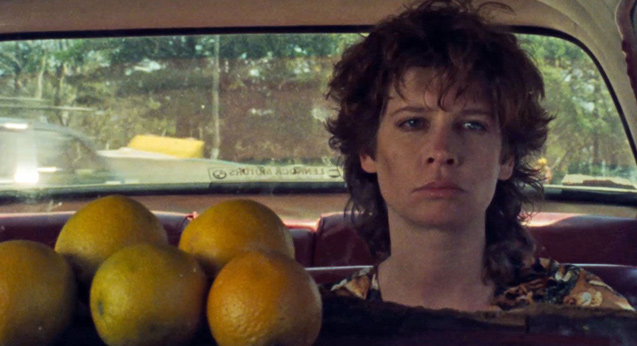 "I didn't think of a career; I was just spilling my guts. I went to film festivals and I saw they had shorts there and that was my first ambition. I honestly never thought I would be a feature film director. I just fell in love with projects and the storytelling but I never had ambition for a career. When I got into film school it was my third gig at [tertiary] school and my parents' faces were like [pulls a face] but I said, 'I'm being paid to go to this one'.''
She says she was part of an interesting Australian Film Television and Radio School group that included Alex Proyas, Laurie McInnes, PJ Hogan and Jocelyn Moorhouse.
"They were people with an art school touch and we bonded and taught each other a lot. I realised short films are a calling card and I took every short film out of the library that had won an award, watched them and tried to work out what was distinctive about them. Every one of those films had something that elevated them, but I could see you were in a world of no mistakes. So whenever you made something you had had to make it good, you had to make it solid."
She put everything into making her first film, Peel. "I got friends together to help me do it and I wouldn't have been able to do it without them. I got really sick and was in hospital with bronchial asthma. I just had no idea how to manage myself. I drove myself into the ground and couldn't stop. I thought 'if people know I'm in hospital, that's the end of my career'. The next year, I had to do almost nothing just to get well again. I learnt a big lesson about looking after myself."
When it came to making feature films like In The Cut, she wasn't going to abandon her risqué ways.
"In The Cut is definitely a film about sex. I needed an actor who wasn't afraid to explore and Meg Ryan showed amazing courage and trust. We talked about what it required. I drew pictures of how I'd film it so she knew everything. I remember her saying, 'Well, I'm going to make my kids really embarrassed. It's always uncomfortable doing those scenes, but if you believe they're important to the story…' It's just a body and you use it in the way you use everything. We are all humans with bodies and they're part of what we bring to the story. There's a certain culture around now that makes it more difficult—like everyone has sex with bras on!" she chuckles. "I understand that too. If it's not so necessary to the story, why bother being so revealing if actors don't feel comfortable? When it comes to intimacy, I'm more interested in portraying a female view of sexuality, a radical honesty which is as sexy as bodies."
Campion says its easier adapting projects like 1990's An Angel at My Table, based on the autobiographical books by Janet Frame.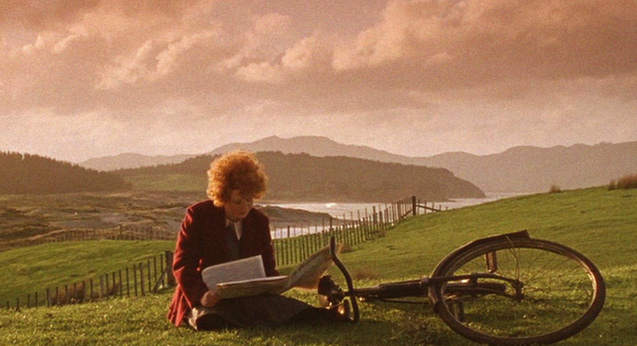 "I love to champion other people's work but when it's my own, it's a bit more embarrassing. You can't really be responsible for your own unconsciousness, but you have to go there. These are the things that I really love. It comes from passion; it's always passion-inspired. I'm always intrigued to see how it will work out. But I actually don't think about the end, the audience reaction or the reviews. I don't think about it until the moment it happens. That's a helpful mental lacking in myself. I'm certainly good at being afraid but I forget to be afraid when I'm excited and passionate."
As for discovering personal truths through her work, she admits, "I think there's a certain advantage in not knowing yourself, to not asking questions about yourself. I'm so in there, I don't know who I am anyway. Sometimes it takes a long time. Recently, I saw The Piano again because it was its 20th anniversary. I was a little unwilling to see it again but I needed to because my producer and I were going to give a talk about it. I was actually really surprised by things I noticed now, how it's really from Ada's point of view and sexuality too and how rare that is actually."
She maintains she doesn't always know what her work means.
"It's not as if I'm not interested. I've had a therapist since I was about 40 when I got into massive emotional trouble, also around the death of my baby. I needed it and it's a great way to stay strong. It really supports your vulnerability and is an anchor in life. I like to see guides, therapist and healers and will do so for the rest of my life."
Ultimately it's important to be truthful. "What's exciting is to somehow or other touch something that feels real or honest."
It's no coincidence that Campion has been concentrating on television of late.
"I love television because you don't have to do much promotion compared to the cinema. Also, the amount of collaboration I did on the Top of the Lake series with different people was such fun. The BBC really allowed us to do whatever we wanted. They just said, 'Don't be conservative.' In cinema, you get the opposite. In order to get people out to see a movie, it needs to be entertaining, unique and special. So for me what's happened in cinema you have to be very careful, really thoughtful about the project you're doing to have that potential of attraction, that scale to the project.
"But I do think cinema is a little conservative. Also, it's really hard to make a good film. Good films are rare. Then you see something like Roma, which really needs to be seen in the cinema. It's a real leap in the right direction; it's so unique and so personal. That's when cinema is so strong to me, when cinema's personal. But I like the big movies too. I like anything that's well made."