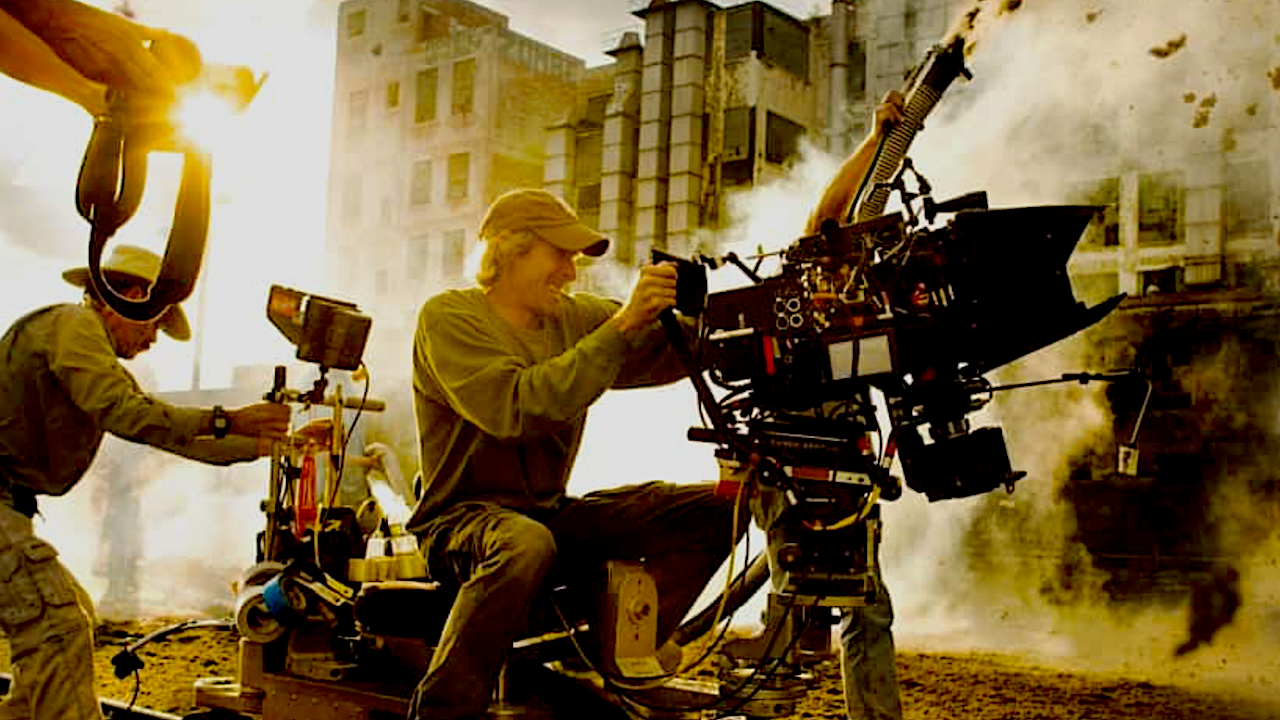 Spotlight: the top 5 chase scenes from Ambulance destroyer Michael Bay

---
Few things are as purely cinematic as a chase sequence; few directors are as purely cinematic as Michael Bay, Samuel Harris claims, as Bay's Ambulance speeds into cinemas.
Once lauded as the epitome of contemporary Hollywood action cinema's worst tendencies, we now mourn Michael Bay's heft, his dynamism and raw kineticism largely pruned in today's popular cinema. Of the array of offences he stood trial for, some took particular precedence, growing exponentially with each new film: his penchant for spasmodic editing without concern for continuity; his goofy, vulgar, nihilistic narratives; and, most memed of all, his pyrotechnics.
In the decade since his commercial prime, the inverse of all these tendencies has oozed through the new sterile slew of blockbuster filmmaking: popular cinema is largely bound by rote and uninspired editing, stringent, predetermined cinematic universes, and CGI all the way down.
Revered for his expressive integration of practical effects, Bay is no stranger to a good chase sequence—it's often where all his best tendencies coalesce. You see a string of cars: Bay sees all the different ways those cars can come apart.
Will Smith's shirtless foot chase, Bad Boys (1995)
If running—from explosions, after bad guys—is a rite of passage for any action hero, then running shirtless is the sure-fire way to become a movie star. Recounting a fateful moment on the set of Bad Boys, Will Smith cites Bay's insistence on having him appear sans shirt in the film's penultimate chase scene.
Sign up for Flicks updates
The agreed compromise was shirt on, buttons undone, which serendipitously affords the sequence an extra layer of dynamism as Smith pursues his antagonists through radiant Miami streets, rooftops and storefronts. Bay goes hard on the slo-mo, finding awe-inspiring companions in the score's propulsive strings and the camera's inability to sit still. "OK, Michael. You were right, I was wrong!", Smith conceded decades later.
Nic Cage vs Sean Connery chase, The Rock (1996)
In a film about mercenaries taking control of Alcatraz, this chase comes as a bit of a detour. With the FBI fearing the worst, legendary escape artist John Mason (Sean Connery) is whisked up to defuse the situation, but not before he bolsters his legacy. Fleeing the FBI's captivity, Mason pinches a Humvee and tears down San Francisco's famous hills, chemical weapons expert Stanley Goodspeed (Nicolas Cage) trailing in high pursuit.
There's a distinctly analogue feel to the ensuing chaos. As one FBI goon quips, "this guy's hitting every-fucking-thing in sight trying to block us!", as giant water bottles and oblivious crosswalk grandmas are pulled into the fold. It's also the second consecutive film where Bay inexplicably throws a wheelchair basketball team into the chase? Hard to fault.
Morgue van chase, Bad Boys II (2004)
Rarely has a sequel upped the ante quite like this one: armed with an extra hundred million dollars, it's got exponentially more explosions/crashes/unadulterated Bayhem. Its predecessor is a sitcom in retrospect. Fittingly, it's hard to pick just a single chase sequence in a film seemingly chained together by stunning chase sequences—the freeway, the Cuban village…
Taking the cake, however, is Mike (Will Smith) and Marcus' (Martin Lawrence) pursuit of a hijacked morgue van, which routinely spews out plastic-wrapped carcasses onto the noisy streets of Miami—landing on windshields, spinning out on asphalt and colliding with the camera, being decapitated under tyres. It's also got the best banter: "I seen this in a movie once, Mike—they didn't make it!"
This is the platonic ideal of a Transformers chase scene: gratuitous slo-mo, speed-ramping, cars flipping and/or doing jumps before transforming mid-air, action too tall or wide for the camera to capture coupled with action simultaneously unfolding in both foreground and background, robot blood, frames littered with unfathomable amounts of metallic debris and vehicular shards, sparks and fireworks, fire and fury.
Just total graphical carnage, pure spectacle. It's moments like these where the contrived human narrative that these sentient alien toy robots begrudgingly become entangled in just fades away and all that's left is a Mexican standoff between four indistinguishable meshes of virtual physics and CGI. Sandbox cinema.
6 Underground's opening sequence through the labyrinthine, Florentine streets is Bay in microcosm, emboldened by the creative and financial liberations of a Netflix collab. Operating at the peak of his powers, Bay directs the hell out of this 20-minute barnburner of a sequence, tracking a group of high-powered vigilantes as they flee in a neon green sportscar with a stampede of black SUVs in tow, all precisely arranged for maximum destruction.
Amidst this there's parkour, a club remix of O Fortuna, and a slo-mo shot of a grenade launcher shell breaking a guy's nose before exploding the car he's driving. CGI here seems to have been employed exclusively to show off all the different ways the humans can be affected by vehicular trauma. It's the best Italy's ever looked on film.