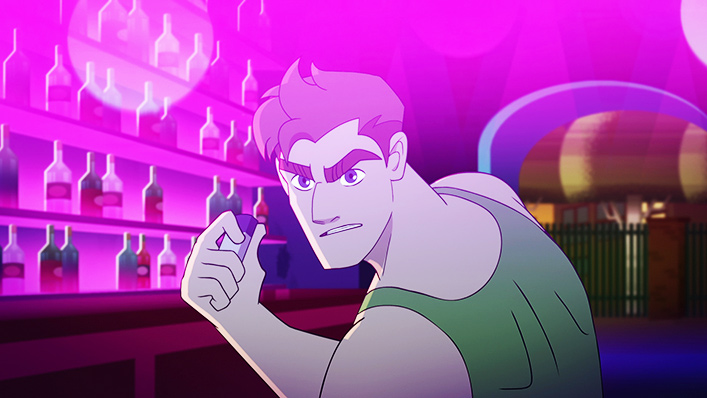 Netflix comedy Q-Force is here and queer, proudly doing the spy genre its own way

---
Netflix's new spy comedy Q-Force is proudly queer. Glenn Dunks explains why it doesn't care if you don't get used to it; it just wants to make you laugh.
A queer and present danger. That's the tagline for Netflix's new animated LGBTIQ-themed superhero comedy series, but also very neatly summarises the show itself. Laden with puns and pop culture references from across the eras, Q-Force doesn't let a single frame go without at least one joke, spoof or visual gag.
See also
* The 25 best LGBTIQ movies on Netflix Australia
* Best new movies & series on Netflix Australia

While it's impressive that a show like this exists for Netflix's global audience in 2021, even more impressive is how quickly it lands a joke about the Thunderpuss remix of Whitney Houston's It's Not Right, But It's Okay. Yes, it's that kind of show. And proud of it.
The idea of pride runs throughout the whole first season's 10 episode run—from its opening sequences in which buff Agent Steve 'Mary' Maryweather (Sean Hayes) comes out at his graduation from the American Intelligence Agency, through to its season finale taking place at a pride festival where visitors are turned into muscled up, mind-controlled zombies. Pride has also been strong behind the scenes with a crew of LGBTIQ writers, voice actors and animators.
These characters could never appear in James Bond
In its series opener, Agent Maryweather's career as a spy for the American government has stalled. Instead of getting out into the field like he wished, he's watching over a small but dedicated group of ragtag spies in the garage of his West Hollywood home. There's mechanic Deb (Wanda Sykes), drag queen slash jelly-boned master of disguise Twink (Matt Rogers) and raven-haired hacker Stat (Patti Harrison). Their boss is Deputy Director V (Laurie Metcalf), a former field agent who keeps Q-Force in line.
Q-Force splits itself between a series of connected multi-episode arcs. They range from Q-Force's accidental discovery of an underground Kazakh terrorist plot, arms dealing via European broadcast television, and even a plot to kidnap buff WeHo boys at circuit parties. In between there's repressed memories, assassination attempts and enough gadgets and weaponry to put James Bond to shame. Q-Force is a show that clearly loves the spy genre, but wanted to do it its own way, with characters who would never and could never appear in anything James Bond, Jack Ryan or even Austin Powers.
A self-deprecating take on queer culture
The makers of Q-Force are clearly having fun with their self-deprecating take on contemporary queer culture. While it saves little time for the sort of character development that lends itself to season-after-season of prolonged dedicated viewing, it's ideal for Sunday afternoon bingeing. Fast-paced and nothing too serious.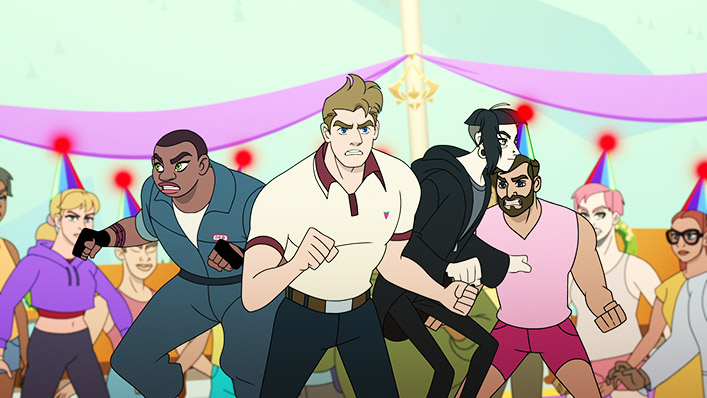 As you may gather, the show's cultural references are very specific. If you're a viewer who understands a joke about Barbra Streisand's underground shopping mall, then it's probably for you. The list of joke subjects reads like a deranged dive into Gay Twitter pets: Oscar season, Buffy the Vampire Slayer, Jodie Foster in Contact, Adele Dazeem, Ariana Grande, Debra Winger, Vox Lux, Rita Wilson, the 'nipple cut' of Cats. There is an entire episode spoofing Eurovision and The Princess Diaries. It's not subtle, but why should it be?
Q-Force is first and foremost a comedy. This is a blessed relief in the current landscape of television, where humour is often just a catalyst for exploring more serious subject matter. Even a show like Hacks, that is quite literally about stand-up comedians, is rarely as laugh-out-loud funny as we are constantly told its characters are. It will scrape any barrel for a laugh, many clunkers landing with an almighty groan. But like Schitt's Creek, its characters are taken to their ultimate comedic extreme.
There's still room for pop culture commentary
But that doesn't mean it doesn't get in some real pop culture commentary along the way. There is some pretty pointed criticism of streaming platforms and their churning factories of content as well as the corporate commercialising of pride festivities, the evils of social media and white girl hashtag feminism. Digging even deeper, the appearance of an artificial intelligent love interest makes for a surprisingly tender plot detour, attempting perhaps to demystify non-binary and even asexual connections.
Sign up for Flicks updates
The animation, too, has a different look to it than most. More attention is paid to the lines on their abdominals and the peaks of the characters' biceps and the bulge in their Y-front underwear than other shows. There's also the fetishistic way it highlights their body hair or the inseam size of their shorts. If the idealised image of gay men in our culture wasn't already unrealistically cartoonish enough—all ripped muscle slim-fit fashion—then Q-Force takes it to the next level, but has a laugh while doing it.
For star and producer Sean Hayes, this is a really interesting move. For years, Hayes was praised by Emmy voters but criticised by many gay viewers for his over-the-top flamboyance as Jack on Will & Grace. Q-Force thankfully comes at a time when gay characters are no longer divided into being either a Will (conventionally handsome and fit with a good job, the marrying kind; he's just a guy who likes other guys) or a Jack (all sassy barbs and sleeps around; you'd never mistake him for straight).
Hayes' Agent Maryweather is a bit of both, surrounded by an assortment of queer characters that make for entertaining television outside of the binary tropes they're given. Archer it ain't—and proud of it.