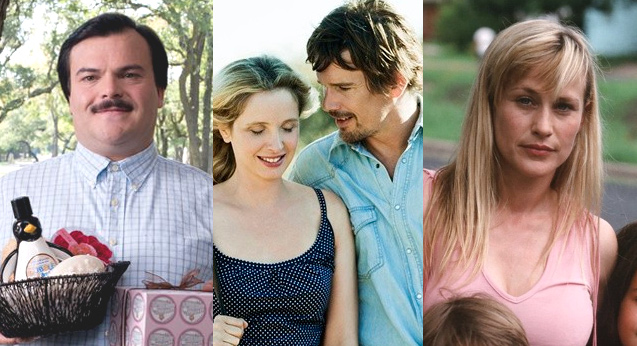 It's rare for even the greatest directors to make several great films in a row. I recently rewatched director William Friedkin's thrilling, grungy 1971 police classic The French Connection, the first in a helluva trifecta for the director – who followed it up with The Exorcist (1973) and Sorcerer (1977). That kind of hat trick rivals the output of virtually any filmmaker, from any period. The decade prior, Stanley Kubrick also coughed up consecutive doozies with Dr Strangelove (1964) then 2001: A Space Odyssey (1968) and A Clockwork Orange (1971).
These sorts of discussions – about great films and patterns that emerge in oeuvres – tend to become easier to determine with time, once certain films have grown into vaunted classics. Perhaps it's more insightful (and certainly more interesting) to make these kinds of observations about contemporary cinema, before nostalgia has added its fuzzy glow.
It is in this spirit I propose that one of the best cinema trifectas so far this century comes from director Richard Linklater (whose latest, but far from greatest film Last Flag Flying – a road movie about ageing former navy men – is now in cinemas). This terrific trinity began soon after the start of the current decade, with the true crime comedy Bernie (2011). Linklater followed Bernie with two superb dramas: the relationship 'talkie' Before Midnight (2013) and the coming-of-age film Boyhood (2014).
To start: Bernie. Wow, Bernie. Anybody who missed what might have looked, at first blush, like a stock-standard Jack Black vehicle should rectify this error. Black plays the titular character, a beloved, sexually ambiguous small town undertaker (based on a real person: the Texan, Bernie Tiede) who moves in with a wealthy, acid-tongued old bag played by Shirley MacLaine. She annoys and belittles Bernie until one day he shoots her dead.
Bernie is brilliant, among the best comedies so far this century.
The film modernises Albert Camus' The Outsider, the existential drama about a man who shot "an Arab" on a beach because he was hot and bothered. Linklater, in part through faux documentary elements – with actors playing local citizens giving direct-to-cam 'interviews' –explores how reality is distorted into legend; how we all tell stories to rationalise other people's lives (this was also subject of last year's ingenious documentary Casting JonBenet, from Australian filmmaker Kitty Green). Bernie is brilliant, among the best comedies so far this century.
Before Midnight arrived with the weight of two great films behind it: Before Sunrise (1995) and Before Sunset (2004). The audience of these conceptually bold, yet unprepossessing pictures were, by the time the third was released, accustomed to the 'will they or won't they' question concerning two potential lovers, played by Ethan Hawke and Julie Delpy. In Before Midnight we discover the question is not whether they will get together (they did) but whether they will stay together, and what their current relationship says about romantic love and life partners.
Before Midnight profoundly altered the series trajectory, adding bittersweet notes. These exquisite, deeply humanistic films became contemplations of anticipation versus experience; the fantasies of romance versus the realities of relationships. In several respects the Before trilogy is unparalleled. Cinema has explored similar themes but offers no comparable alternative.
Is Linklater a believer that technique never trumps conviction? That philosophy seems to drive many of his films including the sublime Boyhood, an easy film to under-appreciate – with its aversion, characteristic of the director, to stylistic flair and showmanship. Filmed over 12 years, Linklater captures the boyhood of a child named Mason (Ellar Coltrane). The uniqueness of the film arises from a combination of breadth (it captures the entire arc of a young man's adolescence) and intimacy (it dwells on specific events and situations, and cares for their emotional meaning).
Perhaps what makes the film truly special is as simple, or as complicated, as observing a puppy grow into a dog or a baby into an adult. 
The fast pace and regular time jumps required for the former, and the mannered drama and attention to detail necessary for the latter, creates a highly unorthodox combination that feels natural in Linklater's hands. Essays with a more generous word count than the space afforded here will continue to contemplate Boyhood in detail, but perhaps what makes the film truly special is as simple, and as complicated, as observing a puppy grow into a dog or a baby into an adult. The feeling one derives from this observation may be simple or profound, and spans a complete array of emotions.
Linklater, whose other work includes Dazed and Confused, Waking Life, School of Rock and A Scanner Darkly, doesn't make zeitgeitsy films. If his films embrace contemporary trends and social issues, they do so accidentally (with perhaps one exception: 2006's Fast Food Nation, arriving at a time of heightened scrutiny towards multinational food companies). Nor does his work suggest a filmmaker who is truly interested in expanding his aesthetic capability in order to tap into unrecognised cinematic capability, unlike other great directors known for verbose screenplays, but also for stylistic experimentation – such as John Huston and Quentin Tarantino.
This means Linklater's work often runs the risk of either being perceived as underwhelming, or being underwhelming full stop. Not so, however, for the three films he released, in as many years, from 2011 to 2014. History will be kind to the story of the charming undertaker, the bickering married couple, and the boy who came of age.