Harrowing, profound and boldly styled, Reflections in the Dust is a different kind of Australian film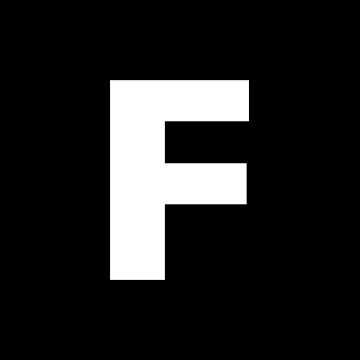 ---

Reflections in the Dust is a dystopian science fiction film with a difference. A gruelling but profound social commentary, it was directed by a young and brash filmmaker on an anti-establishment crusade, writes Simon Foster.
'Australian dystopian science fiction' is a cinematic sub-genre that carries with it considerable cache. While the standard-bearer will always be Mad Max, Dr George Miller's 1979 descent into one grieving cop's lust for revenge, filmmakers as diverse as Peter Weir (The Cars That Ate Paris), Brian Trenchard-Smith (Dead End Drive-In), David Michôd (The Rover) and Zak Hilditch (These Final Hours) have conjured vast, complex visions of future world, end-of-days scenarios uniquely Australian and internationally acclaimed.
Reflections in the Dust embraces the legacy of those bleak visions, rewarding the filmgoer with a unique science fiction concept that unfolds with blunt-force urgency. Set in a near-future landscape peopled by pockets of nomadic wanderers, the film explores the co-dependent relationship between a young woman named Freckles (Sarah Houbolt) and her emotionally abusive father, known only as The Clown (Robin Royce Queree). Living amongst the mud and reeds on the banks of a stagnant lake, Freckles longs for the warmth of romantic connection (or, at least, her own skewed version of the 'Prince Charming' myth) yet must navigate the constant alcohol-fuelled, paranoid schizophrenic rages of The Clown.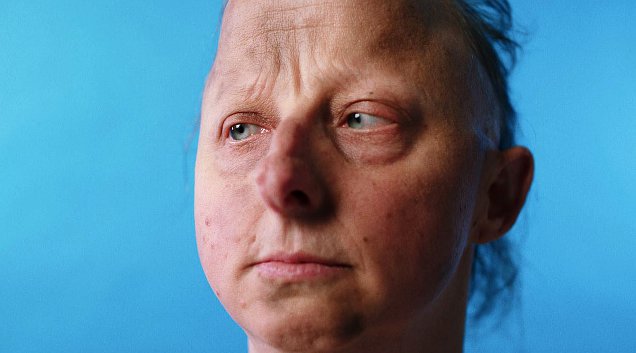 The staging of toxic masculinity and its manifestation in the form of verbal and physical degradation will ensure the film talking-point status, given the wave of societal change on the issue of abuse. As Freckles, Sarah Houbolt endures fierce tirades, insidious manipulation and ultimately physical torment, administered with frightening intensity by co-star Robyn Royce Queree. It is a performance that earned the highly respected acting veteran the Best Actor award at the 2018 SciFi Film Festival, following the film's Australian premiere in October.
The understated strength and integrity of Houbolt's performance stems from the actress' own journey. Despite partial sight and living with a rare medical condition, Houbolt is a world-renowned circus performer. She was worked for Cirque de Soleil, has remarkable stage presence (having extensively toured with her one-woman show, Koo Koo the Bird Girl) and is a passionate rights advocate for the disabled and for accessibility awareness. Houbolt belies limited big-screen experience with a fearless depiction of an abuse sufferer's refusal to submit. The subtle nuance and psychological underpinnings that she explores as Freckles represents a landmark portrayal of instinctive survivalism.
Lensed in a stark monochrome that captures the caked-on layers of smeared make-up and mud, further distorting the humanity of the characters, Reflections in the Dust is directed by young Sydney-based filmmaker Luke Sullivan. He earned a minor cult following for his 2016 feature debut You're Not Thinking Straight, a contemporary non-sci-fi narrative that foreshadowed the thematic darkness, gender politics and mental health struggles the 23 year-old explores in his second film. Sullivan's films are truly independent works, exhibiting an auteur's dedication to art and craft in the service of a determinedly singular vision.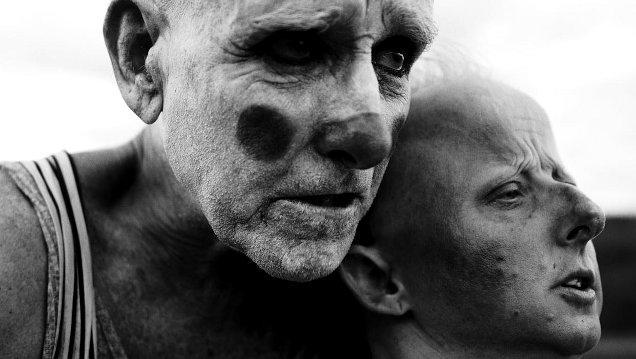 Sullivan's films reflect a brash defiance of the tone and structure expected from Australian cinema, an aspect that underlines an anti-establishment crusade that the outspoken Sullivan has publically undertaken. In 2018, following his film's World Premiere at the prestigious Karlovy Vary Film Festival, he described the Australian screen industry funding bodies as "a small group who care only about themselves and supporting those who they have a relationship with. They truly couldn't care less about diversity, progressing the art form or discovering new talent. This results in wasting taxpayer money on painfully safe and familiar films."
Reflections in the Dust is a genre film that utilises roots in speculative dystopian fiction to convey humanism at its most divergent. The horror of life with The Clown outweighs the physical setting of the film. Sullivan shoots his character's interactions predominantly in tight two-shots, relegating the environment to the furthest edges of the frame. Their lives exist within a remnant of a world, but the dynamic they share is immediate and contemporary. Underscoring this is a device only a director exhibiting the arrogance of youth could consider and, remarkably, pull off; intermittently, his actors (against backgrounds of bold primary colours) break the 'fourth wall' and answer personal questions posed by the director that speak to the backstories they have created for their characters.
To note that Reflections in the Dust may not be everyone's cup o' tea is an understatement. Even at a relatively scant 74 minutes, the ferocity of the drama and the liberal use of scolding language and impactful violence make the film a gruelling, harrowing experience. It is also a potent statement, both as a genre work in line with the most ambitious this country has produced and, perhaps more importantly, a profound and timely social commentary.
Visit this page for a list of sessions and participating cinemas or use the link below.