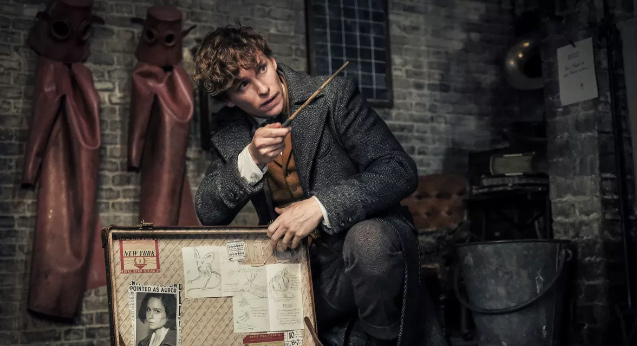 Fantastic Beasts cast speaks to Flicks at The Crimes of Grindelwald world premiere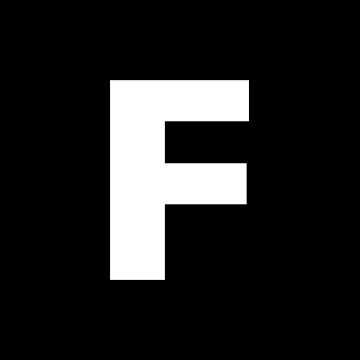 ---
The countdown to the next instalment of J.K. Rowling's Fantastic Beasts series is well and truly underway, with Fantastic Beasts: The Crimes of Grindelwald arriving in cinemas here this Wednesday. Helen Barlow attended the Paris world premiere for Flicks, and spoke with cast members Eddie Redmayne, Ezra Miller and Jude Law as well as director David Yates.
---
Towering above hordes of fans at the Paris world premiere of the second Harry Potter prequel, Fantastic Beasts: The Crimes of Grindelwald, J.K. Rowling declared that the film has "the most incredible cast ever assembled on screen." She noted that "the fandom" of her wizarding universe "is the most remarkable in the world, for me obviously, and their loyalty and passion for these stories is the reason I keep going."
In terms of the casting, Rowling had of course already defended her choice of the ever-transforming Johnny Depp as the despicable British wizard Gellert Grindelwald, who only had a cameo after inhabiting the body of the similarly sinister Graves (Colin Farrell) in the initial movie, Fantastic Beasts and Where to Find Them. Now the blue-eyed blonde-haired Jude Law enters the fray as the younger version of the powerful and much loved Hogwarts Defence Against the Dark Arts teacher, Albus Dumbledore, who looks set to face off with Depp's despot in the third instalment to be shot mid next year.
While it turns out the pair had a previous personal connection that was closer than brothers (Rowling has admitted that Dumbledore is gay), they largely have screen time here to establish their might, power and pure cleverness as natural rivals. The majority of the complicated film which introduces more characters and plots to be extrapolated in the further three movies, rests on the shoulders of the ever-reliable Eddie Redmayne, one of the most understated and hardworking of stars, a bit like his Magizoologist Newt Scamander.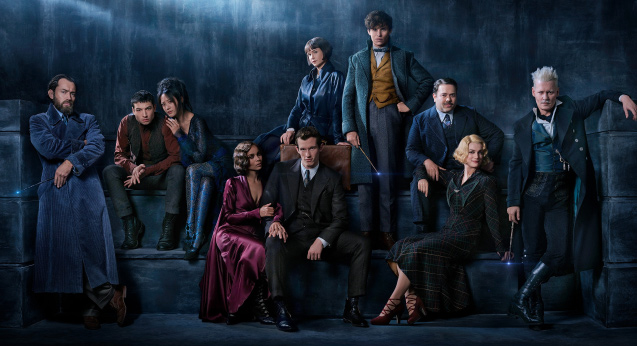 "I bring Eddie into the process more than any other actor," admits David Yates, who directed the final four Harry Potter films and now takes the reins of the Fantastic Beasts movies. "I guess this is partly because Eddie was the first actor I cast in Fantastic Beasts and we built everything around him. He was the first piece in the puzzle, if you like. I love working with Eddie, I trust his instincts."
More than Daniel Radcliffe?
"Dan will drive himself hard, but Eddie is a perfectionist. On the first film, we were at take 57 when he was walking through this bank and he became obsessed with getting the rhythm of his walk right. I said, 'We got it at take 4'."
Sign up for Flicks updates
Redmayne recalls Rowling telling him that Newt should walk like Buster Keaton. "What I love about what Jo does is that she writes these incredible details," the British actor says. "The dialogue and the descriptions are so evocative, then she allows you great freedom and David allows you to go and play in a way that you can make it work."
So there's a lot of Eddie in Newt? "I aspire to many of Newt's qualities," Redmayne admits. "He's kind, warm and empathetic. He's his own person; he's not a people pleaser. I've sort of learned that from him."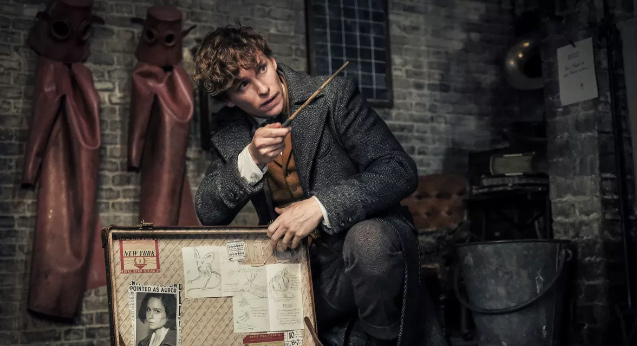 David Heyman, the producer of all eight Harry Potter and both Fantastic Beasts films, notes that Redmayne is selfless even down to the marketing. "He is very concerned with what he can do, he is really about the film and not Eddie Redmayne. He is generous in the way he works with the other actors too."
Attempting to speak on the red carpet with Redmayne proved a challenge. "Eddie, Eddie, Eddie!" the fans beckoned. Still, the 36-year-old father of two admitted this was kind of a holiday. If he could have a spell cast on him he said, "I'm not sure there is one but I'm hoping there is a sleep spell out there. I have an eight-month-old child who is not so good at sleeping and I don't seem to be getting enough sleep."
And here lies the difference between the Harry Potter and Fantastic Beasts stories. Daniel Radcliffe was a kid and veritable newcomer essentially growing up as Harry did over the course of the movies, whereas Redmayne came to the adult world of Fantastic Beasts as an accomplished Tony- and Oscar-winning star (of Red and The Theory of Everything respectively) even if he looks like he has drunk the fountain of youth.
"Don't look too close," he warns with a laugh.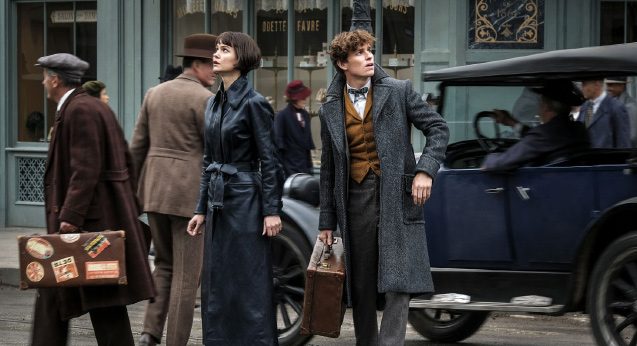 Another difference is that Rowling has personally written the screenplays for the prequels (Steve Kloves adapted seven of the Harry Potter novels) and is delivering fresh material that is not based on her books. She was keen to move the action out of England and in the first Fantastic Beasts film had Newt scuffling around New York with his array of animals as he helped MACUSA (Magical Congress of the United States of America) capture Grindelwald. In the new film, prison chains fail to restrain this cleverest of wizards who resurfaces in Paris as does Credence Barebone (Ezra Miller), who we deemed was dead. A cagey Dumbledore claims he cannot take on Grindelwald himself and sends Newt his former student to Paris (recreated at Leavesden Studios) to stop Grindelwald's plan of world domination by pureblood wizards.
"Newt has always been a bit of an outsider so he's created this little world for himself and that's been good enough," explains Redmayne. "The question in this film is, is it good enough to be a good moral human being or do you have to engage at some point when the stakes are higher outside? Newt has to make a choice this time round. I don't want to give too much away but sides are being taken. It's not individual against individual, it's team versus team and the combinations that are found at the end are pretty intense."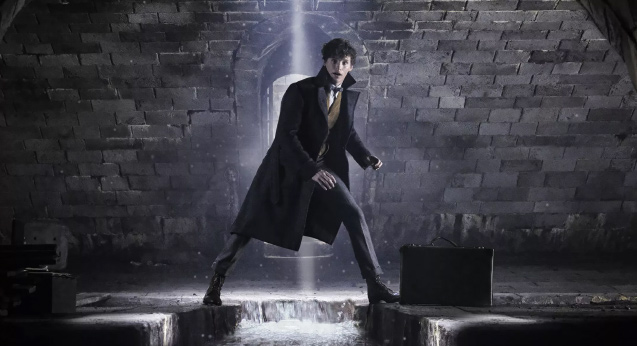 Miller, seated next to Redmayne for our interview last Friday, is more forthcoming. "It's like these two films are the lead up to a war and then there will be three more films so it makes sense. We are about to start the trilogy of Dumbledore vs. Grindelwald and it's like Titanic in the sense that we know how it ends but are really curious about how we get there."
Redmayne adds, "There are so many reveals; I can't wait for the public to see it and start discussing it."
One of the things Redmayne likes about Rowling's writing is that her protagonists are outsiders. "This is why her writing is so universal. Even if people present themselves as insiders, the jocks, the cool people, that presentation is hiding some sort of not fitting in. I think frankly we all feel like that."
The openly queer and outrageous Miller, 26, is more effusive about being different than most. The first to step on the Paris red carpet, the American actor was out to make an impression. No, his stunning black outfit, a Moncler Pierpaolo Piccolo Puffer Gown, was not representative of the black smoke of the malevolent Obscurus that Credence turns into, but more a fashion statement and an expression of being different.
A major male movie star showed up at the premiere of a major blockbuster dressed like this. This is a BIG deal. ? you Ezra Miller pic.twitter.com/6iRynHpZzp

— Nigel M. Smith (@nigelmfs) November 9, 2018
this is what happens when you think the Paris premiere is a safe place to hug your friend Ezra in his garbage bag suit and you totally forget that he's also an evil vampire human-eater on the side…#youliveyoulearn #paris #crimesofgrindelwald #fantasticbeasts #ezramiller#queenie pic.twitter.com/fG13C2Rhx4

— Alison Sudol (@AlisonSudol) November 9, 2018
In our interview the following day Miller wore a flouncy bright chiffon blouse. Redmayne, who so effectively played transgender pioneer Lili Elbe in 2015's The Danish Girl, couldn't have been more amused or supportive, even at the premiere.
"One of my favourite moments," recalls a grinning Redmayne, "was when Katherine [Waterston, who plays the MACUSA Auror and the love of Newt's life] and I were holding Ezra's cape to give it its full flare. But I had to be careful with the hugs because it was pretty sweaty in there!"
Returning to the film itself, Redmayne went on to say "One of the most exciting things in this film was getting to work with Jude Law, who also happens to be a friend. He's one of my favourite actors."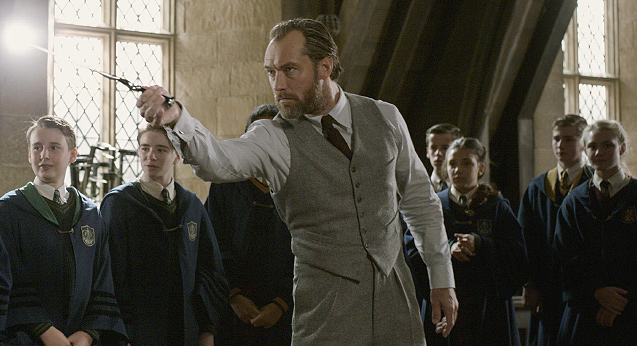 Law, 45, who has been receiving raves for his Dumbledore portrayal—and who I have to say is as hot as ever—is currently popular in franchises. While he clearly will have more to do in Fantastic Beasts 3, he is now reprising his Pope Pius XIII role in the HBO series The Young Pope and enters the Marvel universe alongside Brie Larson in Captain Marvel. Today he will only discuss Dumbledore.
"The books refer to Dumbledore's family tragedies and we start to see the personal side of him in this film," Law says. "Jo was very generous with her time and insight and love for the character so I got incredible detail from her as well as the freedom to create a guy who is still working out who he is in his middle age.
"At Hogwarts Dumbledore has a class to run and the kids playing the students were so excited. To be honest, on the day I kept my calm. We see how he finds the inner peace and serenity we see him experiencing as an older gentleman."
As well as building the character of a younger Dumbledore, as its title The Crimes of Grindelwald suggests, the new film further develops the new series' villain, played by Johnny Depp. Director David Yates explains Depp "brings Grindelwald to life in a really intriguing way. He's a very multi-layered character and we're really only starting to build him as a human being. He's compelling in the sense that he's quite seductive. He's able to persuade people of his ideology and I suppose the scariest thing about Grindelwald, and what Johnny does as the character, is he plays with what's truth and what's not truth with his followers. He puts narratives into the world that have terrible consequences."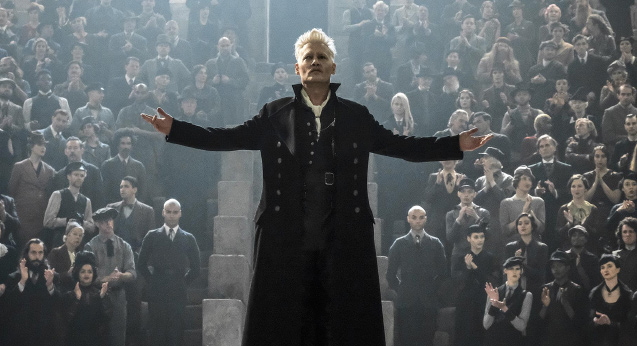 Yes, we know what you're probably thinking (or who you're probably thinking of) as you read those last couple of sentences. But producer David Heyman contradicts that notion, as he tells us "comparing Grindelwald to Trump or Hitler is being reductive. We're in a world with lots of people who are very persuasive. It's about the power of persuasion. Grindelwald is much scarier than Voldemort who was pure evil. He was a psychopath, who only knew hatred and the power to abuse, whereas Grindelwald makes sense to certain people. You can understand why people follow him."
"Jo said she wanted Grindelwald to be like a rock star, sexy and alluring," says Yates as he picks up the thread. "We were intrigued by this person who could be part poet, part rock star, part visionary, but ruthlessly peddling an agenda which is poison though presents it in a compelling way. You could argue it's beyond Trump. It's Trump plus."