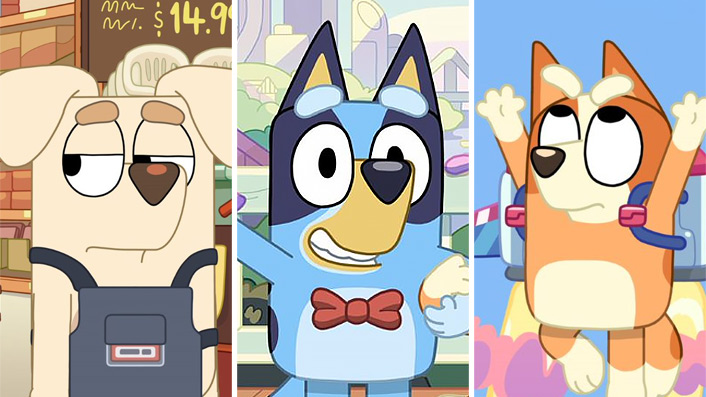 Every episode of Bluey season 2 so far, ranked from good to greatest

---
Bluey is a great Australian success story, the second season alone having surpassed 43 million plays. Mum and Bluey enthusiast Sam McCosh writes a parent's guide to the second season and ranks every episode so far, from good to greatest. 
In these uncertain times, we are lucky to have the Heeler family to guide us through. These beloved pooches offer laughter, warm vibes and advice on how to be both a good parent and a decent human being. As many parents know all too well, half of Bluey season two (comprising 26 episodes) has launched, with the other half set to arrive later this year.
See also
* Where to watch Bluey season 2 + episode guide
* All new streaming movies & series
Bluey has brought much needed humour and a variety of new make believe games into millions of Australian homes, such as the one occupied by myself, my husband and our three-year-old daughter. Again in news that will surprise no-one, it is one of our daughter's absolute favourite shows, which means we have watched a heck of a lot of Bluey ourselves.
You can find Bluey on ABCiview, which regularly rotate the selection of episodes available.
So, which are the best episodes of season two? I have ranked them below from good to greatest. Because, you see, there are no bad episodes of Bluey!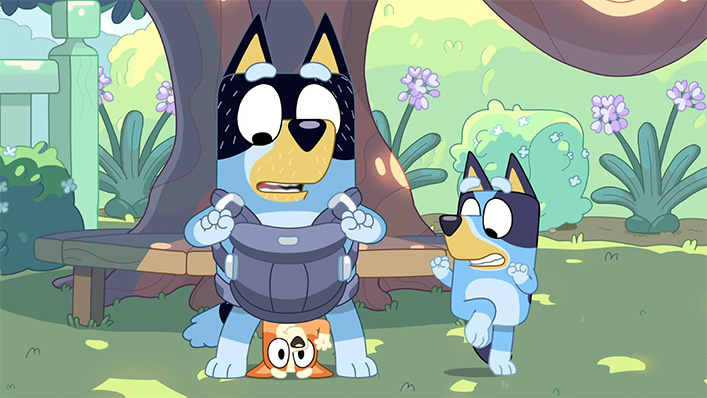 26. Dad Baby
Dad wears Bingo in a baby carrier to mimic pregnancy, back aches, baby kicks and all. The 'pregnancy' culminates in Dad 'giving birth' to Bingo in the paddling pool in the backyard. An unsuspecting Lucky's Dad gets roped into aiding in the delivery. Oh boys, if only you really knew.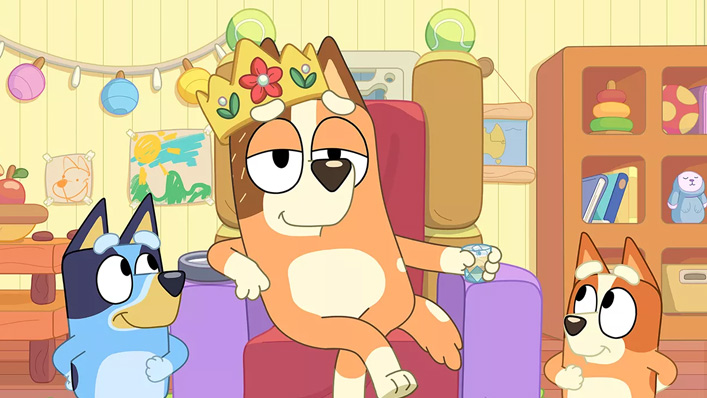 25. Queens
Bluey and Bingo take turns to play the Queen and the royal butler. But when they realise they both prefer being the butler, they anoint Mum as their new Queen. This is a great game for parents to encourage, because as the Queen you get to sit still in one place, and boss your butlers around.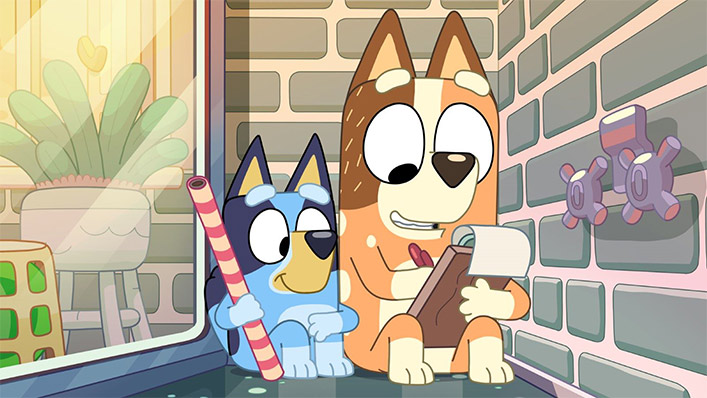 24. Mum School
Bluey attends mum's training program to learn how to be a good mum to her group of adorable balloon children. While Mum doesn't believe you should be graded on your parenting abilities, she offers advice and helps Bluey overcome a number of obstacles throughout the day. Parent warning: your children will want to bathe with balloons after watching this episode.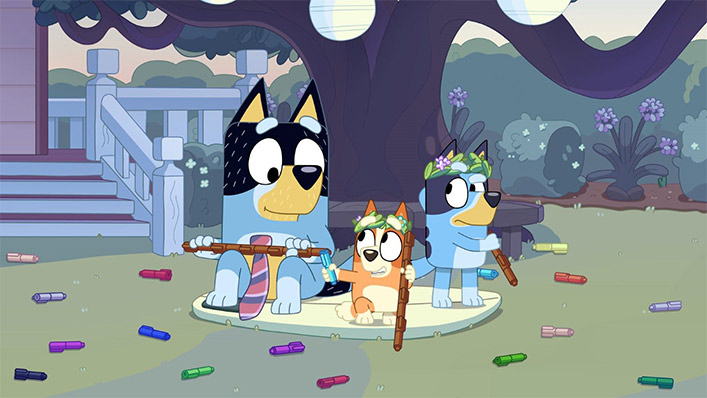 23. Rug Island
Interconnecting colouring markers become the building blocks for the wonderful world of 'Rug Island', a wild and mysterious place where children roam free, and grown-ups are viewed as outsiders. When dismissing a fellow adult, Dad ascends to a higher level in the eyes of his children. While Rug Island is pretty great, you would need approximately three or four hundred markers to bring it to life. Giving kids that many markers seems ill-advised.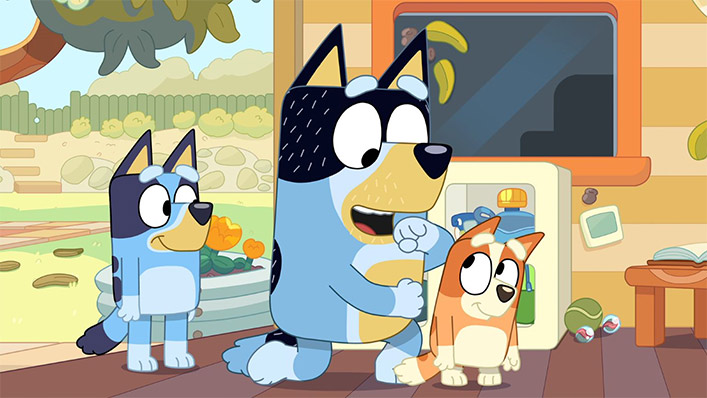 22. Daddy Dropoff
Oh the joy of getting kids out of the house and to their destination! It is truly the triathlon of parenting; it's painful, often physically and emotionally. But amongst the chaos, there's usually one sweet or funny moment which makes you remember why your kids are pretty great. Good luck trying to find that balance between losing your mind, and fully giving in to the kids and their weird and wonderful games.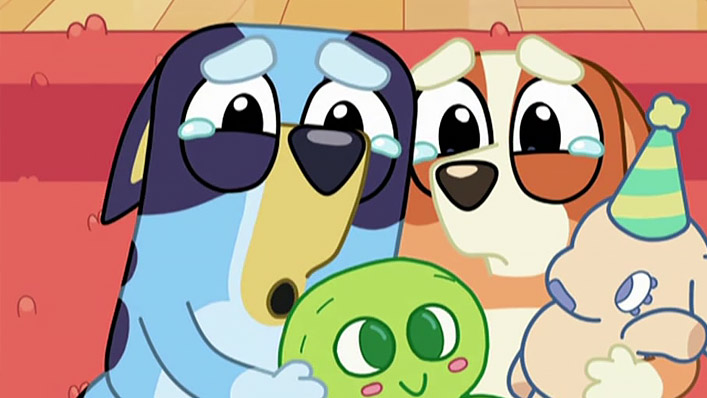 21. Tickle Crabs
Tickle Crabs is one of Dad's least favourite games (Mount Mumandad must be up there too), but he is convinced to play when Bluey and Bingo's pull out their best "please" faces. Dad really should have stood his ground, because tickle crabs are relentless and extremely hard to get rid of.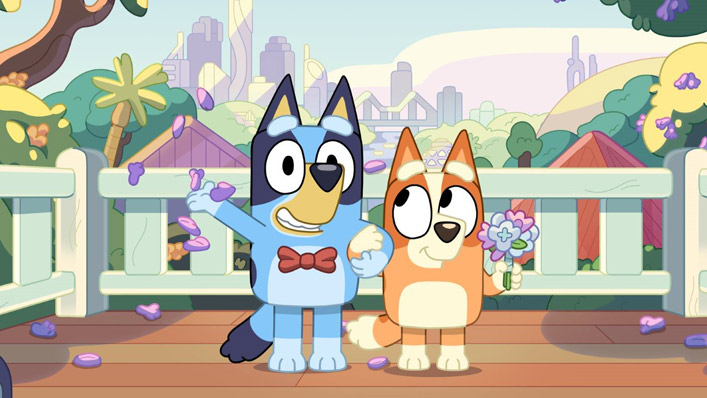 20. The Show
Bingo trips and falls while bringing Mum a lovingly prepared Mother's Day breakfast, and is upset because she believes she has ruined her day (she might have actually saved her; refer to 'Fancy Restaurant'). Instead of moping, Bluey encourages Bingo to put on a show with her, and Bingo learns some important lessons about not giving up.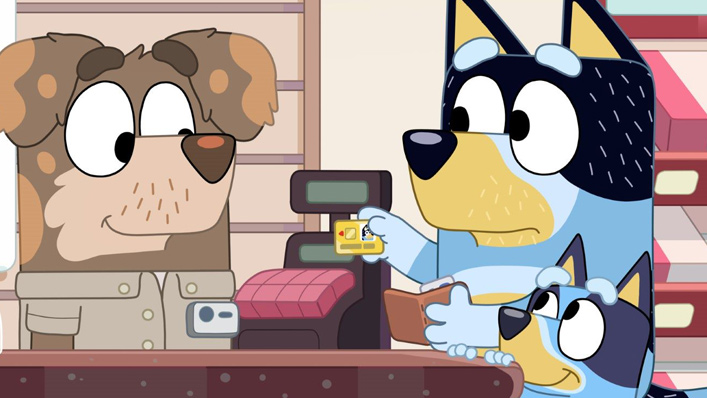 19. Dance Mode
Dad eats the last chip off Bingo's plate, and to make it up to her he gives her three goes at 'Dance Mode'—the power to make her family members dance to music anywhere, at any time. This appears to be the absolute worst game ever. Can you imagine? It's one thing to rock out to The Wiggles in your lounge; it's another thing entirely to have to dance at the post office or in a busy square.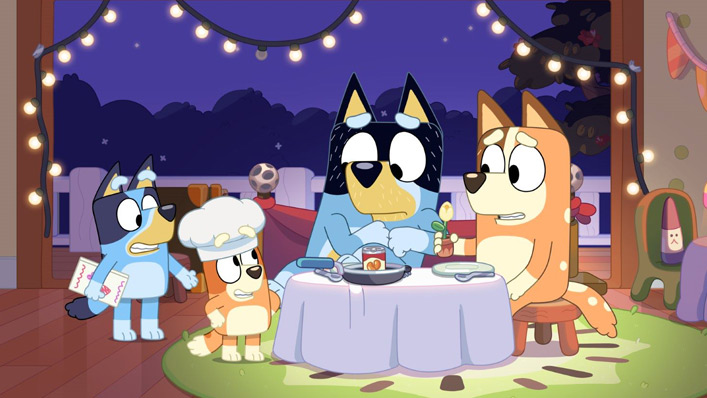 18. Fancy Restaurant
In an effort to create some romance for their parents (and hopefully witness a kiss), Bluey and Bingo set up a fancy restaurant for Mum and Dad to go to on a dinner date. People have eaten some truly awful things made by children, but no-one has ever eaten anything as disgusting as the 'meal' that Bingo prepares from the food in the Heeler's fridge. Watch it and retch.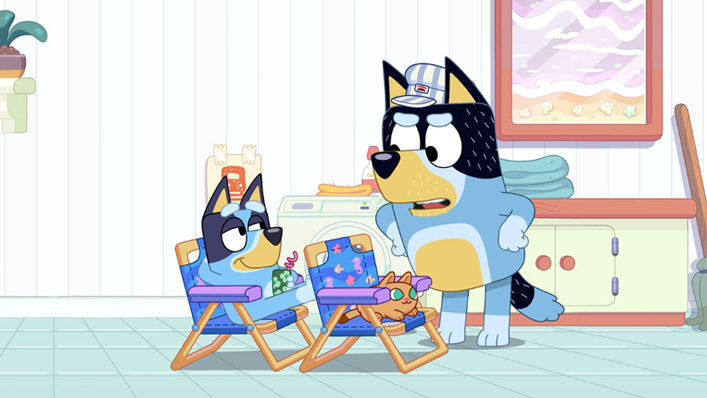 17. Trains
The creators of this episode clearly have experience with Australian public transport, as the Heeler's indoor 'train' network suffers a number of delays and disruptions due to a disorderly passenger and various other events. Much like many of us dream of (and are living at present), the solution to Bingo's transport issues could be simply to avoid using the system altogether.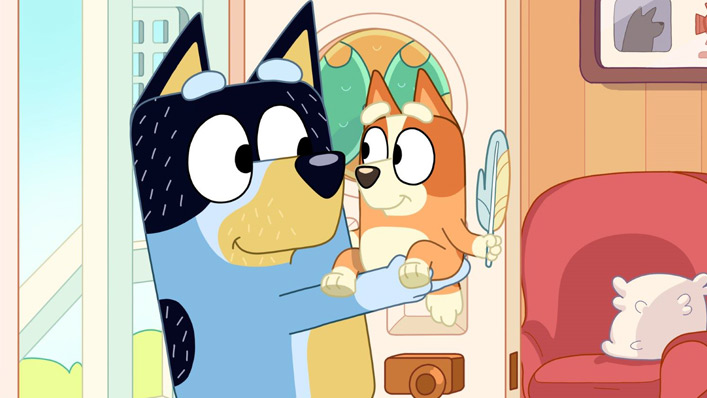 16. Featherwand
Bingo is disappointed she won't be joining Bluey at Chloe's birthday party, but luckily she discovers a magical 'featherwand', which has the ability to make items heavy. She uses her wand to create obstacles to Mum and Bingo leaving the house. The wonderful thing about this episode is how the family 100% buy into the premise of Bingo's game. Toothbrush stuck to the ground? No problem, just lie like a lizard and brush your teeth hands free!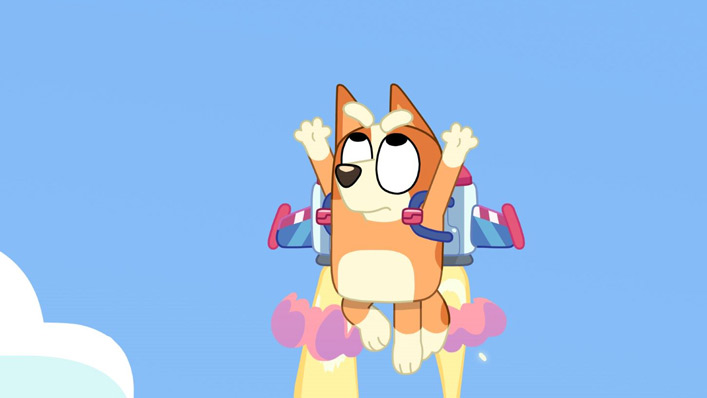 15. Favourite Thing
While eating dinner the family share their favourite things that happened during the day. Bingo gets upset when Bluey shares that her favourite thing was Bingo saying "trifficult". Like many real-life family falling-outs, it's the spurting of liquid from someone's nose and mouth that makes things better.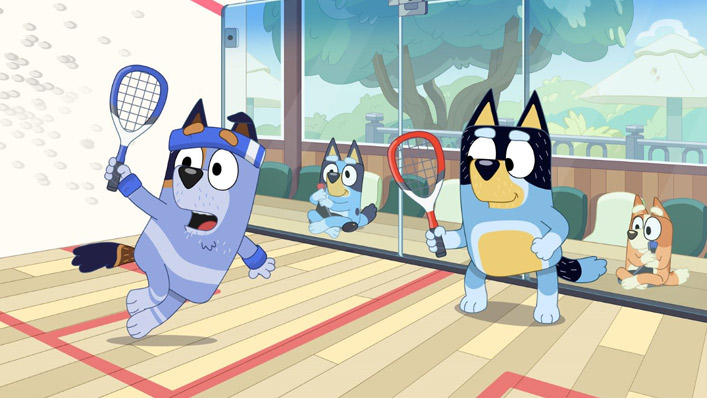 14. Squash
Ah, brotherly love. There is nothing quite like a 'friendly' competition between two siblings who care for each other. Dad and Uncle Stripe are 'controlled' by Bluey and Bingo in a game of squash. Tired of younger siblings always losing, Bingo inspires Uncle Stripe to dig deep. You might want a shower after watching this episode, there is so much sweat. Puddles and puddles of Dad bod sweat.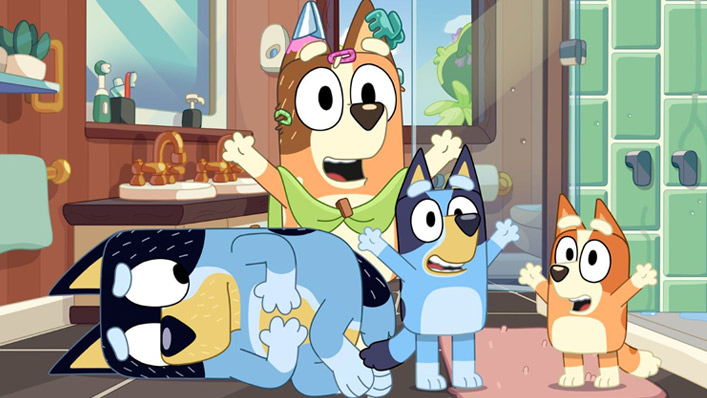 13. Hairdressers
A game of hairdressers becomes serious when Bluey and Bingo discover that Dad has nits, and they must rid him of the itchy creatures. Their methods are quite questionable, and include cold showers, stringing him upside down from a tree, and flinging flour at his head. Maybe that eye-stinging nit removal shampoo from your childhood isn't so bad?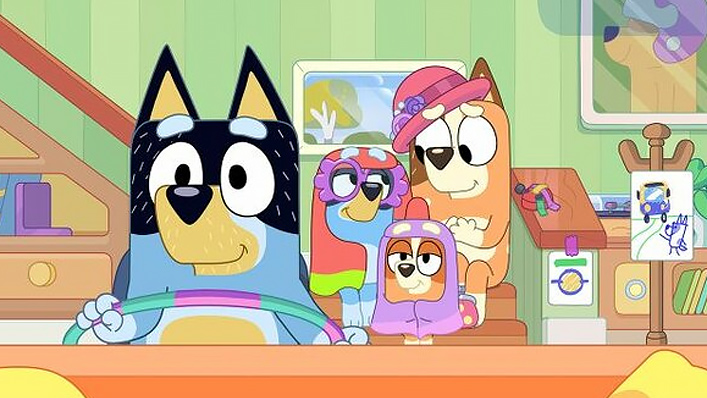 12. Bus
The Grannies are back! Rita and Janet test the professional manner of their bus driver (Dad), when they create multiple delays while riding the bus. Their behavior is all for a good cause though, to help their friend (Mum) tell the driver she has a crush on him. Bless those crazy grannies and their hearts of gold.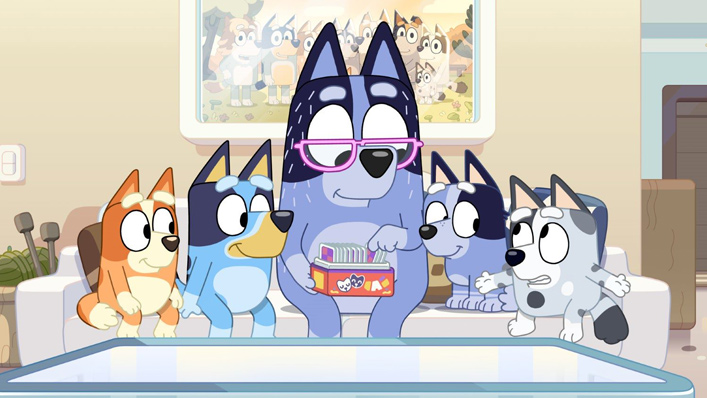 11. Charades
Nana's house is magical, a place where the normal rules don't apply and "everyone gets what they want." When Muffin wants to break all the rules of Charades, Nana gently guides a slightly frustrated Bluey and Bingo to help make Muffin's version of the game come true. This episode shows both the unwavering love of a grandparent, and the stubbornness and lack of logic of a toddler.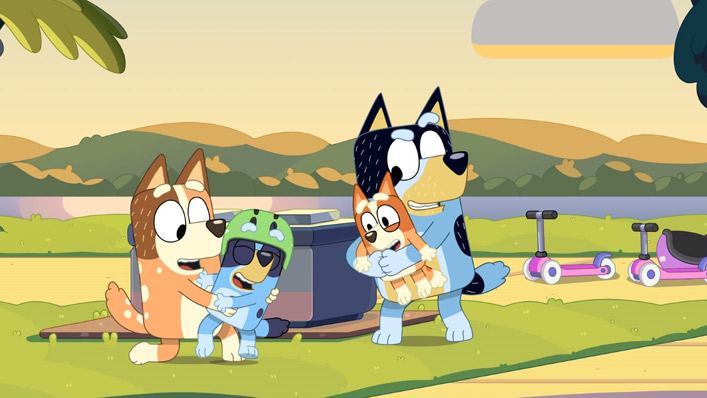 10. Piggyback
While walking along the riverside, Bingo begs Dad to give her a piggyback because she's tired. Like any smart parent, Dad knows you can't give in and carry your kid too soon, or you'll aggravate your back issues. So he and the rest of the family come up with fun ways to motivate Bingo to keep moving.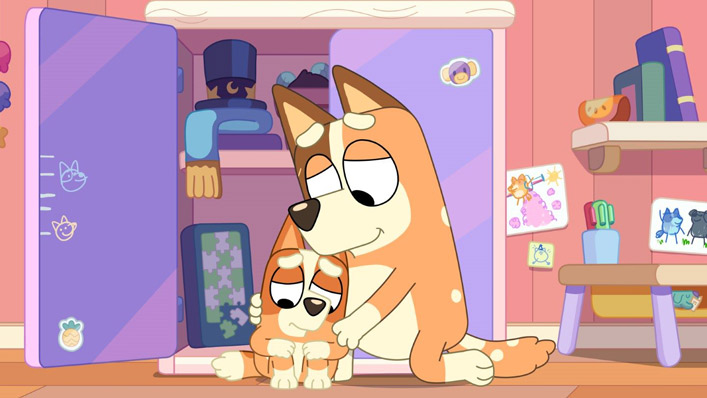 9. Bingo
In this special Bingo-centric episode, Bingo needs to play by herself while the other members of the family are otherwise occupied. Bingo is in many ways a typical child of her age, almost completely and utterly unable to play by herself. Have you tried to do anything substantial with a preschooler around? The highlight of this episode is Bingo's quest to find 'New Zealand' (a jigsaw puzzle piece), which ends up being stuck on her bum. Nice New Zealand dig there, writers.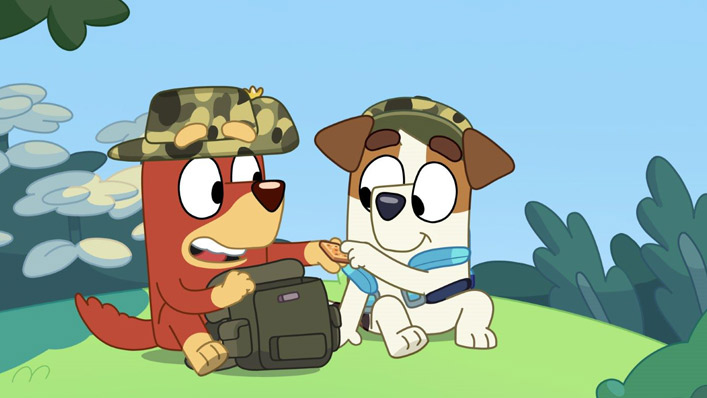 8. Army
In an interesting turn, this episode is centered around two characters outside of the Heeler family, Jack, a new kid at Bluey's school, and Rusty, a classmate and friend of Bluey's. Jack is recruited by Rusty as a private, and undergoes rigorous army training under Rusty's command. Rusty's Dad is in the army, and he obviously has a huge impact on his very imaginative son.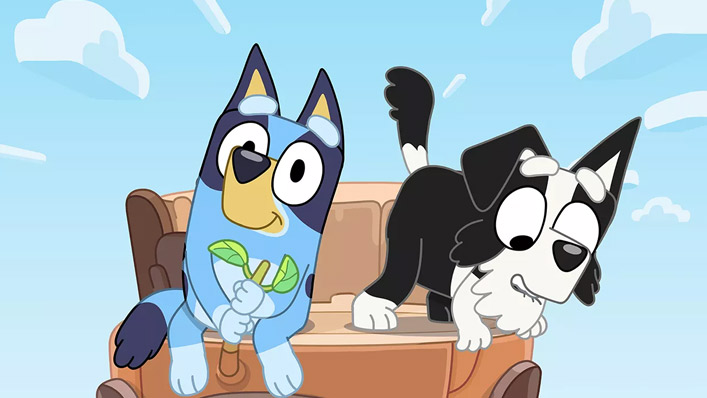 7. Helicopter
When her playdate is cancelled due to Dad's work commitments, Bluey has to learn to adapt to things that life conjures up. This lesson is important at school where she steps into the role of the helicopter pilot, and has to transport all sorts of passengers. You might feel the heart-strings tug a bit, when the helicopter has to transform into a plane to rescue kangaroos from a bushfire.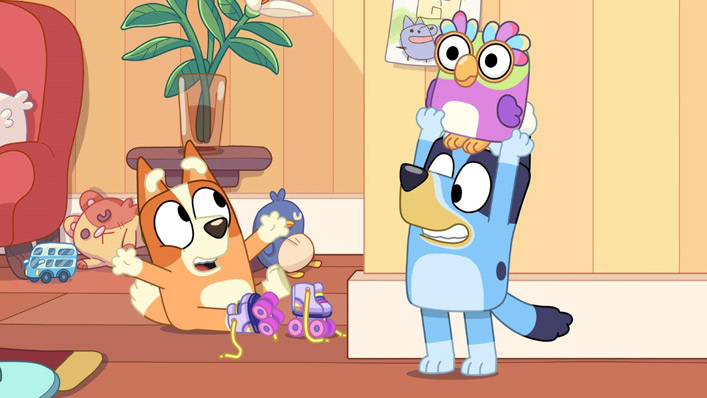 6. Sticky Gecko
Have you ever tried to get out of the house with young kids? It's not as simple as just walking through the door, even when the door is RIGHT THERE!! How is it that kids can find a million things to do, or find a million ways not to do the things you need them to? Bluey and Bingo really push their Mum to the limit; however, lots of "but why?" questions help her remember they're not being annoying on purpose, they're just having fun.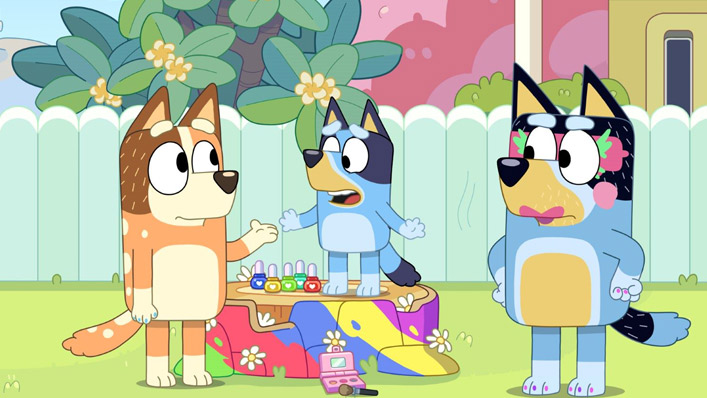 5. Stumpfest
A few beers, axes and a bit of manly banter is all that Dad, Uncle Stripe, and Lucky's Dad need for a day of fun—removing two stumps from the garden. Unfortunately for them, the kids are using one stump as a nail salon, and the mums yelling and heckling the men from the balcony are no help at all (is that really just lemonade in the mums' glasses…?). When Mum finally steps in, Bluey realises that grown-ups can play too.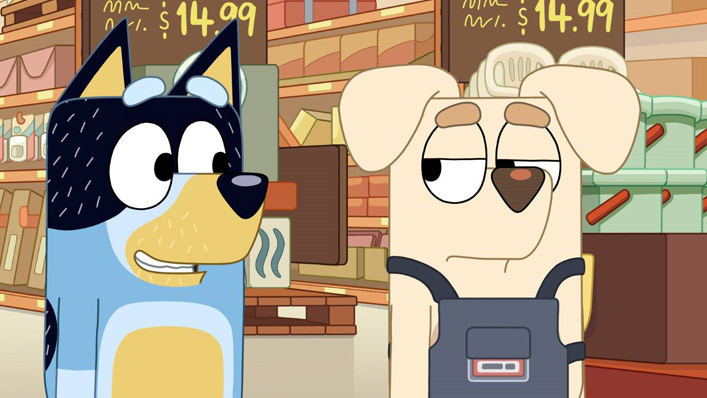 4. Hammerbarn
When Dad sees his neighbour (Lucky's Dad) has installed a new pizza oven, he immediately tells the family they have to go to Hammerbarn, the 'Bluey Universe' version of Bunnings. This episode is truly glorious in how it captures the fun and frustration of visiting such a place. The instructions on where to locate the pizza ovens at the store are: "Aisle 300. Left at the fake grass. If you hit a flamingo, you've gone too far." That's possibly the best line of the season thus far.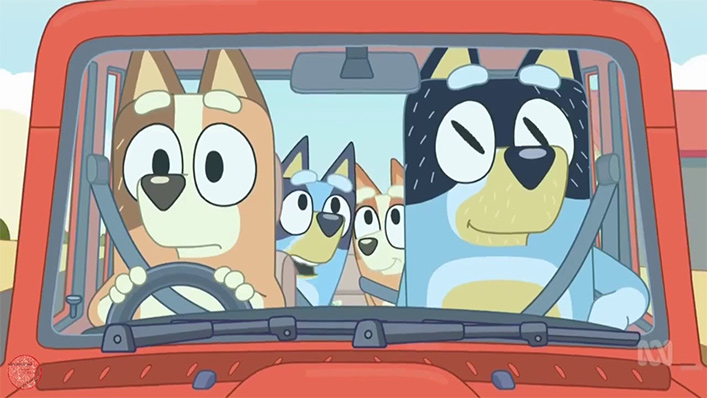 3. Escape
While on their way to be dropped off at Nana's house, Bluey and Bingo come up with increasingly creative ways that they could catch and join their parents during their 'escape' time away from the kids. While this episode is both funny and heart-warming, it's also an extremely impressive artistic feat, mixing mediums of animation to bring the kids' imaginations alive in incredible ways.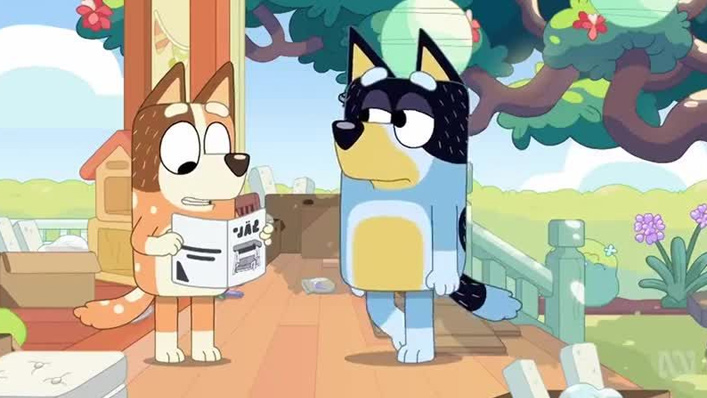 2. Flat Pack
Mum and Dad work together to construct a flat pack swing chair for their porch, while Bluey and Bingo create a magical world from the packaging and various objects discarded during construction. If you have ever put flat pack furniture together, you will relieve the pain and frustration all over again as you watch this episode. Remember to always follow the instructions!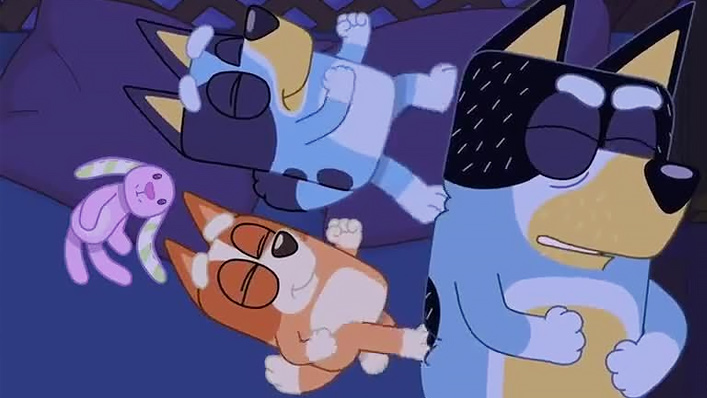 1. Sleepytime
Prepare the tissues before you watch this episode, because this one is a tear-jerker. Bingo is adamant she will have a 'big girl sleep' in her own bed, but the book about outer space she reads before bed permeates her dreams. Her intergalactic adventures lead to her unknowingly move about the house in the night. This beautiful episode will fill your heat, and remind you to be grateful for glorious nights of interrupted slumber.