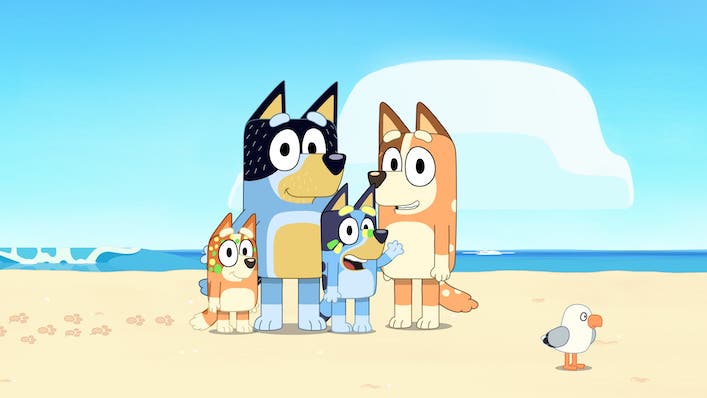 Bluey smashes records, with series 2 hitting 43 million plays

---
The most successful Aussie exports tend to be stories that the whole world can appreciate, whilst still maintaining a distinctly Australian setting and sense of humour. Think of how Priscilla: Queen of the Desert and Muriel's Wedding brought 'strayan slang to a huge international audience, or how Mad Max: Fury Road blessedly put the words "fang it!" into Charlize Theron's mouth.
One of the latest properties to reach that beloved status, however, isn't as edgy as any of those firmly adult films. Bluey, the ABC's animated series for the whole family, has racked up an astonishing 261 million views of its first season from 2018. And now the second series has achieved a stunning 43 million views…after premiering in March of this year. You beaut!
Sign up for Flicks updates
If you don't have little tackers, you might not be familiar with the basic premise of Bluey, a show with gorgeously rounded, family-friendly animation and lively, true-blue voice acting. The eponymous Bluey Heeler is, duh, a young blue heeler dog, who is figuring out childhood alongside her sister Bingo, and her parents Chilli and Bandit.
The show is basically set in a dog-sized version of Brisbane, and has featured some stellar Aussie voice talent, such as Layne Beachley, Ian McFayden, Megan Washington, Zoe Foster Blake and Hamish Blake.

The ABC celebrated the positive viewer response they've seen for the series from national and global audiences, giving a huge "thank!" you to the amazing Bluey fans who have flocked to iview and ABC Kids for more captivating and hilarious adventures with the Heeler family. The latest viewing numbers are just incredible and this officially makes Bluey the biggest show on ABC Kids ever!
Speaking to the innate appeal of the show, the broadcaster noted that "these results demonstrate the power of Australian stories that connect and bind us and reflect to our children who we are as people, warts and all!"