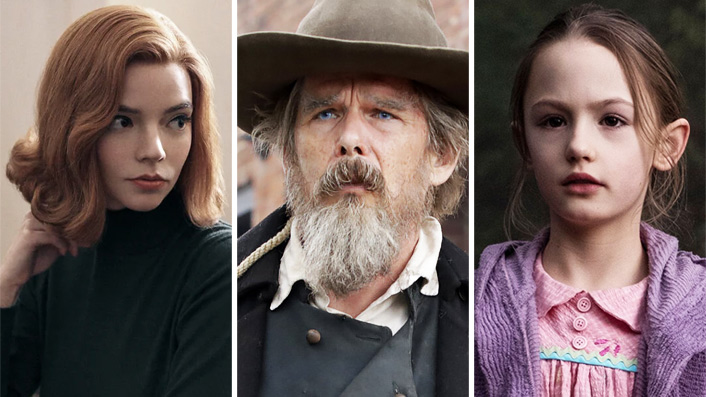 8 new TV shows arriving in October that we're excited about

---
October is a month full of rich historical dramas, a spooky show or two, and the escapist television we all need right now. Scroll down for this month's picks…
See also
* All new streaming movies & series
* Watch the latest movie & TV trailers
Now on Netflix
Fans of Younger and Sex and the City rejoice—Darren Star is back with a new show that's just as frothy and fashionable as his previous work. As the name suggests, Emily in Paris sees Star turn away from his beloved New York to focus on the city of love. Lily Collins stars as an ambitious and bubbly American who moves to Paris to take on a social media gig at a prestigious marketing agency, only to find that, actually, the French don't take too well to being told what to do by an American—especially one who hasn't bothered to learn their language.
Sign up for Flicks updates
Emily follows in the grand Star tradition of main characters who are rather insufferable, but the secondary characters are the real draw (there's even a Diana Trout-esque boss lady who has no time for Emily's Americanness). And the show is simply lovely to look at.
Now on Stan
Based on the 2013 novel by James McBride and produced by Jason Blum (of Paranormal Activity and Get Out fame), the series is about the events that led to the outbreak of the American Civil War—which frankly feels more relevant now than ever. Ethan Hawke delivers a remarkable, and rather unhinged, performance as real-life abolitionist John Brown, while Hamilton favourite Daveed Diggs is back playing a historical figure—this time, abolitionist and statesman Frederick Douglas.
But the heart of the show is actually the fictional young slave Henry Shackleford (Joshua Caleb Johnson), who, due to a complicated set of circumstances, disguises himself as a girl and is taken under Brown's wing.
Now on Netflix
This is not technically a new show, but it's not not a new show. It's new enough—and definitely exciting enough—to be included here, at least. The Haunting of Bly Manor is the follow up to the 2018 smash The Haunting of Hill House, but while it's from the same creators, follows similar themes and features several Hill House cast-members, the story is entirely new.
This time, the haunting in question is inspired by the work of Henry James, and in particular The Turn of the Screw. Set in England, the series follows a young American governess (Hill House's Victoria Pedretti) as she begins to suspect the house she's living in is haunted. If the trailer is anything to go by, it will be absolutely terrifying and no doubt also break all of our hearts.
Now on Netflix
Produced by deaf activist, model, and actor Nyle DiMarco, Deaf U is a docu-series about a group of students at Gallaudet University, a private college in America that is for deaf and hard of hearing students. Like any good show about a group of college kids, the series promises to explore the universal ups and downs of romance, friendship, studying, and fears of the future, as well realities that are unique to the deaf experience.
Now on Disney+
Produced by Leonardo Dicaprio's Appian Way and based on the 1979 book by Tom Wolfe (which also spawned the 1983 movie by Philip Kaufman), The Right Stuff is the true story of the Mercury Seven, the first American astronauts. Dubbed as a "gritty, anti-nostalgic" look at the space race and the bizarre celebrity culture the Mercury Seven suddenly found themselves immersed in, the trailer comes off as more nostalgic and patriotic than the original premise suggests. While there are no huge names in the cast, it's a decent line-up that shows signs of promise.
Coming to Stan
If you aren't totally scarred by having to study Aldous Huxley's Brave New World for high school English, you might be excited about this new adaptation. And even if you are scarred, it's worth keeping an open mind. For one thing, while the show is based on Huxley's dystopian look at a future where humans are genetically engineered and mass produced, this version offers a more inclusive and modern take on the tale. Alden Ehrenreich, Jessica Brown Findlay, Harry Lloyd, Joseph Morgan, Demi Moore and Australia's own Sen Mitsuji star.
Coming to Netflix
This Spanish thriller limited series comes from the brain of Manolo Caro, who was also behind The House of Flowers. Someone Has To Die is set in 1950s Spain, when the country was ruled by Franco. It focuses on a man who is called home by his conservative parents in order to meet the fiancee they have selected for him. He shocks them by bringing with him Lazaro, a male ballet dancer, and the relationship between the pair causes the family to unravel in dangerous ways.
Coming to Netflix
Yet another historical drama, this time set during the Cold War. Based on the 1983 novel by Walter Tevis, The Queen's Gambit is about an orphan named Beth (Anya Taylor-Joy) who becomes a chess champion but struggles with addiction. Created, written and directed by Scott Frank (who also created Godless and has written movies such as Minority Report and Logan), it looks to be a dark but quirky show that will allow Anya Taylor-Joy to show off her considerable acting chops.