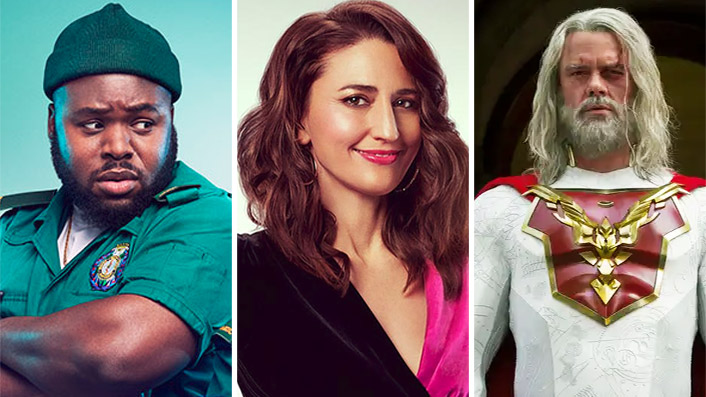 8 new TV shows arriving in May that we're excited about

---
The new shows hitting streaming this May are a mix of comedy, historical drama, and one more superhero show (in case you haven't gotten enough of the genre already). Here's what we're loving the most…
Watch on BINGE
From the producers that gifted us Bob's Burgers comes another adult animated sitcom, this time about a single father named Beef Tobin (voiced by Nick Offerman) living in small town Alaska with his four children: Wolf (Will Forte), Ham (Paul Rust), Judy (Jenny Slate) and Moon (Aparna Nancherla). The voice cast is rounded out by Megan Mullaly and Alanis Morissette (playing herself/Judy's imaginary best friend). It's not exactly revolutionary, but it's a quirky and funny distraction, which is just what we need sometimes (and/or always).
Coming to Stan
Nobody does comedy quite like the Brits. This six episode series, about an ambulance station in London, does not disappoint. Starring the glorious Jane Horrocks and Samson Kayo as overly-friendly divorcee Wendy and loner Maleek respectively, the pair are paramedics whose work partnership leads to an odd couple dynamic that is both hilarious and irresistible. The wider ensemble elevates the humour even further.
Coming to Netflix
Yes, it's yet another superhero show, but this one offers an interesting take on the genre, focusing on the generation born after the world's first superheroes, and the shadow both the heroes themselves and their children live under as a result of the glories (and mistakes) of their past. Like any good superhero story, it's an allegory for pressing current concerns: in this instance, the way younger generations are dealing with the world-changing fallout of the actions of those who came before. Based on the comic by Mark Millar and Frank Quitely, Jupiter's Legacy stars Josh Duhamel, Leslie Bibb and Matt Lanter.
Coming to Stan
Executive produced by Tina Fey, Girls5Eva stars the glorious Sara Bareilles, Busy Philipps, Paula Pell and Elise Goldsberry as a one-hit wonder '90s girl group who get a second chance at stardom when their song is sampled by a young rapper. Sara Barailles also wrote a song for the show, which is sure to be good. We're getting the series at the same time as the US—and from everything that's been revealed so far it looks to be a delightful exploration of fame, misogyny, ageism, friendship and, of course, pop music.
Coming to Prime Video
Based on the best-selling book of the same name by Colson Whitehead and beautifully directed by Barry Jenkins, this limited series is an alternate history that imagines the Underground Railroad that helped enslaved African Americans escape in the 1800s as an actual railroad. Starring Thuso Mbedu, Chase W. Dollon, Aaron Pierre and Australia's own Joel Edgerton, it will be a stunning and powerful must-watch.
Coming to Netflix
This limited series created by Sharr White and executive produced by Ryan Murphy stars Ewan McGregor as iconic 1960s designer Roy Halston Frowick, better known, as the name of the series suggests, as Halston. It's a star-studded look at a heady time in pop culture history, with incredible costumes to obsess over. Krysta Rodriguez appears as Liza Minelli and Rory Culkin as Joel Schumacher, while Bill Pullman, Vera Farmiga and Kelly Bishop are also in the cast.
Coming to Stan
The Romans still prove endlessly fascinating to us, especially the over-the-top figures of the ruling families. This show focuses on the not-often-told story of Livia Drusilla, the wife and advisor of Augustus Caesar and mother of Tiberius, grandmother of Claudius, and great-grandmother of Caligula. In other words, a very central figure to the whole intergenerational drama. Portrayed here by Kasia Smutniak, and joined by Liam Cunningham as Livia's father and Colette Tchantcho as her best friend Antigone, Domina offers a sumptuous and intense exploration of Livia's life. Pure escapist drama.