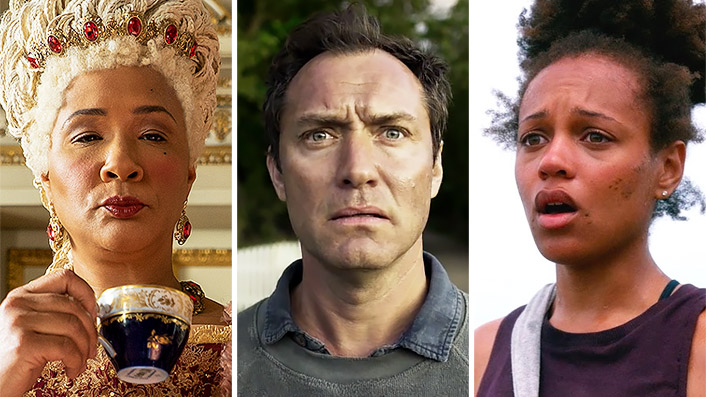 8 TV shows arriving in December that we're excited about

---
The year is coming to a close (simultaneously finally and all too soon), but not before a bunch of new shows are dropping on streaming services. Here are the ones we're most excited about…
NOW ON NETFLIX
Tejano superstar Selena Quintanilla-Pérez burned bright in her life and made world headlines in death, when she was murdered at the age of 23 by her former fan club president. Her story has already been well-documented, most notably in the 1997 biopic Selena, starring Jennifer Lopez. But this series promises the most extensive look at her life to date, covering her childhood through to her rise to fame and her early death. Starring Christian Serratos of Twilight and The Walking Dead as Selena, the nine episode series is a powerful ride.
NOW ON STAN
If you've been craving a new gritty crime thriller to sink into, Your Honor will satisfy you. Brian Cranston stars as a judge whose son is involved in a hit-and-run that entangles their lives with the local crime family, with potentially deadly consequences. It's a tense series worth watching for the performances alone—not only from Cranston, but also Call Me By Your Name's Michael Stuhlbarg, who plays the crime boss.
COMING TO NETFLIX
Based on a popular manga, this Japanese show is about an unemployed, game-obsessed guy who, together with his two friends, wishes to escape the drudgery of his reality. He soon learns to be careful what you wish for when he winds up in a parallel version of Tokyo where he and his friends must successfully play games in order to survive. It's a tense psychological thriller full of action and very cool visuals. And, in a year in which we're all turning to games and pop culture to escape our own limited worlds, its themes hit even closer to home than the creators perhaps initially intended.
Coming to Prime Video
A bunch of teen girls get stranded on a deserted island. Chaos ensues. But this isn't just a gender-switched take on Lord of the Flies; there's more to the island, and to The Wilds, than meets the eye. Using a dark framing to explore classic coming of age themes, The Wilds features a cast of mostly newcomers alongside Australia's own Rachel Griffiths. It's a little bit Lost meets The Society—the latter of which was cancelled this year by Netflix, leaving a gap for a female-led dystopian drama that The Wilds might just fill up.
COMING TO NETFLIX
Another new teen drama, this time the lovechild of Centre Stage and Gossip Girl. Tiny Pretty Things is a 10 episode series, based on the Young Adult book by Sona Charaipotra and Dhonielle Clayton. Set in an elite ballet school in Chicago, it explores all the ambition, competition, backstabbing, secrets and scandal you'd expect from such a teen drama—all dressed up in gorgeous costumes, of course.
Coming to Stan
Released in 2019 in the United States, Mindy Kaling and Matt Warburton's adaptation of Richard Curtis' iconic movie is finally making its way to our shores. It received pretty "meh" reviews upon its initial release, despite a stellar cast led by Game of Thrones' Nathalie Emmanuel. But we're in a very different world now than we were in mid-2019, and a gentle, trope-filled rom-com is precisely the kind of holiday viewing many of us are craving. Bring on the cheese!
Coming to Netflix
Speaking of trope-filled romance, Bridgerton is exactly the kind of frothy, fizzy extravaganza a post-Christmas food coma demands. Adapted by Shondaland from the bestselling book series by Julia Quinn, this is a regency romance with an extremely modern sensibility. It focuses on a young woman named Daphne who strikes a deal with a rebellious duke to pretend they're courting (for Plot Reasons). It's a sexy romp with a diverse cast, tongue-in-cheek narration, and dazzling visuals. Yes, please.
Coming to BINGE
Mysterious islands are having a moment, it seems. The one in The Third Day is very different to The Wilds, though; this time situated off the coast of England and inhabited by some very unique (read: creepy) people. Split into interconnected parts that tell the individual stories of a man and a woman who journey to the island at different points in time, The Third Day is an intriguing horror mini-series, elevated by impressive performances from leads Jude Law and Naomie Harris.