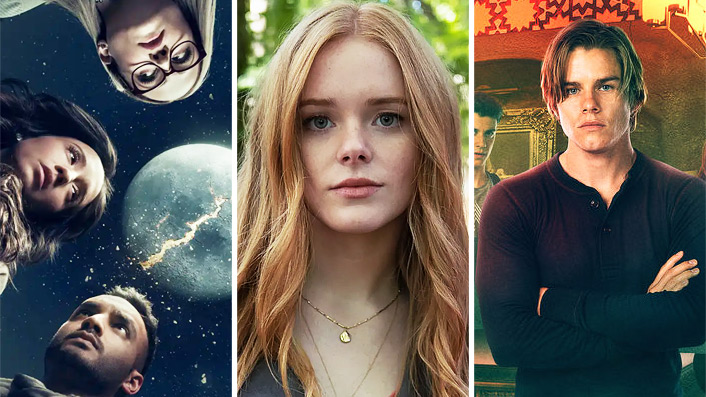 5 teen mystery dramas to stream after Riverdale

---
With Riverdale season five streaming on Netflix, now's a good time to ask: what other teen mystery dramas should you be watching? Vanessa Giron picks five.

Riverdale was one of Netflix's biggest new titles in 2017, arriving at around the same time other edgy teen shows were wrapping up—including Pretty Little Liars and The Vampire Diaries. In every season so far this weird and surreal reimagining of the Archie Comics universe has been unwilling to commit to one genre. Is it a teen drama? A mystery? A supernatural series? A horror story?
See also
* All new movies in cinemas
* All new streaming movies & series
What started as a suspenseful whodunnit aimed at young adult audiences quickly found itself in over its head. Audiences missed out on something that could have been magic, if only the show runners didn't write something so full of itself and convoluted.
But instead of obsessing over that could've been, here's a list of shows that are doing the same sorts of things Riverdale has tried but are much better. So if you liked Riverdale, it'll stand to reason you will love these.
Watch on Netflix
Protagonist Jack Morton (Jake Manley) is out to avenge his mother, who he believes was involved with a secret order at his college. But really this is more a drama following two college students—Alyssa (Sarah Grey) and Jack—who fall in love and let their witchy leanings fall to the wayside. Learning magic, going to war with werewolves and all that jazz about a secret order is really just background noise to this developing relationship, which is at times corny, but the chemistry between Grey and Manley makes it believable and sort of cute.
While following a fantasy story, this really does have some kooky and humorous elements to it that are unexpected when first judging by the trailer. The werewolves and the masks used by The Hermetic Order in particular look a little…odd. But it will make you giggle at the silliness of it all. The Order only ran for two seasons, making it easy to smash through every episode.
Watch on Netflix
Similar to Riverdale, Fate: The Winx Saga takes an old children's franchise (this one based on an animated series) and gives it a brooding aesthetic and a darker plot. The first season has only just landed but it's definitely binge worthy; at only six eps you fly through it.
The story follows Bloom, played by Abigail Cowen, a young girl who is also a fire fairy, and attends Alfea—a prep school in an alternate universe for people practicing magic. What I love about Fate is its flair for worldbuilding while also keeping its characters within the grasp of reality, particularly the students, all of whom are rowdy and troublesome teenagers. They may be figuring out how to fight dark forest creatures, but they also want to party and sneak into each other's dorms. It's a fun balance.
Watch on Prime Video
Based on the best-selling books of the same name, The Magicians follows students at Brakebills University for Magical Pedagogy, where students focus on their disciplines such as illusion, healing and natural magic, based on their personality traits and circumstances surrounding their birth (horoscope lovers, where you at?). One of the students, Quentin, played by Jason Ralph, finds that the fantasy books of his childhood are based in reality and pose a threat to those he loves in the mortal world.
While at times falling back on typical tropes for this genre—i.e. royal blood lines, a dark lord and magic swords that can only be wielded by those worthy—The Magicians sets an entertaining path from start to end, never failing to keep viewers engaged throughout its five seasons. I particularly like the coming-of-age aspects intertwined with fantasy aspects—think Harry Potter, but just a tad more adult.
Watch on Prime Video
Segueing to less supernatural and more mysterious series, The Wilds is a newcomer to Prime Video that takes on the Lord of the Flies story and turns it on its head. When a group of teenage girls find themselves stranded on a desert island, we're led to believe that they must find common ground in order to survive this accident. But what develops is no accident; rather an uncovering of a social experiment that will test their limits and their teen angst.
The work up to the final reveal is a testament to the suspense and tension that is written into the show. Dot, who is played by Shannon Berry, in particular has one of the more intriguing and honest back stories that works at drawing you in to the other girls in the group. This series has already been renewed for a second season by the streaming giant, so catch up before the next installment!
Watch on Netflix
Highly rated albeit less well-known, Elite is a Spanish teen drama following three students from a public school who receive scholarships to the prestigious Las Encinas private college and become tangled in the complicated lives of their wealthy peers. Soon after arriving, a twisty narrative that follows involves drug dealing, blackmail and murder will be sure to draw you in.
One great thing about Elite is that it tackles mature and difficult topics—such as class, religion, queer and mixed race relationships—but never condescends to viewers by taking the easy way out. It's a gripping watch for those who love teen dramas that don't talk down to them.